Smart Start welcomes failure in order to succeed
The University of North Alabama's Institute for Innovation and Economic Development will host its 6th annual Smart Start Weekend on Sept. 18-19 at the Generator, UNA's student innovation incubator.
Smart Start is an event that provides hands-on experiences for students, allowing participants to learn ideation, team formation, customer discovery, rapid prototyping and pitch workshops.
"It is experiential learning opportunity for students," said Mitch Hamm, Director of the Institute for Innovation and Economic Development. "It is all about taking a student's idea in a fast-paced weekend and converting it to a fundable business pitch. It's an accelerator."
Although UNA has classes for credit for the College of Business, it is Hamm's belief that experiential learning is much more relevant.
"[When] you're actually doing an activity instead of just listening to someone [lecture] about it," Hamm said. "It sticks with [you] a lot longer. And, regardless of what your passion is, whether you're an Arts and Science major, an English major, an education major, or a Nursing major, we've had all of those participate in previous Smart Start Weekends."
Hamm said that Smart Start is for everyone because everyone has an idea; however, sometimes, they just do not know how to convert that idea into a potential business opportunity.
In the past Smart Starts, there have been over 30 students participating in developing 6-8 ideas for a company. However, like most events since the outbreak of COVID-19, Smart Start has had to make some changes.
Typically, the event is held on the third floor of the Commons, but since the pandemic is still ongoing, it will be held in a place where students can interact with each other at a safe distance.
"[Due to the pandemic,] we've had to adapt in this environment so it [can] be a smaller, cohort," Hamm said.  "Normally, there are 30 to 40 students to participate, but [since COVID] we've had to lower our number of students to 16 this year."
Holding Smart Start at the Generator allows students to be separated into multiple rooms so that they are in small teams.
"[Although students will be small groups,] they are required to have their mask on," Hamm said. "If I'm talking to the group, I'll have a face shield on, but if I'm out mingling, I'll have a mask on [too]."
Another change that Smart Start is implementing is their mentor's limited interaction with the students. Whereas before, Hamm would have business entrepreneurs in the Shoals area come to assist, now, they will have to join in on Zoom, checking in every two hours for 15 to 30 minutes.
"Students will be together but their mentors will be remote," Hamm said. "It will be the same experience we're just using a different platform, technology wise."
By working in these small groups, students share their ideas and to vote on which ones they feel is strong enough to pitch to the other groups.
"It's more than just peer reviewing," Hamm said. "[In doing groups] they're getting to appreciate cognitive diversity. [We] all have diversity in our upbringings, our backgrounds, and family dynamics. [In being] diverse, students are able bring new things to the table because of their experiences and give insight that a single individual might not have."
Hamm said students have to respect and appreciate someone else's point-of-view even if it is not their own. They have to try to understand someone first.
For the ideas that do not get picked, Hamm tells them to not feel discouraged. Instead, he emphasizes that they can learn by helping somebody else.
"If a student's idea gets picked, they get to experience of having to motivate others to come along on this ride, which is key leadership skill in life – to create and transmit motivation," Hamm said. "They're going to need help taking an idea to its completion."
According to data from the U.S. Bureau of Labor Statistics, about 20% of U.S. small businesses fail within the first year. By the end of their fifth year, roughly 50% have faltered. After 10 years, only around a third of businesses have survived.
"Business is tough," Hamm said. "You're going to fail more times than you're going to succeed. You've got to be resilient. You don't get in class. You don't get the change to take a test over if you fail it. But in the real world, that's just not the way it works. You only learn by failing and then, you adapt and you do it again. Pretty soon, you learn about enough that you won't fail."
Hamm said in class this may be looked down upon, but he tells his students that this is a part of learning.
"Some the best advice that I can give is to learn how to kill an idea instead of continuing it, where you waste resources and time on it," Hamm said. "If you're not failing, you're not pushing the envelope. You're being safe and that's not fun."
Although Hamm has been involved in every Smart Start, even before he became a faculty member at UNA, this is not the only change he has seen executed over the years.
Hamm said Smart Start has evolved on its own.
"Originally, the first two or three years, we did three days – Friday, Saturday and Sunday – but what I learned is that most students have to work and a lot of their shifts come on the weekend," Hamm said. "It was really problematic to try to have them give up their shifts. I have to adapt and compress the event into a day and a half format, and what I found out is that the quality of the final pitches has improved over the years."
It is safe to say that Hamm has seen all kinds of pitches. He has had a nursing student pitch a medical device, an English major pitch an app to aid anxiety and a student pitch a device that pre-orders food for regular customers.
"I never know what's going to come up and that's the fun part for me," Hamm said. "Sometimes, they don't lead to where you may have thought. Students need to be ready to pivot. If your idea is the same as the way you started, then you've wasted your time. But they never are."
Hamm accentuates that students do not have to be a business major to see themselves as an entrepreneur to participate and get something out of Smart Start. He said that whatever field you go into, to be able to think like an entrepreneur, is going to make you a much more valuable employee.
"Some really cool stuff comes from out of these things," Hamm said. "I always try to encourage students to do something, building something. [At first] it won't be right. The first prototype [may] be ugly. But, it doesn't matter [ as long as] you learn something than you didn't know."
About the Writer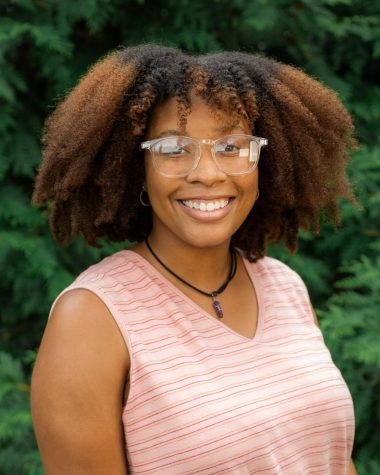 Lavette Williams, Editor-in-Chief
Lavette Williams is a senior from Florence, Ala. She has been a part of the Flor-Ala staff since her freshman year and has been Editor-In-Chief since her...