Inclement weather causes closures
North Alabama receives four to five inches of snow this past week, making it the region's first time it has seen over an inch since 2010.
What started off as overnight rain and sleet on Feb. 14 later turned into snow. After receiving an inch of snow, Governor Kay Ivey declared a state of emergency in Alabama in anticipation of a winter storm.
Over the span of three days, the temperature continued to drop below freezing and soon, the snow became ice.
The snow-covered ice made it unsafe for people to drive on the roads. Many were stuck indoors, while those who dared to venture out put themselves at risk of getting stranded.
According to News Break, police in Florence in Lauderdale County reported more than 100 cars were stuck or abandoned in various locations around the city.
"We again ask that you stay off the roads unless it is a true emergency," Florence Police said on their Facebook page.
To prevent people from driving, Florence Police and other emergency response agencies were transporting health care workers, running welfare checks and answering calls about stranded vehicles.
Throughout the week, Florence Police continued to advise those who had decided to get out of their homes to "bear with [them]" and "to avoid any unnecessary travel." Even as the road conditions improved, they asked for people to "use caution, slow down and leave extra room for stopping."
However, roads were not the only concern.
As the weather began to worsen and ice accumulated, utility lines throughout the area began to get weighed down causing power outages.
Florence Electricity Department responded to multiple power outages across Lauderdale County. The department had to send one of their line crew to Courtland, Ala. on Feb. 17 to assist in restoring electricity to many of the residents.
"We are always ready and willing to assist our neighbors anytime they are in need," Florence Electricity said. "…and [we're] ready to respond to any weather-related service issues."
Bridges were also a danger to drivers on the highway. At one point, Singing River Bridge and O'Neal Bridge had only one lane in each direction partially cleared. Still, there were patches of black ice on the lanes.
It is for these reasons that the University of North Alabama closed for four days due to inclement weather.
Students received Lion Alerts of school closing Feb. 15-18 to ensure student's safety in the winter weather. In the alert, it was recommended that courses and university meetings be transitioned to the virtual model when possible.
While some professors carried on with their classes through Zoom, others chose to push back deadlines and gave their students the day off. Classes were also out Feb. 19 for Winter Break, which is normally a weekend long break, but because of the snow, students were given the whole week off.
In addition to this, all UNA athletics were idle for the weekend. This affected men's golf, baseball, softball, volleyball, cross country and men's and women's basketball teams that were all scheduled to compete.
The university was not the only place that decided to close. Many other schools and businesses were either closed, adjusted their hours or were delayed due to the severe weather.
Similar to when the COVID-19 pandemic first hit the U.S. and people were asked to quarantine in spring of 2020, only places that were deemed essential chose to stay open. Grocery stores and food markets gave last minute shoppers the opportunity to shop for their needs. Shelters remained open for 24 hours, offering those in need a place to refuge.  
Snow in North Alabama is a rare event. While the area receives a dusting of snow every now and then, it does not normally stick. 
Families and students used this to their advantage, and took what was considered inclement weather and turned it into something enjoyable. They sledded down the icy hills and decorated snowmen with scarves and masks.
And perhaps, this was what North Alabama needed to take their minds of school, work or even the pandemic.
About the Writer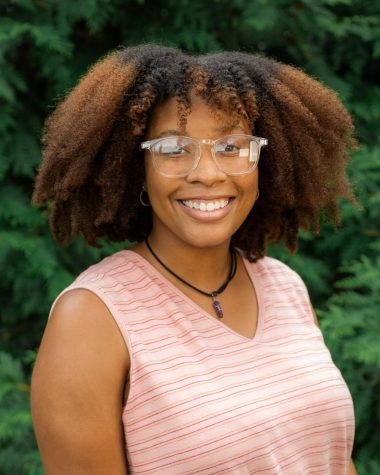 Lavette Williams, Editor-in-Chief
Lavette Williams is a senior from Florence, Ala. She has been a part of the Flor-Ala staff since her freshman year and has been Editor-In-Chief since her...