New fully accessible playground at McFarland Park
On Saturday, March 19, a new playground opened on the marina side of McFarland Park under the O'Neal Bridge. Even before the grand opening, however, it has already been used and enjoyed by many. On any given day, one can witness children of all ages laughing as they play on the brightly colored blue and green equipment. Parents sit on the benches outside of the playground and watch their children play, talking amongst themselves. Though it might seem like any other playground, what sets the Rotary STAR Play Park apart from others is its equipment, which was designed to be accessible for any person, regardless of ability.  
Tina Kitchens, the now-retired Director of the Parks and Recreation Department of Florence, came up with the idea to create this playground in October of 2020. The playground which had been at this same location was a safety hazard, so it had been torn down. This prompted Kitchens to think about the creation of a new playground and what it would look like. 
"A lot of the playgrounds [in the area] have accessible components, but we didn't have one that was all accessible and inclusive that could be utilized by anyone," said Kitchens. "I knew it would be a great need within our community."  
After presenting the idea for the playground to Mayor Andy Betterton, Kitchens found out that the Rotary Clubs of Florence and The Greater Shoals were interested in helping to fund a project like this one. After beginning collaboration with the Rotary Club, Tricia Lewis and Dr. Bill Armstrong, the Club co-chairs of this project, began to approach citizens and businesses about donating money, time or services to make this project a reality. This desire to help with the funding of the playground came from the Rotary Club's motto: "Service Above Self."
"We're very community-minded," said Armstrong. "Our responsibility as Rotarians is to serve the community in any way we can."  
Lewis and Armstrong maintain that the project would not have been possible without the aid of many people and organizations. In fact, almost all of the expenses outside of the playground equipment itself were covered by donations of money and services, such as the laying of bricks and the creation of concrete pathways.  
"We just had to ask," said Lewis. "For a lot of people, we didn't even have to ask! They came to us and said, 'Can we help? What can we do?' It's been amazing." 
The name of the playground contains the acronym STAR, which stands for Sensory Tactile Adaptive Recreation.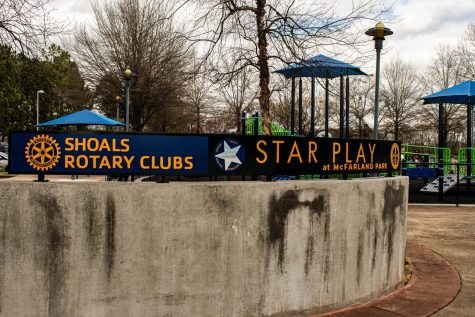 "We just have to live up to the name for all of our stars, because these kids are stars," said Lewis. 
The playground contains many features that make it accessible to all people, including those with any of a number of disabilities. Under the equipment, the floor is completely flat and coated in rubber for safety and ease of movement. There are ramps leading up to slides that are wide enough for wheelchairs of any size; these ramps also contain arm rails to hold onto for balance. The slides are of varying heights, which allows a person to choose the height according to their comfort level. Any climbing path leading to the top of the equipment, including a rock-climbing wall, is angled lower so that it is less difficult to climb up. On the main piece of equipment, there is a sensory pod that is modeled after a spaceship. If a person who is playing gets overwhelmed or overstimulated, they can stand in the pod, which quiets background noise and allows time to oneself. The swing set includes a full-sized swing with a safety belt, as well as a double swing so that small children and their caregivers can swing together.  
Along the fence of the playground, there are a number of sensory boards which house different textures, noises and colors for users to experience. One of the boards contains the entire alphabet in American Sign Language to promote communication between every person on the playground. In addition to this, a communication board is mounted beside the playground's gate. Images are displayed that one can point to as a way to convey emotions or needs. 
Outside of the playground itself, swinging benches overlook the Tennessee River. One of these benches allows wheelchair users to lock their chair in place and swing as well. The bench was donated by Linda Emnace for her son, Roy Emnace, who uses a wheelchair.  
"I'm excited!" said Roy Emnace. "It makes me wish I had one of these when I was a kid. This [wheelchair-accessible swing] actually has my name on it!"  
"I think it's wonderful," said Linda Emnace. "I wish we had something like this when my son, who is twenty-nine, [was little]. These kinds of playgrounds didn't exist, at least not where we lived, so to have something like this is just amazing."  
The responses of parents like Emnace have been overwhelmingly positive. The use of the playground by excited parents and children works to achieve the goal of the playground.  
"I hope for our community to be accepting of all children, no matter what their need is, no matter what their disability is, or if they don't have a disability," said Lewis. "Kids being together where they see each other and they don't see the difference – that's my real goal. That's what it's about. It's all-inclusive for all kids to play together and not be different."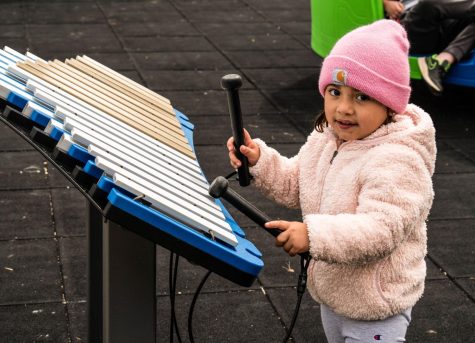 In addition to this outcome, Armstrong has seen an increased sense of unity among citizens, both during the production process and as the playground begins to be used.  
"One of the outcomes I think I've already seen come forward is this playground will bring parents who both have disabled and non-disabled kids together in ways that they have not been together before," said Armstrong. "It's going to bring the community together."  
During the grand opening ceremony, many who were involved in the creation of the Rotary STAR Play Park spoke about the significance of the project and what they hope it will do for the community. Among these were Harold Lewis, the district governor for the Rotary Club, and Pete Key, the past president of the Florence Rotary Club.  
"Every city Club's goal is to make tomorrow better than it was today," said Lewis. "It starts with the planting of a seed. About nine months ago, [people] planted a seed, and today, the Rotary [Club] and, more importantly, the people and companies in this community, will have stepped up to give their time, efforts and money to make this successful. It's phenomenal. The success is not just a Rotary success. This success is the entire community's."  
Key included the principles he believes to be at the core of this project: to build the dream, fulfill the dream, and live the dream.  
"Don't let that just be a park," said Key. "Let that become a lifestyle for this community, so we can build and fulfill things, and the generation that comes after us can live out of those things that we built."