"Can I please get a waffle?" Waffle House CEO Inspires Students
Financial and Business students at the University of North Alabama enjoyed getting to hear a speech from Walt Ehmer, the chief executive officer and president of the restaurant chain Waffle House. On Oct. 30, 2019 Ehmer presented to a lecture hall full of eager listeners at the Raburn Wing of Keller Hall. Former Waffle House financial officer and current professor, Kimberly Craft had the honor of having him speak to her class. Other students used the event as a networking opportunity for their tax classes. Some were just there to spectate.
After being introduced by associate dean, Dr. Matthew Green, Ehmer started by giving a brief history of the company and told of how their success derives from their homegrown values.
Students were surprised by Ehmer's humility, and the fact that he shows up to work at a restaurant every day in a Waffle House polo instead of sitting behind a desk in a suit. "There is not a day that goes by that I don't clean a bathroom. There is not a day that goes by that I don't clean trash out of a parking lot," Ehmer stated. Ehmer is the only person in the restaurant chain of command who did not start out working in a typical restaurant position doing tasks such as washing dishes and cooking food. Every other corporate member started at the very place that a student would if they were hired at Waffle House today.
Ehmer stated that they hire employees who they see as having the potential to grow within the company. A hard working employee can be moved to a managerial position in as little as three to four months. "We're homegrown, so we need to hire today someone who's going to be the CEO 20 years from now, because we're not gonna be able to hire from the outside, because that's not our culture," he told a student.
"It was way more interesting than I anticipated it to be," commented Senior accounting major, Makinley Barnett, "My favorite part was the video he showed about how many times people talk about Waffle House, such as on Saturday Night Live and on the Late Night Shows. I also liked how he gave us a voucher for a free waffle."
Ehmer hopes that his lecture was helpful to students at UNA. "One of the things that I tell students is, yes, you need to find something you love to do, and yes, you need to find people you like working with, but you also need to find a place that you can build a good future in, and one of the greatest things about Waffle House is it's a solid foundation to build your career on."
About the Writer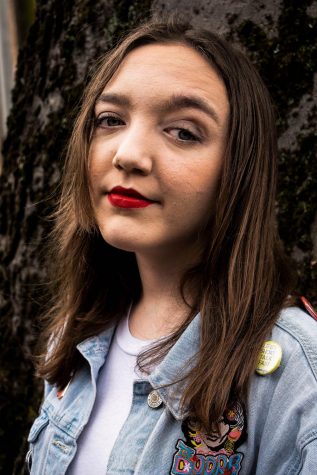 Brooke J. Freundschuh, Arts & Entertainment Editor
Brooke is the editor of the Flor-Ala's Arts and Entertainment section, but has also served as the paper's News Editor and as a staff writer and occasional...