DreamKING: "Having hope is a strength"
Rahim Arunaogun was quarantined at his home in New Market, Ala. when an idea came to him: he was going to start a YouTube channel.
"I wanted to take advantage of the time," said Arunaogun, a junior at the University of North Alabama. "I had to do something productive."
After going through a few steps to creating an account, Arunaogun made his idea a reality by becoming "DreamKING." Though he had considered many others, this name one had stuck. To be the king of dreams, to achieve all that he imagined, this was something he hoped to live up to in his life. 
Arunaogun uploaded his first video, "When People DON'T Believe You" on May 23, telling the story of about the time he learned that nobody really believes what anyone says. In the video, he reenacts an experience that he had with "Mashew" in grade school that led to him getting into trouble. Two days later, Arunaogun uploaded a part two of the story.
"My videos mainly have to deal with self-improvement, life experiences and encouraging content," Arunaogun said. "Initially, I started [my channel] because I wanted to share life stories that I would intentionally point out my mistakes so that viewers from all backgrounds can either relate to or be informed on what not to do."  
There was nobody in particular that made Arunaogun want to start making videos.
He said that just hearing from a variety of sources pushed him to begin working and pursuing his dreams now instead of later.
"I want to inform the public that having hope is a strength and something you should strive for every moment of your life," Arunaogun said.
What began as Arunaogun sharing his experiences recently has expanded into him doing podcast episodes. In his podcasts, he discusses trending topics, such as the COVID-19 pandemic, generational expectations and relationships, with his friends and peers.
"I enjoy all my videos I upload but if I had to pick, definitely filming the podcast episodes are my favorite, [especially] since most of my videos are just me talking to the camera," Arunaogun said. "For podcast episodes, I have people call in through Zoom and we discuss topics without any type of script. The conversations flow more organically allowing the audience to be more prone to view."
One topic that Arunaogun seems very passionate about is the Black Lives Matter movement, a movement that was revolutionized when innocent African Americans, like George Floyd, 46, black man from Minneapolis, and Breonna Taylor, 26, black woman, lost their lives to systemic racism.   
In quite a few of his newer videos, viewers might have noticed the "Black Lives Matter" canvas on his wall, which Arunaogun uses a reminder that the phrase is much more than movement.
Arunaogun said that the Black Lives Matter Movement is simply a known fact in humanity.
 "If one truly believes that 'all lives matter,' then one should also include every other race, gender, religious and political preferences as well," Arunaogun said. "I should not have to say Black lives matter, you should just know that. However, there are some people who truly believe in their hearts that Black lives don't matter, so that is one of many reasons why I have that canvas hanging on the wall."
Arunaogun admitted that he has experienced racism a number of times himself, but in every situation he manages to keep my composure and walk away from those situations. This was how his parents raised him, to respect everyone despite their differences and to hold himself accountable for all of his actions.
"I hope to cover more content regarding racial equality, the power of equity, differences in humanity, relationships and topics that do not get discussed often," Arunaogun said.
Although Arunaogun has only had his YouTube channel for three months, he has 30 subscribers with an average of 15 views per video.
"My channel has a slow progression to it," Arunaogun said. "[There hasn't been any] major spikes yet, but I am very patient so not worried about that."
While to someone with high expectations of their new YouTube Channel would want an immediate rise in viewers and subscriptions, Arunaogun continues to release content regardless if anyone is watching it.
"[I am] hoping for the best for the growth of my YouTube channel, but I won't get caught up in the views progression," he said. "[My] plan is to impact lives on a global spectrum but if one person can take this information to heart then I will know I'm doing a service."
Even with this mindset, Arunaogun is still making an impact, whether he realizes it or not.
Lauryn Malone, a junior at the University of Auburn, grew up with Arunaogun, attending both the same school and church since elementary.
"He is like a brother to me," Malone said. "When I first met Rahim, I automatically knew that he was intelligent, kind and a visionary. He is always looking for ways to encourage those around him; to make the world a better place. Rahim wants everyone he comes in contact to become successful, and that is part of what makes him the amazing person that he is."
Malone was featured on Arunaogun's YouTube channel in "Millennials Aspects: Podcast #002."
"My experience was amazing," Malone said. "Rahim created an open space for us to voice our thoughts and opinions without the fear of being judged. We talked about a range of issues, from white supremacy to generational wealth gaps."
Malone said that she would like to see Rahim cover topics such as the Black experience at a predominately white institution (PWI), the "cancel" culture of today's youth and even the effects of micro aggressions.
"Rahim is a person that everyone should have the chance to interact with at some point in life," Malone said. "He is a living definition of positivity and radiance. Rahim's YouTube has lots of valuable conversations that are relevant to the things that are happening in the world today."
Malone said that she would definitely collaborate with Arunaogun again in the future.
Despite Arunaogun not having any experience in filming, this does not discourage him from stepping outside of his comfort zone and trying new things.
"Producing a video takes courage, talking into a camera not knowing how many people will view it can be frightening," Arunaogun said. 
For those who are afraid to begin, Arunaogun encourages them to go for it.
"The single most important thing someone can do in life is to just start," Arunaogun said. "Begin that channel you have always wanted to upload on, work on that side hustle, start pursuing those dreams you have for yourself. Why not go for it? Why not take that first leap towards success?"
Arunaogun said start something not because you are fully equipped and ready, but because that something scares you.
"Nobody knows your true potential, not even you," Arunaogun said. "It is alright to be afraid, but you should learn how to just go ahead anyway even if you have those fears. Remember, if you don't start the guarantee is that you will never get there, but if you start you are now one step closer to your goal."
About the Writer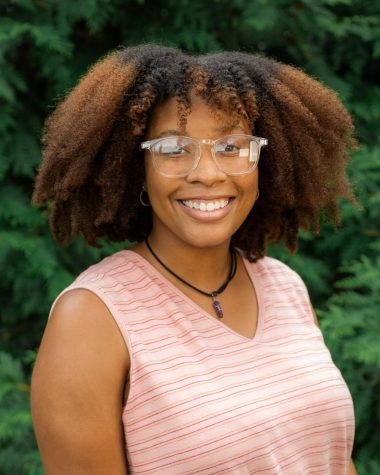 Lavette Williams, Editor-in-Chief
Lavette Williams is a senior from Florence, Ala. She has been a part of the Flor-Ala staff since her freshman year and has been Editor-In-Chief since her...