The Talking Heads: Quin and Chase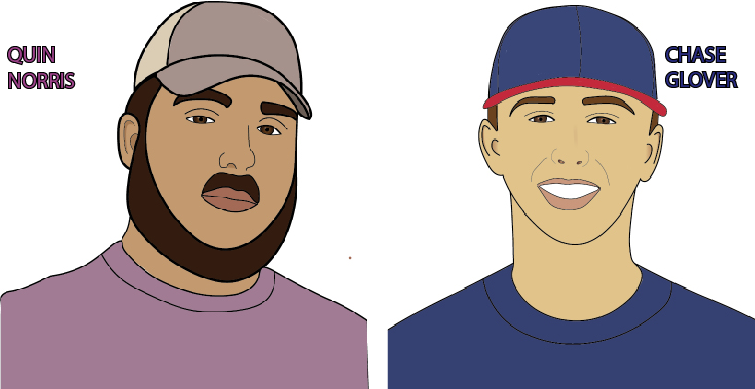 Quin: This weekend on Oct. 17 the University of North Alabama will have their first and only  home game of the season against Jacksonville State. As of right now Vegas has the Gamecocks as 7.5 point favorites. Chase, what do you make of this upcoming game for the Lions?
Chase: It is gracious, knowing how dominant Jacksonville State has been in recent years including them almost beating Florida State a few weeks ago. One thing UNA fans have to remember is that head coach Chris Willis has made a very tough schedule for this team to build a stronger core. Jacksonville State is one of the toughest FCS teams in the nation and there are also three FBS level games that the Lions will play this year as well. No matter if the end result is 0-4 or 3-1, it will be in the quality of play from this young North Alabama team. Many fans or people might look at the Liberty game and question how they lost by three touchdowns. I look at it as they are still figuring out the quarterback situation currently between Rett Files and Blake Dever, they also had many penalties which took away scoring drives. If they polish the quarterback situation through the JSU game and clean up penalties, this is definitely a winnable game. The Liberty Flames are 4-0 currently, beating out Western Kentucky, Florida International, and UL Monroe. They were 15-point underdogs to WKU and beat them by six-points; this Flame is a lot better than people give credit for and they are also led by a talented coach in Hugh Freeze – who is one of the few coaches to beat Alabama and Nick Saban, making him the third ever to beat Saban in back to back season. Fans cannot count out the Lions team too quickly as they are performing like they have been playing all season. They are in a great spot so far and definitely have the chance to win these next three games on their schedule.
Quin: Clearly the quarterback situation is something the Lions need to figure out before Jacksonville State comes to Florence, but my optimism is high for this weekend's game. The team tends to play better at home and let's look at the situation ahead of us this year. Of the three games on the schedule this is the most winnable game and I think the players know that. If I had to guess we will definitely beat the spread this weekend as I think whoever wins this game does so with a game winning final drive. Therefore if the Lions have the football last with a reasonable amount of time on the clock we can win this. If I had to give a score prediction for this game I will say UNA – 23 Jacksonville State – 21.
Chase: I honestly think this is where the offenses come alive for both teams, JSU put up 24 and led Florida State for most of the game. This will be a tough game for the defenses, I feel like whoever makes one to two stops and a turnover will win this game. This is the first time Jacksonville State will be coming to Braly Municipal Stadium since 1992. The players have been mentioning how ready they are for this game and want to avenge the loss to the Flames. This is why I believe the end score will be North Alabama 38 – Jacksonville State 35. As UNA Lions fans and students, we could talk about this game all day but the college football world is still moving. In this, I have not found a clear cut winner to who is 'The Best Team' in the nation right now. Clemson is No. 1 of course but their schedule has not amazed me thus far while others like Florida have lost and Alabama has struggled. Is there anyone that can be necessarily called a clear-cut favorite or the best in America?
Quin: At this point in the season I would have to agree that there is no clear cut favorite however, there are a handful of teams that look very impressive. The first teams that come to mind almost immediately are Clemson and Georgia. These two programs have been executing at a much higher level than anybody else right now even if it is against lower caliber teams. Of course it would be hard for me to count out Alabama in this discussion, as I believe their offensive side of the ball may be the single most impressive unit of any team in football right now. The issue with Alabama when compared to Clemson and Georgia is the defensive unit that is holding them back. This is most evident by the game they played against Ole Miss where it felt like I was watching a game between Oklahoma and Texas Tech, where both teams were scoring on almost every drive and the difference in the game were the few redzone mistakes the Rebels had late. I will say that this has been easily the most entertaining season of college football I have seen this year as the limited off-season has really leveled the playing field between teams like Mississippi State and Alabama. I can not wait until the Big Ten joins the party and looks even more out of sorts as the break they have had from the game when compared to a conference like the SEC hints at the possibility of absolute insanity ensuing an entertaining Big Ten where top teams like Ohio State could fall to a team like Northwestern. I would argue that is the case with the SEC right now and seeing as the Big Ten is the only conference remotely similar to the SEC in terms of high star talent I wouldn't be surprised if this created a crazy year for college football in the Midwest.
Chase: I believe the biggest reason some of these teams look so bad so far is because of the schedules. The SEC playing a full-slate of conference games proves to be deadly as we have seen thus far. Mississippi State looked amazing to open by beating the reigning champs, but amassed only two points against Kentucky. LSU has lost two of their three opening games, while Texas A&M gets obliterated by Alabama but then beats a Top-5 team in Florida for the first time in Fisher's tenure with the program. Alabama, Georgia, and others are supposed to be the greatest teams, they are supposed to be blowing out others by 20+ points every week. However, we are not getting that and this has been something I have said from the beginning is that a full SEC conference schedule will look really good because of the toughness of schedule but it will prove to be detrimental to teams. The toughness of the schedule along with the beatings they will take week in and week out will end up slowing down teams in the long run, causing them to slow come towards playoff time. This season is unlike any other but could allow a plentiful of random teams to make the playoffs or make an unprecedented run. Teams like BYU, North Carolina. SMU, Oklahoma State, Kansas State, and others, have had very important wins in their books. Could this actually be the season we see a GO5 team make the playoffs with an undefeated record?
Quin: It is certainly possible that it could happen this year. However, the only thing standing in the way of the group of five teams is the SEC. As of right now if Alabama and Georgia can win out both of their schedules and split the SEC championship game and regular season games with each other then there is zero chance of it happening. That being said if there was any group of five teams that I would have to bet on it would be the independent BYU and the American conference team Cincinnati. As far as Oklahoma State, North Carolina, and Kansas State are concerned I would not put money on them making it to the playoffs as they are not the highest caliber teams in their own conferences and I see all of them losing just too many games to actually make a run at the playoffs.
Quin: The final major story left to cover revolves around the Houston Astros. In the first ever Talking Heads Column we talked about the Astros stealing signs to help them win their world series crown and discussed the punishments we thought were necessary for the crimes. We both agreed that the team should be barred from a playoff appearance for at least two seasons. However, this was not the punishment handed down by the MLB and now we sit with Houston having made it all the way to the American League Championship series and are one series away from making it back to the World Series. Chase, what do you make of the run the Astros have gone on here in the 2020 playoffs?
Chase: They are a great team, they have always been a good team. However, they should not be a contender, they should not even be in consideration for a playoff chance. This organization is disgusting and is ruining the game of baseball. If the Astros even get to the World Series and have the chance to win, the MLB will lose a ton of fans. It is horrendous to even allow a cheater to keep their World Series win and allow them to get into the playoffs the season following the scandal. The Astros are a terrible franchise for that and everyone should be reprimanded for their actions. However, we are not seeing Commissioner Manfred do anything to them. I will end it with this, they should not be in the playoffs, they should not be in the ALCS, and they should not be even sniffing a World Series chance.
Quin: I completely agree. The Astros being able to even be in the playoffs this year is a slap in the face to all the other franchises who have followed the rules. It is like the MLB is sending a message that they do not care if you cheat. The best thing that can happen for baseball is the Tampa Bay Rays beat the Astros. Otherwise you will have everyone in the country excluding Astros fans becoming very disenfranchised with the sport as a whole. MLB playoffs are still underway so we will continue to follow closely to see where it goes. For more sports news be sure to follow The Talking Heads Podcast on Spotify, Apple Music, or Soundcloud where Chase and I will continue to cover every single thing sports.