Set in stone: residents speak on Confederate statue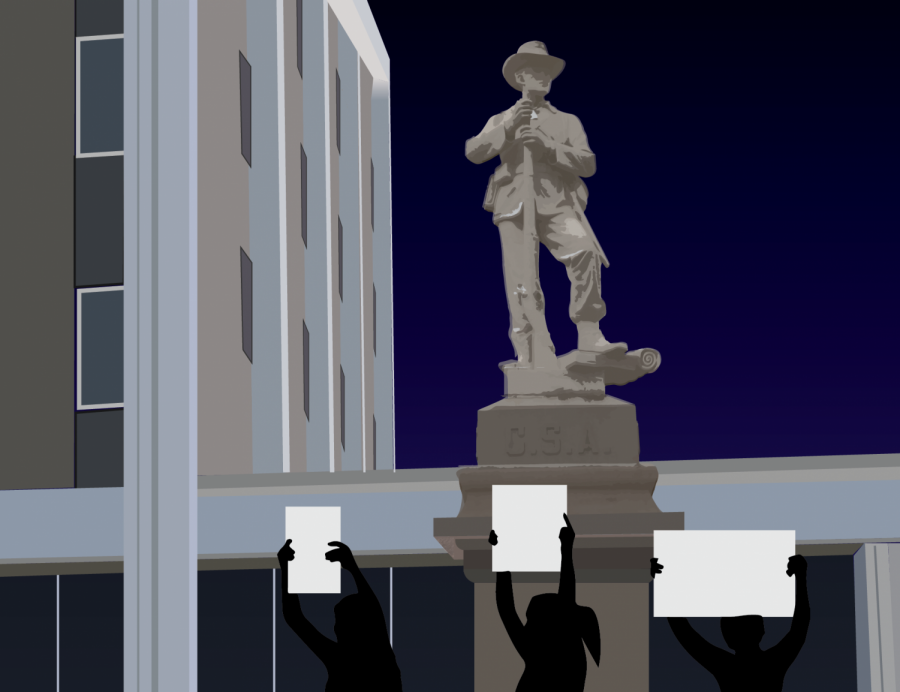 Bonnie Smith, Volunteer Writer
October 15, 2020
Amid a polarized political landscape and the shadows of a sixteen-foot Confederate monument that has held its place in front of the Lauderdale County Courthouse for generations, citizens of Florence search to settle the unrest without compromising their beliefs.
Since the killing of George Floyd four months ago, protests have been continuous locally and nationwide, which has opened the political opportunity for change. Conversely, many citizens remain frustrated with the constant unrest and settle for any solution, even if it is no solution.
Which One?
Mason Bonner is Alabama born and raised. Bonner initially from Jasper, Ala., but has lived and worked in Florence before and currently works in Birmingham. Ala. He describes himself as a moderate Republican, although he jokes, "There hasn't been a good candidate in my lifetime."
"Which one?" Bonner said, when asked if he was aware of the Confederate monument discussed. "There are a lot of these places in Florence."
He was right. Pope's Tavern is a Civil War museum, and seven historical signposts mention the Confederacy and a Confederate cemetery beside a Walmart on Cloverdale Road.
But none of those other monuments stand as tall as the Confederate statue in front of the Lauderdale County Courthouse, which is surrounded by traffic barricades.
The statue of the Confederate soldier was built in 1903 by the Ladies Memorial Association, who described themselves as "grieving wives." However, it was funded and later dedicated by the Daughters of the Confederacy. The Daughters started raising money in 1876, 11 years after the Civil War.
The original plan was for it to locate the statue in a cemetery, but they placed it at the courthouse instead. When they revealed the statue, they made a speech not about missing their husbands, but about the necessity of subservience in African-Americans, referring to them as "the mongrel race."
To quote the dedication speech from 1903 directly, it says, "They [the North] look upon a Negro as a white man with colored skin and believe education to be the one thing needful. We of the South know better. No other people know him so well or love him so well, but nowhere here is he accorded social equality."
One side feels that it is a shrine to racism, another does not care and another is concerned about preserving their history.
"You hear that echo chamber forever," Bonner said. "What is that supposed to mean? Is this Southern heritage? Are you saying that you'll own slaves again? I'm pro-America- everyone is equal. People try to say, my great grandparents built that monument, and it's for my great granddad who died in the war. I would not like to remember my family losing a war. I would try to forget that."
Who Owns It?
Blake Edwards is the current City Councilman of District Five, but he is not just a legislature. He is a local who is affected by the issue and the tension.
Edwards was asked the same question as Bonner: "How has the monument affected Florence?" Throughout the interview, he pauses or takes deep breaths before answering questions. This question is no exception. It invites a couple of breaths and a pause.
"To be honest about it: I've grown up here in Florence; I've lived here all my life," Edwards said. "I remember the old courthouse, where the government building is now, on the corner of Tennessee [Street] and Court [Street]. The statue was there. It's been there for over a hundred years. And when they tore that courthouse down and built the new one, they just moved it to the new courthouse."
Edwards said that he has never really thought of the statue as an issue. He never considered it being an issue. To him, it was simply something that has always been there. Even so, Edwards said that he can see in the environment that we live in, that it could be a problem for some.
"In some instances, [they are] genuine," Edwards said, when asked about the protesters' attitude.
Edwards said that he appreciates "some" work Project Say Something, the organization that holds most of the local protests, did some time ago to improve the community's relationship with the police. However, he also acknowledges that "things could get out of hand or turn bad" but he does not think that this is the intent of Project Say Something's group.
"The problem, when it gets down to it, is it's been a concern of who owns it," Edwards said. "It's on county property. The county has maintained it for over a hundred years. To me, that would mean that it's theirs. It's not a city issue. In some cities where they have removed statues, it was on city property, and the city had the right to move it. But we don't have that."
Edwards said other than that, there is a lawsuit that has been filed. Until that is resolved, even if they wanted to move the statue or were going to move it, they could not.
"So, there are a lot of issues that prevent the city from getting involved," Edwards said.
What they do have is the money to move the monument, promised by a private donor.
He also neglects to mention that the Lauderdale County Commission decided on June 22, 2020, that the Florence City Council would decide on what happened to the monument.
"What if we had a big crane moving it, something happened, and it hit the side of the courthouse?" Edwards asked. "Who's responsible for that? Or if someone got hurt? Whose responsibility is that? We're on county property, and it doesn't belong to us."
However, he does provide that the Daughters of the Confederacy wrote the City Council a letter claiming ownership of the statue.
"What does that mean?" Edwards said. "I could write a letter, or you could write a letter saying the city owns it, but that wouldn't solve the problem. I'd like to see it resolved… But I just hope and pray that nothing bad happens in the city and our police chief is trying his best to stay on top of things and make sure nothing bad happens."
Unity
After the killing of George Floyd, Project Say Something began holding protests in front of the courthouse at least five days out of the week. Many days out of the summer, this means standing in the Alabama heat, projecting intermittent chants through a mask.
There is no taking off for rain, either. These days usually welcome protesters to huddle under the concrete awning of the courthouse. Usually, they will play music and the children will dance and splash if there are puddles. Some days, protesters write messages in chalk, Betsy Pugh always keeps some in her car and some extra signs in her trunk. Pugh has protested in Huntsville and Birmingham, as well as Florence.
Betsy is a student, and she works, but she comes to every protest that she can, even if they are not local.
"The monument offers Florence a reason to leave," Pugh said. "It's a sign of failure toward the community. It's a symbol of hate. Even calling it a monument commemorates it in a way that could be perceived as positive, when in reality, it is an extremely negative, problematic and detrimental piece of architecture in our town in front of a courthouse."
Before she began protesting, Pugh described herself as being "blind to the severity of the pervasiveness of the social injustice that we are fighting," deeming the protests as educational and groundbreaking.
"I have seen such a tremendous amount of unity and collective effort," Pugh said. "Whenever I show up to a protest, whether there are counter-protesters or not, there are at least eight to ten people who are just there every day, day in and day out.
Pugh said she feels like she has seen and grown, whereas the counter-protesters are disengaged.
One could also find Jenny Allen at almost every protest. In the beginning, Allen admitted that attending her first protest was "kind of scary," but she was overall relieved.
"I had been kind of conditioned by the media to believe that it was going to be scary, but it was clear, it was calm, it was the voice of the people," Allen said.
Allen grew up in Shiloh, Tenn., surrounded by relics of the Confederacy. She did not realize how unfair the framing was until Project Say Something showed a video.
"They changed 'slavery' to'  states' rights' and instead of 'all black people were slaves changed it' to 'only one percent of white people owned slaves," Allen said.
Gabriella Snell leads marches of swaying and chants across streets until her voice rasps. She holds microphones, reading names of people too young to be dead. Snell has protested for issues such as women's rights and immigration for years and has risen through the ranks of Project Say Something throughout the summer.
"It's an experience that I've had multiple times while protesting, of being in the face of racism, and realizing how hard people are trying to maintain it," Snell said. "That's a lot to swallow. We just want to be seen as human. We just want you to understand these symbols of racism and how traumatic and dehumanizing they are. For the police or anyone to deny you, that is a hard pill to swallow."
Despite this, Snell said she is doing the work.
"Someone has to," Snell said. "I couldn't imagine doing anything else but helping the cause."
"We're Going to Talk About This"
Camille Bennett is the leader, and founder of Project Say Something. Bennett has been working since 2014.
Project Say Something started organically. Bennett had already been a facilitator in a spiritual organization founded by her parents, called 'Living Spirit,' so, she was accustomed to leading spiritual conversations and healing circles.
"Then, someone reached out to me and said, 'Will you facilitate a conversation about racism?'" Bennett said. "I had already been trying to educate myself about racism, specifically anti-black racism, for about a year, so I felt ready for it.  But I had no idea what it would look like because I grew up here and had never seen someone open up a platform for just racism. It was always layered in something, but it was never like 'We're going to talk about this.' So, I opened up and had an informal conversation at 'Living Spirit,' and it was packed… I realized there was a need for these conversations and for action."
She said it took her six months to build Project Say Something and that she was always a leader. She also mentions that she has known from the beginning that Project Say Something would garner the attention it has, not just because of her but because of her passion for the area.
"[The Confederate statue is up] for the sole purpose of intimidation," Bennett said. "One thing that's really interesting, that I found out, is that most of these dedication speeches have some coded language, but ours is very straightforward. They have on the statue itself that they want you to remember the dedication of the monument. It says 'In appropriate ceremonies'"
It also says in Latin' God will prove us right.' How Confederate soldiers died is their 'Crowning glory.'
Bennett acknowledges the barriers to moving the monument: the fine, the property issue, the statutes.
"That's some of it, but not all of it," Bennett said. "The next logical step would be to renounce the statue. But that has not been done. Only one city council member has denounced the dedication speech. So, I think it would take a lot of courage to go forward and move the monument. I think it could be a political move to say you are in support of moving the monument and never actually move it."