How Rivertown Coffee creates safe place for all
The smell of hickory and black coffee envelops your nostrils. It's a cold fall afternoon, and you're sitting at a table alone clacking away at that essay that's due at 11:59 PM tonight. The air outside has grown cold, as the temperatures have plummeted with the aptly named season of "fall." The atmosphere inside however, is quite the opposite.
Around you, the room is filled with warm conversations between old friends, couples and business associates. This is Rivertown Coffee, a unique nook filled with good pastries, better coffee and great community. To the coffee novice, the market in Florence, Ala., may seem crowded. However, I personally believe that each coffee shop in the Shoals serves its own unique purpose in the community.
For Rivertown, it's casual comfort has set it apart since it opened on Oct. 21, 2004. With it's upcoming 16th birthday, it's the oldest coffee shop still operating in Florence but shows no signs of slowing down. Located directly next to the Shoals theater in the heart of downtown, the ambiance is an inviting den to your senses from the moment you walk through the large, encompassing glass door.
Everything appears to be thought out simply, from the warm tones of the wall lamps in the larger parlor seating area, to the large windows which fill the entire space with the natural light during the day and radiate the spirit of community in the dark of night. At Rivertown Coffee, you can find solitude, get lost in a good book and enjoy a relaxed breakfast with close friends.
In the age of COVID-19, the restaurant enforces more than ample health guidelines, with tables being spaced widely apart and masks being required until food or drink is taken back to a table. They also have sanitizer available if needed.
"We want everyone to feel safe and okay, and that's really it," said Rivertown manager Cullen Stewart. "That's Rivertown, that's why we're never dead. We're always busy. There are always people here. It always has been, always will be a very safe place. We're all the same, we're all human and we're all in it together."
Aesthetically, its stone floors and small wooden tables are nothing too intricate. This appears to be quite intentional though, as the design of Rivertown is meant to tailor more to the minimalist philosophy "less is more."
In all my travels in the quest for the worlds best coffee, from the vast desserts of New Mexico to the great Rockies of Colorado, Rivertown reminds me most of one of my recent trips across Georgia. It's warm hues and wooden s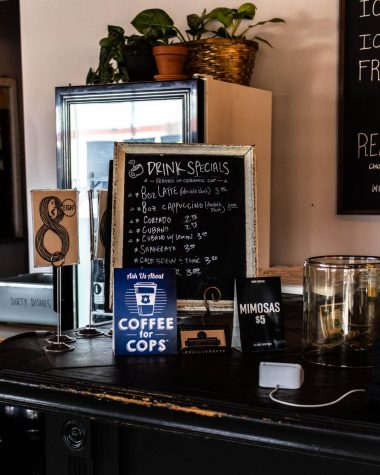 mell remind me of a small college  town situated in the north of the state: Dahlonega, Ga. The aesthetic of the shop feels as though it were taken directly from the square of the historic mining town. However, the similarities go beyond just look and feel. Like this small gem of Appalachia, Florence is a bold college town, filled with artistic character and creative energy. It's also home to a variety of people of many walks of life, from older business owners and remote corporate executives, to young musicians and visionaries looking to make it big. Rivertown's location in Florence provides the perfect intersection for students looking to fulfill their dark academic fantasy(ies) and hipsters seeking a "chill" atmosphere to discuss their favorite Wallows or Carver Commodore tracks.
Rivertown is more than just a little coffee house on the corner. It feels like a small piece of Appalachian culture amongst a diverse town of local artistry and youth. The menu is similar to what most would consider its competition but also unique with its focus on food items being more pronounced. Their wide selection of soups is accompanied by a variety of different burritos and handcrafted breakfast sandwich offerings (the Daybreak sandwich is a personal favorite of mine). This large food offering is what sets Rivertown apart from other coffee shops in the area, and makes it a strong choice for those looking to a more "casual local restaurant" type experience.
Their coffee resembles its aesthetics– simple but very well done. Even basic items like the americano or espresso shots taste delicious within their own right. More intricate items are also available such as the famed Pumpkin Spice Latte (the drink I sip as I write this) that tends to pop up around this time of year with the change in foliage color.
This conjunction of great service, quality food and beverage offerings and friendly faces come together to create one of the most welcoming, comfortable atmospheres in town. This is, of course, no accident and is the cause of a very intentional mission. I caught up more with manager Cullen Stewart to find out what makes Rivertown such a staple in the Florence community.
"Our motto is coffee for all. It's a place of no judgment, our aim is just to be as welcoming as we possibly can," Stewart said. "You're not gonna get a snarky response to a weird coffee order. We want everyone to feel safe and okay, and that's really it."
Stewart has worked at Rivertown for the past eight years, and has served customers from all walks of life; from business men in corporate suits and ties, to local artists and miserly college students like me. He's earned a widespread favorable reputation amongst the Florence locals. A few even waved and honked their horns at him while we interviewed.
"I'll see them out in public and they're like suit and tie guys and they'll be like 'Yo whats going on [Cullen]? How are you?'" Stewart said. "The people that they're with aren't coffee people. You see the most accurate cross section of the peoples of Florence here, all sitting next to each other…All walks of life, race, color, creed. Rivertown breaks down boundaries, it breaks down the walls."
These values have garnered Rivertown a reputation of booming business and continued growth in the area over the past 16 years. Even during afternoon hours that would otherwise present themselves as slow to some local businesses, it's often hard to find an empty seat inside the cafe area (which is nearly impossible around lunch rush).
While many businesses with the success that Rivertown has experienced often seek to branch out and expand with other locations, Rivertown has adopted a less elaborate approach. It continues to focus on delivering consistent, quality drinks, coupled with a welcoming atmosphere beckoning people from all walks of life to commune together, all in the name of a good cup of coffee.
"We're just gonna keep rolling man; if it ain't broke don't fix it," Steward said. "Onward and upward, always."