Coronavirus precautions continue as semester inches close
As the University of North Alabama nears the end of the fall semester, the need for students, faculty and staff to continue to diligently work to keep campus safe is more dire than ever. 
"We really need to continue to have students do their daily Healthchecks," said the Assistant Vice President of Student Affairs, Tammy Jacques. "As the semester has proceeded, we are seeing numbers drop off."
Back in August, in order for students to return to UNA's campus, they had to undergo a COVID-19 test and were asked to complete a daily health check. Both of these were to ensure campus was as safe as possible; but, as the semester has progressed, students have completed the health check less and less. 
"There are students and employees who get a runny nose or a headache but dismiss it as a sinus infection or a small cold," said Jacques. "It's imperative for everyone to complete the UNA Healthcheck as it gives them steps of what to do depending on the symptoms they checkmark."
Simple symptoms like headaches or runny noses are easily overlooked when students and faculty are focused on school work and lecturing. This is why the health check is still important to complete.
Jacques explained that there are many faculty members and some offices on campus that require individuals to show their passports, which is obtained by completing the health check for that day, in order to enter. 
The University urges students, faculty and staff to continue to complete the daily health check daily in order to keep campus healthy. It is also urged for faculty to require the showing of a passport before allowing a student to enter the classroom, if they are not already doing so.  
"… the daily Healthchecks help keep symptomatic people from coming to campus before contacting a healthcare provider at University Health Services," said Jacques. "It also helps seeing a reminder daily about which symptoms are important including some that would typically be overlooked."
UNA's health check is a vital tool for slowing the spread of the virus on campus, Jacques added. 
The number of cases on campus have gone down, but the cases will vary week to week just as we are seeing at the state and national levels. 
Cases overall have gone down, but the cases will vary week to week just as we are seeing in the State and the Nation. Overall, the University has had a total of 238 since Aug. 11, there have been a total of 27 positive cases for the week of Oct. 19. 
The state funded sentinel testing center will continue testing through Dec. Afterwards, the funding will no longer be given to the University. 
"UNA is exploring options to continue some type of testing," said Jacques. "UNA ordered a COVID analyzer back in March to allow University Health Services to test for COVID and have been waiting for it to arrive."
The hope is for the University to be able to do symptomatic testing during the spring semester. 
One thing to consider as we enter the cold, winter months is the potential cross between the coronavirus and the flu. 
"As every year, we anticipate seeing flu cases," said Jacques. "One way students can help lower that number is getting a flu shot."
The University is offering on campus free flu vaccines. The clinic is located in GUC 209 on Mondays from 8-1 p.m. and Tuesdays from 8-4 p.m. during this month. In order to receive vaccination, individuals must show a green passport and a Presence Digital ID or Mane Card. 
Jacques added that another way to slow the spread of the flu is to continue to wear a mask, wash hands frequently and to maintain six feet distance from others. 
In order to hopefully avoid the rise in cases due to the cold weather of the month of Dec., UNA moved to sending their students home for Thanksgiving on Nov. 24 and having them take their finals from home. Meaning, students will not be on campus when the virus is expected to surge. 
"We recommend the students continue wearing masks, maintain 6 foot distances, and be mindful of crowds," said Jacques. "Don't let your guard down with practicing these safety measures if you are in large gatherings."
The University encourages students to be careful about traveling during the holidays and to be careful is attending large, crowded gatherings. Both are easy ways to potentially be exposed to the virus, Jacuqes explained. 
Students will not be asked to complete daily health checks while at home for the holidays. When students return from their winter break, The daily Healthcheck will resume.
"Housing and Residence Life will work with University Health Services to provide information to the students that remain on campus over the holiday break," said Jacques. 
As of now, there is no requirement for students to undergo a COVID-19 test to return to campus for the spring. 
About the Contributor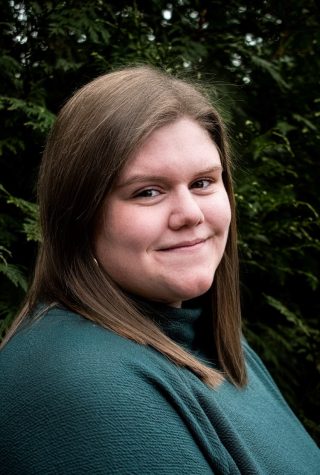 Ellen McDonald, Managing Editor
Ellen McDonald is majoring in Mass Communications with a concentration in Journalism and Digital Media Production with a minor in Political Science. During...