LaGrange Society adapts due to COVID
One of the staples of the University of North Alabama is the student ambassador program, The LaGrange Society. At the forefront of the program are the two co-captains: Charlie Gordon and Macy McKeever.
Gordon has been a part of LaGrange for three years and McKeever has been a member for two. Both have dedicated their time to showing off UNA to prospective students, in hopes of increasing enrollment for the following fall semester.
"We give tours in masks and follow all guidelines," said Gordon. "Our tours were already personal before COVID, and we did not have to limit our tour six [people]."
Due to the virus, LaGrange is not doing as many large tours for schools that come to visit UNA. There is also now a constant effort to maintain social distancing and to make sure that the tours are routed through designated entrances and exists around campus, Gordon explained. 
"From the tours I've given, students are wanting a sense of connections," said Gordon. "Seniors and juniors who have misused so many traditions and they want a sense of belonging."
Gordon added that potential students love seeing the University operate as a unit because they've missed out on the personal experience that was taken from them due to the virus. 
Despite the virus, the LaGrange society has not noticed a decline in students wanting to come and tour UNA.
"… we are experiencing students using days off due to hybrid and virtual high school [to tour UNA]," said Gordon. "We [the LaGrange Society] are fortunate that students want to come."
Aside from wearing masks, LaGrange has made a few other changes in regards to the actual tours. 
"… when we're on a golf cart tour, we have to be spaced out and we have to talk through a megaphone because we [members of LaGrange] can't turn around," said McKeever. 
"We also go out and get them [prospective students and their families] from the parking lot, ask if they need a bathroom and we give them water bottles."
In addition to those changes, the University is taking precaution to protect the members of The LaGrange Society as well. 
McKeever explained that at the football game against Jacksonville State University on Oct. 17, LaGrangers were not required to attend.  
With all of these changes, one thought is that the world may never go back to normal. Due to the virus, the University has made a multitude of changes within its daily functioning and departmental functioning. 
"I believe that the world we live in is a new one," said Gordon. "The pandemic has given us to explore internal and external issues. Every tour is different and the changes will continue to adapt and change."
Another major change on campus is the requirement of students, faculty and staff to wear a face mask at all times on campus. 
"… honestly it was a new experience," said Gordon. "One of the greatest experiences is that other students are wearing masks and that we are here because the students and university care enough to us to be here."
Gordon added that prospective students and their families are in awe of the precautions that students are taking and the strength of the University against the virus. 
"I'm also in nursing school and everything we have to do is in masks," said McKeever. "Audibly, I'm quiet, but they [those attending tours] have on a mask too so they understand."
Even though a lot of changes have occurred within The LaGrange Society, one thing is the same. 
"… one of the greatest things is that we write a handwritten thank-you letter," said Gordon. "We can continue to offer tours to show that we care about you [prospective students] and we want your college experience to be yours."
Gordon thanks the administration for believing in and supporting The LaGrange Society. He said that he is so blessed as co-captain to be part of his organization. 
"It's not hard to be [positive], but getting to see families come to campus is enough to keep you positive," said McKeever. 
McKeever added that it is not difficult to be positive when there is a lot to keep you going. This is just the next part of the lives of the students being shown the University and for McKeever and Gordon, it is exhilarating to be a part of that first, pivotal step.
About the Contributor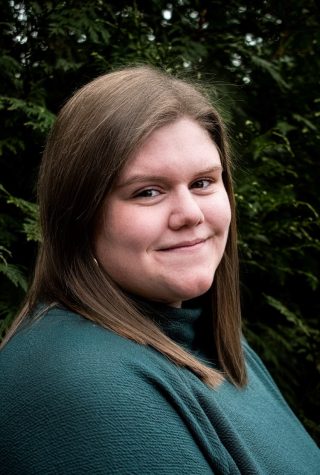 Ellen McDonald, Managing Editor
Ellen McDonald is majoring in Mass Communications with a concentration in Journalism and Digital Media Production with a minor in Political Science. During...