Project Say Something aims to challenge political structures
In the midst of a continuous push to have the confederate statue relocated, Project Say Something (PSS) reveals that the concrete for its new placement has been poured.
The statue currently resides in front of Florence Courthouse, a place built to represent justice but instead serves as a painful reminder of oppression and colonial rule. The Shoals racial injustice group believes a more appropriate place for the statue is at Soldier's Rest Cemetery, which is where the concrete has been decanted.
"The roadblock that [we] are currently facing is our Lauderdale County Sheriff, Rick Singleton," said Camille Bennett, Project Say Something Founder.
Before, the dispute was that the statue was on county property, but allegedly belonged to the City of Florence. The city was in favor of its removal and relocation.
"[Now] Sheriff Singleton is saying, 'Because it's on county property, if you move [the confederate statue] I'm going to arrest people,'" Bennett said. "You don't see a lot of Sheriffs jumping in saying [this]. But in my opinion, because of all the controversy and because people are really trying to stick to white supremacists values in order to solidify their position for political gain, he's making it criminal. It is an overreach."
Bennett said she is not sure what Singleton's motives are, but she knows that if he had constituents that were not supporting behaviors like this, he would not make arrests.
Sheriff Singleton is not the only one whose approach cannot be persuaded. Despite the change in the local officials, there has yet to be a change in attitude towards PSS's advocacy.
"Unfortunately, a change in attitude in this moment is yielding the results that we need because there are [still] barriers that exist," Bennett said. "At the end of the day, we're in the same situation. Attitudes mean nothing."
The City of Florence, unlike other cities, has access to the confederate statue's dedication speech. This speech, which can be found in Florence-Lauderdale Public Library, speaks plainly of African Americans being the "mongrel" race, and confirms the veteran's racist ideology.  
"Other [places that have] dedication speeches use more dog whistling language," Bennett said. "They talk around it."
However, some city leaders acted without access to a dedication speech, but rather after the death of George Floyd, a black Minneapolis man. 
Richmond, Virginia's. mayor ordered the immediate removal of several of their confederate statues on July 1. Following this mindset, Montgomery, Ala.; Nashville, Tenn.; Mobile, Ala.; Decatur, Ga. and many other states took down their statues as well.
PSS has been calling for its removal since June, and has yet to see any progress.
"[Florence's local officials] will either have to call their bluff and take action," Bennett said. "Their hearts are of no importance because we're still stuck with the statue."
Bennett said that by taking action, the local officials will have to reject narratives of white supremacy. 
She said that the city of Florence could do a strong campaign that rejects the statue, that says, "Even though this statue is on county property, it is in our city and we want to make sure everyone knows that this is indicative to our values and we reject it." 
"[If they can't remove the statue] there are so many [other] things that they could do," Bennett said. "There's this entire sidewalk around it that belongs to the city. They have access to the streets around it, the grass area … so this isn't a moment to be passive. They have a lot of opportunity to engage, but I think there's this short sidedness and that points to a bit of apathy. They have the power to [move the confederate statue] but they're not using their power wisely, in my opinion."
This is one of the reasons why PSS will be rolling out a 501(c)4 that aims to challenge political structures of power contributing to structural racism.
A 501(c)4 is a subsection of the Internal Revenue Code made exclusively for organizations that are non-profit and which promote social welfare.
"A 501(c) 4 gives you more freedom to be an activist, which means that if our mayor is behaving inappropriately and has issues with race and equity, we [could] definitely challenge that," Bennett said. "In the past, we were 501(c)3 so, when we were going after Mayor Holt specifically for this one thing, we had to be very careful."
Bennett said when they have a 501(c 4 they will have more liberty to challenge political structures that are perpetuating white supremacy.
"That's really exciting," Bennett said. "We needed [the 501(c)4] during the protests."
During the fall semester, PSS protested 5 days out of the week, where they typically last an hour. But, when it comes to hosting their monument removal events in 2021, it may not be at the same frequency.
"As long as we have to live that statue and we're not seeing our city officials address it in ways that we see they need to, we will definitely keep having protests," Bennett said. "But I don't know that we would continue in the same way or if we will do it sporadically."
Bennett said that what she does know is that self-care and self-compassion is really important for activists. This is why their advocacy may have slowed down as the year ended because they have taken time for themselves to rest and heal.
It is Bennett's advocacy and determination that got her recognized as one of 24others to be by the Reckon, a publication that focuses on exploring important issues facing the South. In this list of people "fighting to build the South," Bennett was among well-known activists in America, including U.S. Senate Stacy Abrams. 
"It was a blessing," Bennett said. "The fact that it was about people who want to reimagine a new south and are putting in the work to make that happen, that was incredible."
Bennett said that this was also a time for her to reflect and be grateful for the hard work that PSS has been put in for the last six years.
"The statistics [keep me motivated]," Bennett said. "The state of black people. I own childcare centers that serve predominantly black women and children so I'm able to see a lot of the ways our state policy is problematic."
She said she just looks around and sees she has not even become close to being done.
"[I'm] only beginning," Bennett said.
About the Writer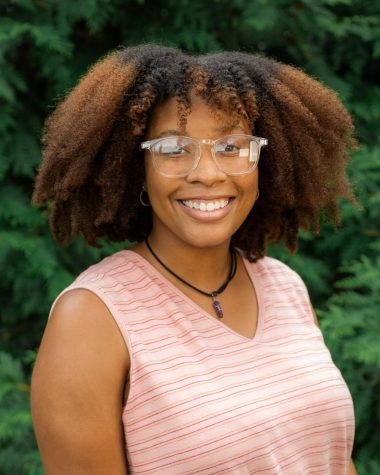 Lavette Williams, Editor-in-Chief
Lavette Williams is a senior from Florence, Ala. She has been a part of the Flor-Ala staff since her freshman year and has been Editor-In-Chief since her...