UNA student creates scholarship
University of North Alabama senior Perez Nance uses his spare time to create a scholarship for two high school seniors interested in a higher education at the collegiate level.   
"I wanted to [be able to] give back to the community," Nance said. "I wish I would have had this opportunity available to me [when I was in high school]."
Nance's scholarship, the Perez Va'Sean Nance Scholarship Fund (PNSF), is offering its applicants the option of a $200 award or a college starter pack, which will include a refrigerator, a microwave and a printer for their college dorm.
Nance said that he created the starter pack because today, a student could buy all those appliances and their total would equate to $200.
By doing this, Nance is ensuring each student a fair deal as the value of the items he is giving away are worth the same amount as the scholarship money he is giving away. 
"This all came out of my own pocket," Nance said. "I had to save up for [the appliances]. I didn't just decide one day that I was going to do it. I had been thinking about this for a while."
Nance has been planning for the PSNF for two years; however, he felt like the last semester of his senior year was the best time to release it. 
"[This past fall], I didn't think I had the time to give back because I was taking a lot of classes, working and participating in organizations," Nance said. 
This semester, Nance only has to focus on his Game-day Operation internship with the University of Alabama in Huntsville so he has more availability. 
Nance said that this gave him plenty of time to come up with a flyer and to think about how he wanted to distribute the scholarship. 
Those interested in applying for the PNSF are asked to write a 200-250 word essay on why furthering their education is important and their goals for the future. It is also required that applicants submit a 2-minute video on who they are, which high school they attend and why they are motivated to attend college. Submissions can be emailed to [email protected] 
Schantees Sales, Nance's mom, will be helping Nance in picking his two winners. In their search for them, the two are looking for them to have a 2.5 or higher Grade Point Average (GPA) and no judicial record.
"I think the scholarship is awesome," Sales said. "Anything to help an incoming freshman with necessities that they may not be able to afford because of the other responsibilities parents and students endure when attending college. Situations are different and this scholarship may be the blessing a student needs."
Sales said that the $200 reward can assist in several ways.  
"Books are costly and [it] can pay for a book," Sales said. "It may be the remaining balance on tuition. Students [also] need clothes and special supplies for certain classes."
Sales was not the traditional student. While her focus was obtaining her degree, she also had a family to take care of. Sales said the $200 could have helped her provide for her family and also deducted from some of her school expenses.
"I personally believe Perez loves helping single parent homes," Sales said. "Perez grew up in a single parent home with two sisters. He watched me work hard to get them what they needed as well as what they probably didn't need."
Sales said Nance has always had a soft spot for single moms who are working hard to make ends meet. But in general, he just loves helping others.    
"[He] is the foundation of [the PNSF] scholarship and I am his support who encourages him to be the best man he can be," said Sales.
Since posting the scholarship to Facebook on Jan. 8, the post has had 219 likes and 148 shares. Already, Nance has received quite a few submissions. 
"I'm looking for honesty [in their submissions]," Nance said. "Everyone is going to say that they're good, but I'm looking for someone who really needs it, someone who really worked hard in the four years they were in high school, someone who will really put in effort."
To ensure that the applicants are being honest, Nance is going to do a background check and to speak with high school counselors. 
Submissions for the PNSF are due March 20. The winners will be decided in April, giving students two months to get their essays and videos in. This will also give Nance enough time to decide on a winner and present the scholarship award to them before the high school seniors graduate. 
"I just plan on going to [the winner's] school and surprising them," Nance said. "After that, I'll have my own graduation and begin my own career."
Only months away from his own graduation in May, Nance reflects on his senior year of high school when he was applying for scholarships for college.
"I applied to every scholarship available to me," said Nance. 
Nance would fill out an entire scholarship packet in his class and turn them in to the guidance counselor the next period. And while he did not win all, he did end up getting a few.
"At least, I tried," Nance said. "If I could talk with a high school senior today, I would tell them to go to the counselor room, grab as many scholarships as you can, and apply. You're going to win at least one or two. Don't sell yourself short. You've got to have that mindset to be successful."
About the Writer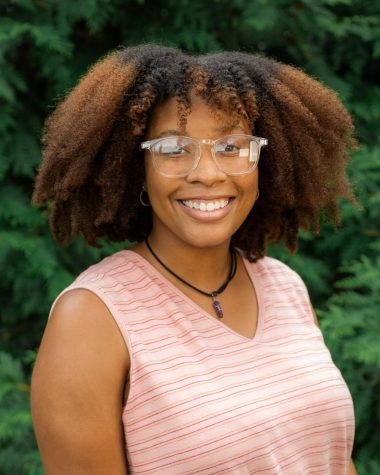 Lavette Williams, Editor-in-Chief
Lavette Williams is a senior from Florence, Ala. She has been a part of the Flor-Ala staff since her freshman year and has been Editor-In-Chief since her...