For the love of Tennis
Ida Hasselbalch first started playing tennis when she was only seven years old. Since the first swing of her racket, her love for the sport and her skill has only grown.
"I started playing just because my sister and my dad played," said Hasselbalch.
Hasselbalch explained that she played soccer for a year before playing tennis. She played both sports for three years after that until she finally chose to play only tennis. 
"I like that tennis is more of a team sport," said Hasselbalch. "I like that on the tennis court, you're alone with it. You gotta fix your own problems." 
Hasselbalch is an international student from Hoersholm, Denmark. Here at UNA, she is majoring in Business Marketing.
"I always wanted to try and go here [UNA] and play tennis," said Hasselbalch. "So, I started in like my second year of high school and got in contact with a lot of coaches."
Before choosing UNA, Hasselbalch narrowed her choices in American universities down to five.
"I got here in January 2020 and visited," said Hasselbalch. "When I got home, I picked UNA."
Hasselbalch explained that after COVID-19 hit the United States, the embassy closed, and she was unable to arrive on time.
This delay did not discourage Hasselbalch and she arrived in Ala. in Sept. of last semester. 
"It was kind of a disappointment… I wanted to be here when everything started, but my professors were really sweet with helping me the first month of doing online classes," said Hasselbalch. "It was new for everyone."
Hasselbalch said that she has always loved being on a team, even though tennis is an individual sport.
"You're not done until the last point is played," said Hasselbalch.
 While Hasselbalch loves tennis, there are always things that any athlete can struggle with while on the court.
"When you walk onto the court, you never know when you'll be done," said Hasselbalch. "It's not like going out there and you play for ninety minutes and then you're done. You can be behind and down first set and down five love, but you're still not done yet."
Hasselbalch explained that while she is on the court, she is never able to let her mind wander to other things. She has to keep her head on the court. 
"If you're playing a team sport, you can tell if someone is not feeling it and you can take her out," said Hasselbalch. "You've got to play every point [in tennis]." 
One great aspect of the sport is that tennis is universal, explained Hasselbalch. In college tennis, the only difference is that players only play one set and doubles and that there can be a deciding point. Hasselbalch said that Denmark is starting to implement these differences in their ITF tournaments, such as Junior Internationals.
"It's because it [tennis] can take a really long time to play," said Hasselbalch. 
Hasselbalch said that her best match was back in March of 2018. 
"I, with my team, won the Danish National Championship for senior teams," said Hasselbalch. "I played two great matches. It was so tight, and we barely made it to the final four so we were just like happy we were there. Then we won it all." 
Before her matches, Hasselbalch said she always tries to get a good night of sleep. She added that if the team has to travel for a match, she likes to listen to the same playlist on the way.
Hasselbalch said that when she is on the court, it is the best feeling.
"I just love that," said Hasselbalch. "That's why I play tennis. It's because I think it's fun and I love it. I wouldn't play it if I didn't think it was fun." 
While on the court, it is her love for the sport that keeps her motivated during difficult matches. 
"Last semester for example was really hard, we didn't play any matches, and everything was canceled," said Hasselbalch. "We were just practicing and practicing and practicing. Everyone started to get anxious to play so just being able to play this semester was great."
Hasselbalch said that for other tennis players, they just need to get out there and do it.
 "Sometimes you've just got to accept that sometimes it will be hard, but you'll be happy after," said Hasselbalch.
About the Writer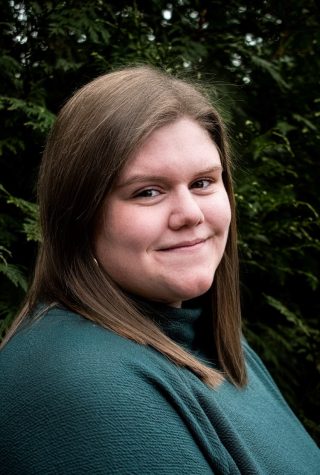 Ellen McDonald, Managing Editor
Ellen McDonald is majoring in Mass Communications with a concentration in Journalism and Digital Media Production with a minor in Political Science. During...