Open Education Resources in search of student advocacy
 Open Education Resources (OER) aims to gain students' support in replacing traditional high-cost textbooks and course materials with more affordable options.
In fall of 2020, OER asked students on a whiteboard of Collier Library, "How much did you spend on textbooks this semester?" While a few students put check marks, acknowledging that their books were under $100, many said they had spent over $400. 
Students were also asked if they knew that the library had textbooks on course reserve and what their most expensive textbook was. 
"We found out that multiple students are paying over $600 for a single textbook," said Jennifer Pate, OER and Scholarly Communications Librarian. "The biggest part was: 'What could you have purchased instead of textbooks?' We [had] everything from the hilarious – lots of Taco Bell, Gymshark or Chick-Fil-A – to the serious – their medication, gas, food, rent, therapy. It was really disheartening to see some of those."
In a 2018 Florida student textbook survey, findings suggested that the cost of textbooks continue to negatively impact student access to required materials and learning.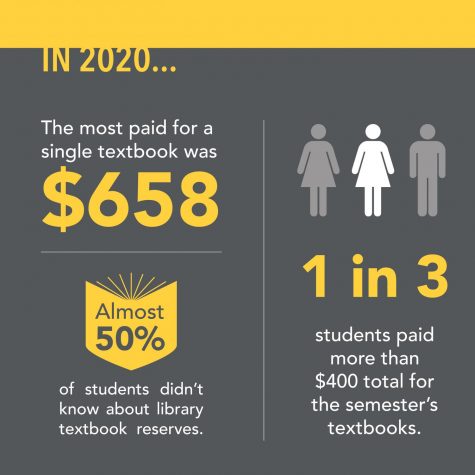 "Students aren't buying textbooks and, of course, that affects retention, graduation and drop, fail, withdrawal rates," Pate said. "If a student gets into a course and finds out that they have to pay $200 or $300 for one [textbook], many times they drop it until they can afford it or find an alternate course that can fulfill that requirement."
Pate said it is often called the crisis in higher education, which is when scholarship and financial aid dollars are not going far enough.
According to CBS News, the average cost of college textbooks has risen four times faster than the rate of inflation over the past 10 years.
"It's problematic for students because if [they're] required to buy an access code for a course, [they] can't shop around and get a used copy for that," Pate said. "It's positioned as being more affordable than regular textbooks, but [access codes] are really not. You can't get a used copy, you can't rent it and you can't sell it back at the end of the semester so you can't make a small amount back.'"
Pate said that regardless of what class, students will have no retention of that material or no ability to recoup any of the cost they have invested in it.
This is one of many reasons why Pate banded with others to form the OER Working Group. Since starting up, the group has done a lot of work behind the scenes to aid in the success of students.
"One of the things that we have done is ask the registration office and IT to help with putting indicators beside the courses [in our OER grant program]," said John McGee, Executive Director of Educational Technology Services and working group member. "We're doing [this] with the ones that are in our program so we can identify classrooms that are using either low cost or no cost textbooks, but also so students know which courses don't require them to spend a bunch of money."
McGee said Open Education Resources is almost personal.
"In my own classes, I can see if I provide lower cost resources or free [materials] for students to use for the textbook, they are more engaged because they all have a copy of the materials," McGee said. "It's better overall for everyone."
However, this is not the only benefit of Open Education Resources. In addition to cost saving for students, OER allows for professors to have diversity in their course materials.
"Jason McCall kind of highlights that," Pate said. "In his final report to us, when he converted his first course to OER, he mentioned the fact that he was really about to diversify his content and highlight more women, more people of color, more gender and sexuality expressions."
Pate said it is a way professors can decolonize the textbook and make their course materials more representative of the students and to be able to highlight voices that might not necessarily be covered in a traditional text.
"That is really important to me," Pate said. "[Professors and faculty in the OER program] have the ability to design their materials to reflect the student body and the multiplicity of experiences that people bring to a college campus." 
To date, 14 UNA faculty have received stipends to redesign 19 courses using OER or by utilizing library resources, fair use and other means to keep the cost of course materials under $50. These faculty members are on track to save students over $200,000 per year.
"I really do think that [OER] is the future," Pate said. "Will we ever be able to replace all textbooks? I don't know. I would like to, but I don't know if we'll ever reach that level of saturation."
While OER has the support of their student member, Tevin Pauley, the program understands that in order for it to thrive, they need to bring about more student awareness.
"We offer [UNA faculty] a training program and funding for them to switch their traditional course materials with OER for students," Pate said. "We've done great work with the faculty side, but we want to try to get a more organized student-led advocacy for OER. Faculty will listen to students."
To do this, the OER Working Group plans on creating another survey similar to the one it did in Collier Library.
Pate believes that this would offer them a formal snapshot as to where students are at as far as buying books. 
"I definitely want a more robust survey so I have data from this specific institution because I think that will carry a lot more weight for faculty," Pate said. "People like to see the numbers."
About the Writer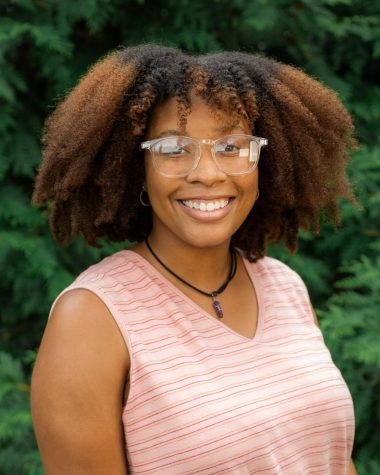 Lavette Williams, Editor-in-Chief
Lavette Williams is a senior from Florence, Ala. She has been a part of the Flor-Ala staff since her freshman year and has been Editor-In-Chief since her...