Looney named UNA's Director of Athletics
 Joshua Looney was introduced as the new University of North Alabama Athletic Director on Tuesday, Aug. 3, at a news conference held in Flowers Hall.
Dr. Kenneth Kitts, President of UNA, told sources the search for the new athletic director was one of the smoothest and most efficient he has ever been a part of. The search committee was comprised of 11 members led by Provost and Executive Vice President for Academic Affairs, Dr. Ross Alexander, with help from search consultant Dan Kenney. Kitts said Looney stood out from all the final applicants that viewed the UNA campus.
"His knowledge of athletics ranging from engagement to compliance and from game-day operations to facilities and personnel, truly he's the complete package," Kitts said.
Looney has seven years of combined experience as Director of Athletics from East Stroudsburg University of Pennsylvania and most recently, Missouri Western State University. Looney has also served as Associate Director of Division II for the NCAA, Public Relations for the Kansas City Chiefs and Publicity Assistant for the Orlando Magic.
Looney is the ninth Director of Athletics in the departments 89-year history, following Mark Linder.
"Being able to take over an athletic department following someone who's national reputation is someone of faith, high character, integrity," Looney said. "I'm very honored to follow in his footsteps."
Dr. Looney will continue to work in the Kansas City Chiefs training camp through Sept. 1 before joining the UNA campus full-time.
Looney said the transition of UNA athletics to a Division I program is a chance to make a lasting impact over the next few years. 
"If that doesn't get you fired up, I don't know what will," Looney said.
Looney plans on bringing energy, effort, enthusiasm and optimism to the UNA athletics program.
Looney marked three main points to change the culture of UNA athletics in Division I: Investing in relationships, committing to excellence and a mindset that will be the enemies of the status quo. Investing in relationships is a way for the UNA athletics, donors, facilities, alumni and businesses to connect with one another. 
"It's Lions supporting Lions," Looney said. "That's vitally important for the culture of an athletic department."
Committing to excellence is broken down into three parts: classroom, competition and community. Looney believes the athletic programs focuses on classroom and community should be equivalent to the preparation for competition, with clear targets and clear expectations.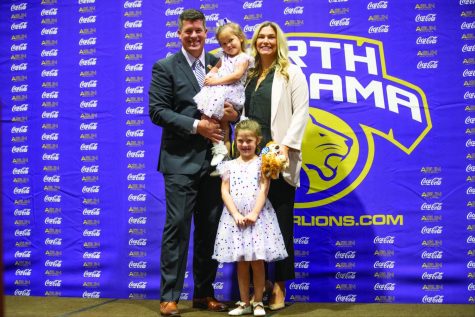 "You will see us focus a lot on community engagement," Looney said. "We want people to know us and come back to this campus. We want to be an athletic department that this community will be proud of. Each time we set records in the classroom, we will communicate those just as when we set records on the playing field."
Looney said that "a mindset that will be the enemies of the status quo" means to seek and celebrate firsts, by taking risks and pushing limits. With each new success of the program, he said the bar will be raised.
In the transition to Division I, Looney plans on making UNA and the Shoals area attractive across the country. To accomplish this, coaches, administrators and athletes will be made more open and accessible to those who visit the UNA campus.
As Looney transitions to UNA from Missouri Western State University, home of the Kansas City Chiefs current training camp, he jokingly added that the first thing UNA needs is Patrick Mahomes. Looney attributes the success of MWSU Division II athletics to its community engagement, a priority he plans on implementing within UNA and the Shoals area. Adding that the connection with the community is part of what led MWSU to securing an NFL training camp. 
"I think the sky's the limit for this institution," Looney said. "As a Division II program, this wasn't just a good Division II program, this was an elite [one] across many sports. As we fully enter the division one era, [we] want to build every single one of our programs to have sustained athletic success."
Looney said he views his role at UNA as working with and for the coaches and student athletes to eliminate obstacles that stand in the way of their success.Each sport is run differently, and because of that, he plans to let each coach be themselves as they strive to meet the departments goals.
Coming to UNA with a diverse athletics background, Looney said the pressure to produce results is always there. The competitive results are the most external piece, but Looney said the results required for a sustainable athletics program start in the classroom and the community.
"You start getting away from your values and making quick fixes," Looney said. "Success won't come, or it might come in a flash and its gone again. We want to build strong foundational programs that are built for sustained success in the ASUN."
Marketing and branding are two positions that helped Looney succeed in his athletics career. At East Stroudsburg University, Looney helped to renovate the mascot and logo designs. In the Kansas City Chiefs organization, Looney helped to create one of the first NFL programs with its own production, digital and TV networks with 65 Toss Power Trap Productions. Looney plans on bringing this marketing and branding knowledge to UNA as a way of increasing athletic funding.
"I think you'll see our department really try to push on digital and social," Looney said. "We have to tell our athletes stories and expand their brand individually. Athletics is a marketing arm for the institution as a whole if it's done right."
Looney said the five-year future of the UNA athletics program should be a night and day transformation. He added that this is where the sustainable groundwork comes into play when Division I is no longer new to the program.
"These types of moments, they don't happen often, if ever, for coaches or athletic directors or presidents or communities," Looney said. "We've got a lot of work to do now this year, next year, the year after to make sure five years from now this place is very successful."
The groundwork set in Division II by UNA is what makes Looney hopeful that the institution can compete at an elite level in Division I sports. 
Looney said although Division I is different, the community coaches and athletes in place will help the transition. 
"You look at somebody like Coach Cozart, who's won a national championship at the Division II level," Looney said. "She's going to have so much success at the Division I level as well."
Looney said UNA has "the right campus that's growing and thriving in a challenging environment for higher education." That enables UNA to be a long-term institution for success.
Looney will be joined by his wife, Jenna, and their two daughters, Parker, 5, and Perry, 2, in Florence.
"There's a million dollar walk here," Looney said. "You come down downtown and you go where the president's house is and Leo and the fountain. Then, you walk down and you have the amphitheater just beautifully maintained [and] you look at the people that are here, that you've met and it continues to elevate. Then, you look at where North Alabama is now in the climate of higher education. This is an institution that certainly checks all the boxes and one that we're excited to come and make our home."