UNA football season opener preview
 The University of North Alabama's football season starts on Sept. 4 at Braly Stadium, where the Lions will face off with Southeastern Louisiana University. The Lions have one of the toughest Football Champion Subdivision schedules of any team. 
Players reported back to the UNA campus on June 21 for six weeks of conditioning in preparation for fall camp. The Lions used this to also introduce new players to the team and grow chemistry. Scholarship players were the only ones mandated to attend the six-week program, however, most non-scholarship players still attended.
The team then transitioned into their fall camp, attending their first pre-season practice on Aug. 6. 
"Overall, it's been a good camp," Coach Willis said. "We've got a good feel for how things are going to play out as far as the depth chart in most spots."
New players expected to make an impact include 6'8" offensive lineman, Blake Walker, 6'2" defensive lineman, Micah Bland and 6'0" linebacker, DeLawrence Butler. Returning players to watch this year include 6'3" wide receiver, Dexter Boykin, 6'0" long snapper, Brett Burton, 6'2" kicker/punter, Joe Gurley, 6'1" wide receiver Cortez Hall, 6'4" defensive end, Wallace Cowins, JR. and 5'11" defensive back, K.J. Smith.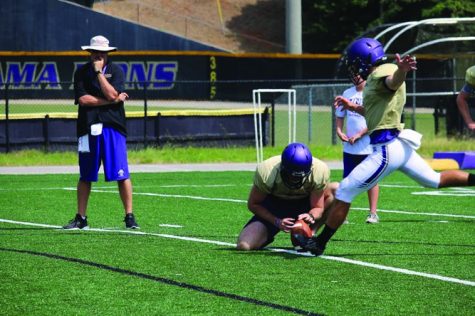 Over the off-season, Smith was voted the 2020-21 Big South Conference Male Scholar-Athlete of the Year by the Big South Sports Information Directors. This makes Smith the second back-to-back winner of the award since its establishment in 1995-96. Smith has maintained a 4.0 cumulative GPA while earning a degree in Interdisciplinary Studies with an emphasis on Health. Smith is now a graduate student at UNA, pursuing a Master of Science in Health and Human Performance degree, with a concentration in Exercise Science. As a graduate student, Smith has continued to maintain a flawless 4.0 GPA. 
"I think a lot of times there's a perception out there that football guys just want to hit and beat people up and that they're not academic guys," Willis said. "[Smith] has been a great leader and he's taken on that role. He works his tail off in that classroom." 
Despite UNA transitioning into Division I, this year's football schedule has been reported as possibly the toughest in the FCS. The Lions will be facing seven opponents ranked in the preseason American Football Coaches Association Top 25 poll. These teams, in order of play, include 15th ranked Southeastern Louisiana, 18th ranked Chattanooga, 10th ranked Jacksonville State, 22nd ranked Nicholls, 25th ranked North Carolina A&T, 13th ranked Monmouth and 19th ranked Kennesaw State. Most of these games will be played on the road apart from Chattanooga and Kennesaw State. 
Coaches say preparation has not changed since viewing the schedule. Next year, with eligibility for the playoffs, UNA plans to focus more home games on higher ranked schools. With most games being played on the road, Coach Willis said this schedule will not just be a test of physical capabilities. 
"For me it's more mental than it is physical," Willis said. "When you go into a game where you're going to be the underdog and you're playing a team that's more superior, supposedly, you don't want to go in like, 'well we're not supposed to win.' We want to go in there with a mindset that we are going to win."
Last year UNA had a shortened season, only facing four opponents, ending with a record of 0-4. The lion's worst loss came on Nov. 21 against Brigham Young University, with a final score of 14-66 in favor of BYU. Coach Willis said despite a difficult upcoming schedule, players are excited to have structure back in the program, with a full schedule laid out.
UNA will open its season on the road against 15th ranked Southeastern Louisiana on Sep. 4. SLU is led by 2020-21 FCS Player of the Year, Cole Kelley. Kelley is a deep threat quarterback known for his 6'7" frame, long arm and rushing capabilities. 
"We've got to make sure he doesn't play us big," Willis said. "We just have to keep everything in front of us, and we've got to tackle."
The Lions say they have embraced their underdog role through the transition into Division I and plan to use it as motivation. Going into Louisiana, the lions are not relying on either side of the ball to win the game by themselves. 
"I'm hanging my hat on everybody," Willis said. "If the defense is what wins us the game, I'll take it, but at the end of the day, you've got to score some points. You've got to keep people from scoring, and you've got to make your kicks."
Willis says the team has been through a lot in the transition period that can cause stress on players. Current games are not counting for playoff berth, and UNA players are also being screened for COVID-19 to ensure safety in the program, all while attending practices, film study, weightlifting and academic classes. 
"They've got to do that with school and football," Willis said. "It is a job. The confidence level is high, and I think [for] these guys, the motivation is just the fact that 'hey man I get to play football,' and we are excited there is an actual full schedule." 
UNA football plans on focusing to improve their running game this season to open the passing game up against opponents. 
"I feel like in camp we've done that," Willis said. 
The Lions will be using a Run Pass Option (RPO) this season on offense. Defensively, the lions hope to improve in both rushing and passing defense. With last year's schedule being shortened, the Lions will use upcoming games to determine where both the offense and defense stand against nationally ranked opponents. 
"The first game is always about special teams; it's always about tackling, and it's always about turnovers," Willis said. "There's going to be three categories you can always check in the first box. If you can win two of those three, there is a good chance. If you win one or less, you're probably not winning the football game."
Coach Willis said looking over the schedule, there are no games UNA can pinpoint for an easy win. Part of the difficulty for the team is that JSU is the only opponent UNA faced last year that is on their current list of opponents. However, the UNA Lions are confident in their ability to come back to Florence with a win over Southeastern Louisiana after the game on Sep. 4. 
"Going into this game, all of our team is going to play hard," Willis said. "You're not going to know that you are behind in the fourth quarter, you're not going to see any moping or quitting. These teams fight, and they pull for one another. It is a challenging schedule, but we are going to go out and compete. Teams aren't going to be able to roll up and say, 'well this game will be over at halftime,' and if that does happen then we must have played our worst game that day."