2021 Culture Fest at the Ampitheatre
Walking into the amphitheater, one can hear and see traditional music and dance performed by Sankofa African Drum and Dance Company. The air feels as though it is electrified with pride and joy. Everyone watching cannot seem to turn their eyes away from the performance.
Culture Fest has not been celebrated as it should in this past year, because of COVID-19. But on Thursday, Sept. 23, 2021, Culture Fest and all its activities and performances were able to be experienced properly by students and faculty. 
Culture Fest is hosted by the University of North Alabama's Division of Diversity, Equity and Inclusion (DDEI). They have a huge presence on campus by being a place where people can learn about diversity in an accepting environment. The DDEI has hosted many speakers who have come to campus to talk about the importance of inclusion and how acceptance can help us all become better friends, students and future professionals that represent UNA.
"I just think that Culture Fest is a great time for us all to get out and explore different cultures and environments," Whitney, a member of Black Lioness Alliance (BLA), said.
This event allows students to learn about many different cultures that are present at UNA. From music, live performances, food and spoken word, students were able to experience other cultures and learn about their traditions.  
"This is my first year representing BLA at Culture Fest. This year we experienced many different types of food and were able to listen to a lot of different types of music," Tamya Washington said. 
Henna art was also available during Culture Fest. Henna dates back almost 5,000 years and was used all over the Middle East, India, Pakistan and Africa. Henna would mainly be used at ceremonial events. Today Henna is used to express an art form, but still holds a prominent significance at ceremonial events like marriage or births. Henna can also be used to express luck and happiness. Happiness was everywhere during Culture Fest.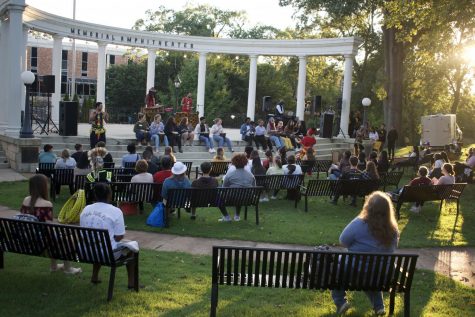 Performances were done by people of various cultures whose talents highlight their traditions. The list of talents is long, but all were worth the wait to watch and learn. Spoken Word was performed by Trindia Owens, whose talents shined throughout her performance. Her words resonated with many in attendance, regardless of age, class or gender. 
There was a Native American Hoop Dance performer who dazzled the audience. This dance is performed as a show dance among many Native American tribes. Culture Fest got to experience a solo artist who had many hoops and used them to make many dynamic shapes and poses, using the hoops. To perform this dance, the artist usually takes small steps to put emphasis on the hoops. Some dancers perform to faster music with fewer hoops, but others might just use a drum beat and have dozens of hoops during their performance.
Among Trindia Owens, Sankofa African Drum and Dance Company and Native American Hoop Dancing, the master of ceremonies was DJ Casper, who also provided sound for the event. 
Many students were in attendance who had never been to Culture Fest before or had not had the chance to experience it on this level. 
"It's my first year in BLA too, but I am excited about this club because it helps develop personal empowerment and unity between black female students on campus, and we also help by volunteering in the community,"  Rodnesia Goodloe said. 
The general consensus was that at this moment, attendees were proud to be  UNA students. Many had the sentiment that Culture Fest could not have come at a better time. 
"This is my first year here at UNA and my first year in the club. I think [Culture Fest] is really exciting because it helps bring so many people together." Javia Williams, a freshman representing BLA, said.
Many organizations on campus had tables that gave visitors information on what they do and why they do it. With so many different people and organizations highlighted by Culture Fest, it is evident that we as a community and a college are learning more and more about our peers. Not just by sitting next to them in a class, but also by experiencing and appreciating their culture through music, art, dance and food.