UNA Trailblazer: Dr. Meghan Merciers
Most UNA students and even alumni are familiar with what the Year of the UNA Woman represents — a momentous occasion in which women were allowed to attend UNA 150 years ago. 150 years later, women assist in running the college. The entire year is being used to celebrate women in UNA.
To Meghan Merciers, that makes her position as Executive Director of the School of the Arts (SOTA) even more special. She has become another exciting first for the university. In keeping with the homecoming motto "Legends, Trailblazers, Heroes," Merciers is a trailblazer in her own right.
Merciers is a Chattanooga native but currently resides in Florence. She received degrees in Musical Performance from Michigan State University, University of New Mexico and University of Tennessee at Chattanooga. She also works with a quartet named Devil Sticks, which will release an album on Nov. 5 and has recorded on Donny Fritts' album "June."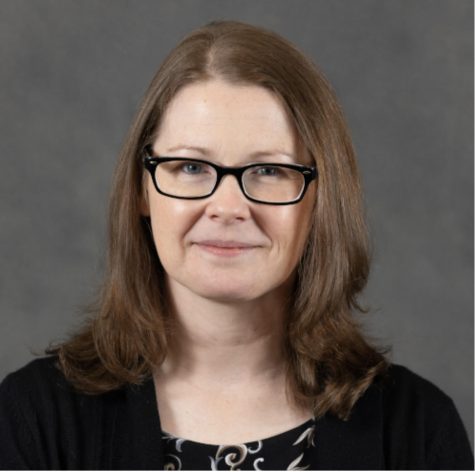 She has also given masterclasses throughout the United States and held performer and lecturer residencies at the Conservatoire de Musique near Paris and the Conservatoire de Limonest in Lyon, France.
Merciers began working at UNA in 2013 as a teacher of the clarinet. Prior to that, she taught at both Albion College and the Flint School of Performing Arts. Five years after coming to UNA, in 2018, she assumed the position of department chair of music (of which she was the first woman to do so) and then became Associate Director for School of the Arts in 2020. Just a year later, in September of 2021, she was appointed as Executive Director for the School of the Arts. 
Being an executive director is no easy task. According to Merciers, the title is an umbrella support organization for three departments (Department of Visual Arts & Design, Department of Music and the Department of Cinematic Arts & Theatre). She provides marketing support, recruitment and fundraising, among many other things. Community outreach and engagement are also important to Merciers. She is in the process of collaborating with the Tennessee Valley Art Association to create a community school of the arts. 
"[The evolution of SOTA] lies in the students building a culture and buying into that culture," Merciers said. 
Her vision for SOTA is interdisciplinary collaboration. The arts already boast a tight-knit community, but she thinks that it can be even better, even more unified. Merciers believes it is important to listen to how the students wish to shape the school. She particularly praises the SOTA students leaders (who are composed of nearly all of the disciplines within the school) for their innovation and creativity to better build the school. She aids them in shaping their vision and making it a reality within the school. 
Merciers thinks it is unique that the School of the Arts' professors also double as performers in their own right. The faculty works in the industry as much as possible, and Merciers finds them extremely hardworking and special. This allows the students to see how their work will pay off in the future. There is no mentorship like someone who has experienced it firsthand. It opens up doors for the students to perform and work as they are studying along with providing helpful insight into the industry as it is.
"A lot of times people associate music of the Shoals with a heritage rather than a present or a future and I think the School of the Arts is a bridge between acknowledging and knowing where we were," said Michelle Eubanks, Director of Media and Public Relations at UNA. "Like Dr. Merciers and John Paul White's presence, it's a bridge for where our music is and where it will go. It requires people like Dr. Merciers to be in those positions to allow students to see and understand the arts' fullest extent."
Along with directing SOTA, Merciers also teaches within it.
She is an Associate Professor of Music with an applied focus in clarinet. Furthermore, she is a performer in Trio Leo and Una Duo. The main goal for the groups is to "focus on research, presentation, and performance of the music of underrepresented composers and the music of diverse cultures/populations."
For their spring recital on March 6, they have commissioned a four-movement work from Alabama-based composer Dr. Lori Ardovino that focuses on the women of UNA's rich history. The recital is the culminating event that will kick off UNA's Weekend of Women. The weekend ends with a showcasing of what SOTA has to offer — one that Dr. Merciers is particularly excited for, as it shows all aspects of SOTA and allows students to promote and sell their work. It all seems to come full circle, as March is Women's History Month. 
"Promoting arts advocacy, in general, is what School of the Arts is about," Merciers said. "I think building a community that advocates for artists and enjoys art is essential to moving the arts forward."