UNA crowns homecoming queen and king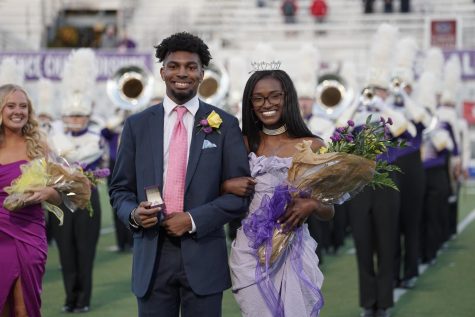 This past weekend, the University of North Alabama celebrated homecoming weekend with all it's beloved traditions. 
Maybe the most notable, the student body also selected its homecoming queen and king that will represent the university for the rest of the academic year.
In a court made up of students who are heavily involved with student organizations on campus, the two students chosen have been recognized for their dedication to the university and its students. 
This year's queen and king are Shanise Allen and Bryce Austin. 
Allen is a senior from Birmingham, Alabama majoring in elementary education. Along with her studies, she is the president for Alpha Kappa Alpha Sorority, Inc., involved with the Nu Omicron Chapter, a mentor for the College of Education and Human Sciences, A Diversity Student Ambassador, an Honors College student, and a 2021 SOAR counselor. 
She received her nomination through her role with Diversity Student Ambassadors. The group seeks to ensure that all students feel UNA is an inclusive and safe environment. Allen was elected as the organization's president last semester. 
"It's truly an honor just to be able to be on the court," Allen said. "In general it's an honor to represent them [Diversity Student Ambassadors]. It's a great organization to be a part of."
When Allen heard her name called as the winner she remembers feeling overwhelmed. 
"I was honestly shocked when they called my name; I couldn't believe it," Allen said. "It's definitely such an honor that I will remember forever." 
During her time at UNA, Allen said she has many great memories. One of her favorites was competing in the Miss UNA pageant. 
"It definitely pushed me out of my comfort zone," Allen said. "Getting to meet all the girls and form friendships with them."
In the pageant, Allen won the title of Miss Congeniality. 
"It helped me learn to speak in public and was a great honor," said Allen. 
After graduation, Allen wants to continue studying at UNA. She plans to work towards her Master's in social work. 
Allen wants to thank all her friends that supported her and helped her through the process of becoming homecoming queen. 
"It's just a great experience and a great honor that my peers thought I was deserving of this award," said Allen. 
Austin is a junior majoring in exercise science and kinesiology. Austin was nominated for the court by the Zeta Tau Alpha Sorority. 
"I love and know a lot of them in the sorority," Austin said. "They are really great people and it made me feel really good to be nominated by them." 
Austin was similarly shocked by his win.  
"I was shocked and I didn't realize I had won," Austin said. "I kind of stood there confused for a second. I didn't imagine winning so I kind of just made up what to do when I heard my name." 
Austin is also an Honors College student and a member of the Presidential Mentors Academy. 
He feels that his nomination and win reflect on his character and time at UNA. 
"I think it lets people know that I am a good person," Austin said. "I think I have made some pretty good friends throughout college and this lets me know people do enjoy me being around." 
For Austin, winning homecoming king has been his favorite memory at UNA so far. 
Austin is a transplant to Florence. After moving from Georgia, he found the campus to be a welcoming environment. 
"I didn't really know anyone before coming here," Austin said. "But I have become close to so many people."
Austin's plans after graduation are to apply to physical therapy school. 
"[My future plans are] to become a physical therapist, and then see what's next," said Austin. "After I get that job, find a wife, and be happy." 
He feels thankful for the opportunity to be homecoming king and hopes he can pass this gift on to another student next year. 
Crowned by their peers, Allen and Austin are honored to serve as homecoming queen and king for the university.