Stasevich's teammates make life easy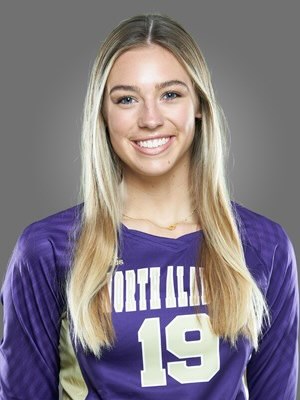 Mary Kate Stasevich's love of volleyball was sparked in middle school by informal, team-oriented activities in her physical education class. It quickly became a formative part of her childhood. Her father is a member of the American Armed Forces, so she is accustomed to a peripatetic lifestyle. Because she grew up an Army brat, volleyball has been one of the only constants in her life. 
Stasevich has lived in a variety of places. She was born in Savannah, Ga, but has resided in Fort Benning, Ga; Fort Leavenworth, Kan; Louisville, Ky; Fort Sill, Okla; West Point, N.Y.; Carlisle, Penn; and most recently, Chesapeake, Va. 
However, she still has mixed feelings regarding the fact that she has friends who are scattered across the country. When she moved to Pennsylvania, for example, she was initially weary of potential friends. She knew they would eventually have to bid her goodbye. Despite her trepidation, she ultimately decided to throw caution to the wind and get to know the people around her. She trusted that even though she would soon need to part ways with them, if they developed strong enough bonds with her, she would be able to count on their presence for years to come.
Stasevich has spent prolonged amounts of time on Army bases, so she is used to being expected to make a routine and stick to it indefinitely. One of her most prominent recollections of the numerous military communities she has stayed in lies in their tradition of honoring the flag at 5 p.m. every day. This procedure involves facing the flag and placing one's hand over their heart as if about to pledge allegiance, while the retreat bugle call is played aloud. Stasevich is no stranger to structure; this much can be surmised from the details of her upbringing. Like her, Stasevich's family enjoys an active lifestyle. Her father played intramural sports at the United States Military Academy and her brother currently plays baseball. Her parents, along with her brother and sister, are tremendously supportive of her athletic endeavors. Right now, they live in Chesapeake. 
"When we first moved to Virginia," Stasevich said about her early months in the state, "We would go to the beach a lot, and I thought that was always fun." 
She now finds herself in Florence, Ala. on account of the University of North Alabama's ever-progressing women's volleyball team and steadily growing campus.
When questioned as to her experience on the volleyball team thus far, Stasevich gave a glowing report. 
"I love them. They've made college so much easier because they've been like a built-in family. We're all so close," she said of her teammates.
She and her fellow volleyball players practice around three hours per day. Where some might find the demanding nature of the sport daunting, Stasevich finds it exciting. She acknowledges that if she were not so adept at using her time wisely, she would find it harder to balance the physically taxing aspects of volleyball with the mentally draining facets of school. The women's team does a fair amount of traveling, whether it be by bus or plane. Luckily for Stasevich, she is used to having to uproot herself on short notice. Lately, much of her time has been spent sitting in airport terminals, finishing homework assignments as she waits to board flights.
As far as the rest of her time on campus goes, Stasevich sees herself working toward a degree in either Business Management or Marketing, as well as continuing her prowess on the volleyball team. She is also pursuing a minor in Sports Management. Ideally, she will end up working for a professional sports franchise. She is looking forward to furthering both her athletic and academic pursuits at the University of North Alabama.