Chess Team succeeds at forming RSO
When Ernest Elphage started at the University of North Alabama (UNA) in fall 2019, he had a passion for the game of chess with nowhere on campus to express it. So, he set out to start a chess club himself. Three years later, the UNA Chess Team meets weekly and proves to be a group that unites students, who may have otherwise not crossed paths, through their mutual love of a game.
Elphage, the president and founder, was first introduced to chess in the 5th grade, when a friend challenged him to a game. He learned the basics that day, but spent the rest of middle and high school teaching himself various techniques. The last decade has been spent mastering strategies. Starting out, he entered a few tournaments, which he "lost horribly."
Losing his first tournaments allowed him to be able to teach his younger sister how to play chess. She won her first tournament, however. Elphage is proud of his teaching. His sister was the first of many people he has now helped learn and improve in the game.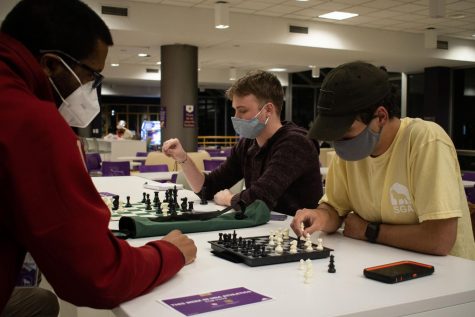 "I enjoy the thought of saying that I'm a king. I control the board, and anything that goes wrong is my fault, so it gives me a lot of power and I feel like that helps me slow down everything that's going on and just focus on what's right there in front of me," Elphage said when asked why he loves the game.
As a freshman, Elphage initially recruited by sitting in the GUC with a sign, welcoming anyone who wanted to sit down and enjoy a game. He still does this, only with a larger group of friends gathered to greet newcomers. 
This year, Elphage has had to rebuild the club from the ground up. In its original founding in 2019, there were only three members, including him. This year, after experiencing the effects of COVID-19 in the last two years, the semester began having Elphage as its only member. Now, there are 16 members. Consisting of 9 men and 7 women, there is diversity among the team. 
Coming back to campus from Covid was a struggle made worse by restrictions discouraging group meetings. In a game that is hands on, and requires the participants to touch the same board and pieces, it was even more challenging. Elphage, however, has kept safety a top priority when orchestrating events. With time, members started to join. At the beginning of 2021, he was joined by Brady Cross who is now the Vice President.
Cross played chess for two years in high school, but was taking a break before he came to UNA and discovered the chess club. He helps many of the new members, such as Devin Elledge, a sophomore transfer student who joined the club at the beginner level.
Elledge tells that he had basic initial knowledge of chess before joining the team, but he did not know how to run the board in his favor. This is a skill that he has vastly improved since joining. He thinks that he has gotten better at playing just since starting this semester.
"I think we have a good range of skill levels in the club. We have a lot of beginners, and some people that are really tough to beat," Elledge said.
Elphage says the purpose of the club is to get better and help other people get better. Plus, he thinks its a good pastime and helps with focus and sharpening the mind. As someone who is passionate about the game, he enjoys bringing it to the attention of many who may have never had an opportunity to learn. He believes it will be beneficial in the lives of the members, even after they graduate. 
"It's good just having this as a leisure activity once you get older and throughout life," he said.
Another student, Howard Cooper, sat in on the meeting as a prospective future member, but mostly to play a round of a game he finds fascinating. 
"It's a very intellectual game, and it's cool to see people in Greek life who usually wouldn't be involved in clubs like chess get involved," Cooper said.
Many international students make up the club as well. There is representation from India, China, Japan and Korea. One member, Hardik Gupta, a Computer Information Systems major, has high hopes for the future of the club. 
Gupta says the UNA chess club has helped him make friends during his time abroad, but he shares his desire to see it grow. He dreams of representing UNA in future tournaments. He came from a university in northern India, where he played in larger scale tournaments against hundreds of competitors. He is looking forward to recruiting more people to join and competing in tournaments so that he can be challenged and improve his game 
"I'm trying to find more players that match my profile so they can improve on their games as well," Gupta said.
Elphage is proud of the international representation, and states that he loves learning about other cultures and picking up on new languages as part of the experience of forming a Registered Student Organization (RSO). 
"I'm pretty happy about it, because more members is better, and they definitely add new things that I'm not used to. At one point they were talking about Chinese Chess," Elphage said.
It is Elphage's goal moving forward to start having tournaments, both here at UNA and to travel with his team throughout the state and surrounding areas in Mississippi and Tennessee. He is currently trying to plan a tournament that will invite local middle and high school students to UNA's campus to play. This could draw in future members and make incoming students feel more welcome by seeing their hobbies celebrated.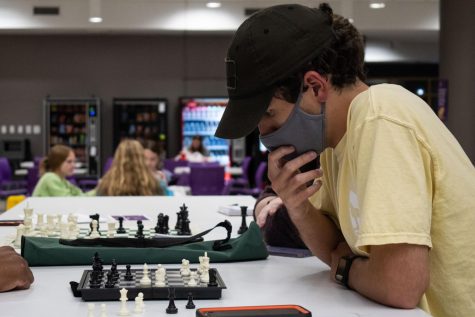 "I'm trying to grow the club. That way, by the time I leave, the club will still be growing. I don't want it to be that once I leave, that's it. I am reaching out to other colleges so that we can get some type of back and forth going with them, but with Covid, I haven't been able to set any kind of foundation with that yet," Elphage said.
Elphage is trying to find teammates willing to travel, and once tournaments are planned, it becomes a process of setting up rules, negotiating fees, rewards and finding a location. However, despite his passion for competitive chess, he still fully welcomes members who just want to show up to sit around and enjoy a game.