Strachan Strives for Athletic Success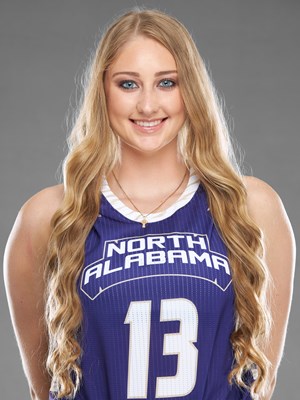 Though she is over 1000 miles away from her hometown, Julia Strachan has come to feel at home at the University of North Alabama, especially with her coaches and teammates on the women's basketball team. Strachan is originally from North Attleboro, Massachusetts. She attended college at Adelphi University in New York for four years before transferring to the University of North Alabama to attend graduate school. While at North Alabama, Strachan is working to earn her master's degree in criminal justice. She is still deciding on what her career path will be.
"I'm not quite sure at the moment, but I did my undergrad in political science with a minor in communications, so there will be a bunch of different possibilities of what I can go into. I just haven't set my heart on anything quite yet."
While she is not yet certain of her career path, Strachan has always been sure about one thing: basketball. She developed a love for the sport at an early age, and that love has continued to grow ever since.
"It's been since fifth grade, I would say," Strachan said. "My mom asked me one day if I wanted to go and try out, and I was like, 'If it goes well, it goes well, and if it doesn't, it doesn't.' Ever since then, I've loved it, and I just continued from there." Because of this great fondness for the sport, Strachan played throughout high school and college at Adelphi as a shooting guard, breaking both personal and school records along the way. Her senior year, however, her plans to play were disrupted.
"This is technically only my fourth year playing," Strachan said. "I was at Adelphi for four years doing my undergrad, but my senior year was canceled, so this is my fourth year."
After this setback, Strachan decided to try to play during graduate school, which led to her looking into North Alabama and finding that, as she became interested in the university, it was also interested in her as a student and athlete.
"Coach Harlow emailed me, and we started communication and recruiting. I just had this really great feeling of family, and this is a really friendly environment, so I knew it would be a great fit."
That feeling turned out to be correct. Strachan has found she greatly enjoys UNA, not only because of the opportunity to continue playing basketball, but also because of the people she has met.
"I think everything about UNA is amazing. My coaches and teammates are the best, and they've really made my experience special. I'm grateful to have them around me every day," Strachan said.
In fact, Strachan credits her coaches, teammates and the university itself for helping to smooth out what could not have been the easiest transition between colleges, teams and regions of the country. The support of those surrounding her also helps to keep her inspired.
"I think just being here on its own and having this opportunity motivates me," Strachan said. "My coaches are some of the best I've ever had in my life, and my teammates are fantastic.
When you have a combination like that, it's not hard to be motivated with the people around you, so I'm very fortunate."
This motivation has a lot to do with how the team interacts with one another, and according to Strachan, the chemistry between teammates is thriving. Not only do they love playing together, but they also enjoy spending time with each other off the court. Part of this comes from good teamworkskills.
"All of my experiences together have taught me a lot about teamwork, what it really means to be a good teammate and how to lead from that perspective as well," Strachan  said," Once you've been under a lot of leaders and captains, then you can kind of understand what it really means to be a leader once you are one." Having spent a lot of time practicing to make herself a better teammate and leader, Strachan has learned a great deal about herself. Part of this is understanding what she does well and what she can work to improve on, both on and off the court.
"I would say my greatest strength is probably my work ethic. My greatest weaknesses are over-emphasizing every little detail and worrying too much about things I can't control, but I'm working to improve on those by being more at peace in my mind about
the things that I can control. I can fall back on my hard work, and everything else can figure itself out, I suppose," Strachan admitted.
That hard work definitely seems to have paid off. Strachan has made 56 three-point shots this season alone and has an accuracy percentage of 43.8, ranking her second in the conference for a three-point percentage. She also has a 77.8 percent free throw accuracy and averages 13.1 points per game. Strachan, being a graduate student and an athlete at the same time, says she has been able to navigate managing schoolwork on top of a full season of games thanks to the help of others around her.
"I've been pretty lucky to have my classes online. It's given me a lot of flexibility for when I want to get my work done throughout the week, as long as I meet the deadlines, so it's not tremendously hard, but I do think if I was taking all in-person [classes], it would be a lot different. But my coaches and teammates have been really great," Strachan said. "That kind of goes with anything, whether you're an undergrad or in a graduate program, people are always there to help you."
This support from those around her has helped Strachan feel like she belongs. "This is my first year here, but it has been one of the best years of my life so far. I'm very happy here. My teammates and my coaches are unmatched. I'm very fortunate o be here."