Students encouraged to visit SRC
On the third floor of the Student Recreation Center, there is a large, open aerobics studio. On Monday and Wednesday nights, one can find Morgan Bryson here teaching her "ConfiDANCE" class. Music plays as students groove to the beat, grinning from ear to ear. This is the mission of the SRC: to make fitness fun for everyone.
In fact, Bryson's aim for the class is for students to have a blast, even if they do not typically enjoy working out in the traditional sense.
"I teach 'ConfiDANCE,' and it's a play on words because I want it to be a confidence class as much as it is a fitness class," Bryson says. "I'm not a big workout person in the slightest, but I do have fun dancing, and I think it lets people let loose and have fun. With the stress of school, it's a great stress reliever, and it's so much fun."
Bryson organizes her classes using HIIT (High-Intensity Interval Training), working in a circuit between higher and lower intensities. She also knows that many students are intimidated by dancing, so she works to teach all of the dances beforehand to ensure that those in attendance feel more at ease.
The class begins with a confidence exercise, during which students look in the mirror and focus on what they love about themselves. Bryson tries to help students focus on this aspect of themselves for the entire class so that they feel more comfortable and self-assured while
dancing. Bryson also helps to make her students more confident in their daily lives.
"The first semester I taught the class, I called it 'Bust a Move'," She explains," but then last semester I decided to focus on what I wanted the class to accomplish, which was being more confident. I say, 'fake it until you make it,' but sometimes faking it until you make it isn't always true. Learn. Learn, and then make it. Just keep going. Maybe you don't feel that confident that day, but then say, 'Well, there's always tomorrow.' There are some days when I just don't feel that confident either! You just have to keep rolling with it."
This empowering dance class is just one of the activities that are offered at the SRC. The Center also offers other group exercise classes as well as intramural and club sports. If the SRC does not offer a sport, students are encouraged to create their own club sports. In addition, personal training is available, and while students previously had to pay for sessions with a trainer, the service is now being offered for free. Outside of the SRC building,  the Outdoor Adventure Center offers a plethora of supplies for outdoor activities like kayaks, bicycles, and camping supplies, which students can rent for free. There is also an Outdoor Adventure Club associated with the OAC which allows students to participate in outdoor activities in a group setting.
Noah Bishop, who is the Graduate Assistant for Fitness and Facilities at the SRC, got involved because of his studies in Exercise Science and Health Promotion but stayed because of his love for all things fitness.
"My favorite part of the job is how connected we are to the student body. The workers that we have here have become such good friends, and we're trying to make it more of a community setting here. I think we do a really good job of that," Bishop says.
Bishop is very involved at the SRC, as he helps to hire and train the employees. Also, he creates schedules for classes and activities as well as
fixes equipment. At the same time, all of the employees are there to aid students when needed. "We're right here with the students, so we can play ball with them or help them work out."
To Bishop, staying active is very important for students. "The overall goal of Exercise Science or physical activity, anything like that, is to live longer lives and live a more quality life. I want to be able to play sports with my grandkids and not be disabled or diseased, and that's what we try to prevent. Also, there's the mental health aspect of physical activity, since it reduces stress. Through group exercise, you can meet new students on campus.
With intramural sports, you have a community feeling, and you're getting to play competitive sports.
You get to play against your friends and peers, so that's big for the mental health aspect of it. The main thing is trying to prolong life and be healthier for longer. I also want the general population to be able to go to a gym and know what they need to do to get healthy and stay active."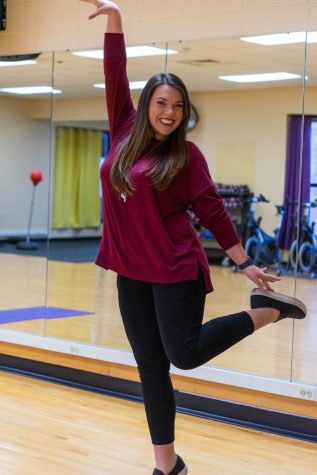 Some of the other benefits of working out, Bishop says, are making friends and clearing your head.
For college students, stress can be overwhelming, but the SRC wants to create a safe space for students.
How can students get involved? Reach out to the SRC and try out some activities!
"Just do it," Bryson says. "If you don't have a friend to go with you, and you come to my class, I'll be your friend! We will welcome you. It doesn't matter if you haven't done it before. I promise you, no one looks at you. They're all too focused on themselves. Just get out and have fun with it! That's what we're there for."
Bishop also emphasizes that the SRC workers are always for anyone who needs help or would like to ask questions. "You need to get your head in the door, walk around, and come talk to anyone who works here if you have questions. Our office doors are always open. Don't be afraid to ask."
For the spring semester, registration is still open for Ultimate Frisbee and Futsal, which is the name for indoor soccer. Bishop urges students to look into these activities as well as others that are offered. All of the SRC's information can be found on their Instagram account @una_recreation and on the University of North Alabama's website.