From local dreamer to American Idol sensation
Cadence Baker graduated from Florence High School in May of 2021. With a library of nearly 700 original songs and a lifelong dream of sharing her story with the world, she crossed the stage and accepted her diploma.
While the average young adult may spend the summer after graduation in celebration of their newfound free time without the constraint of classes and homework, Baker spent her summer diligently climbing the theoretical ladder of the music industry.
After years of dreaming and consideration, an 18-year-old Baker and her father drove to Nashville to audition for American Idol just a month after her graduation.
The 20th season of American Idol kicked off with its first episode airing on Feb. 27. In the first round of the televised singing competition, contestants perform in front of the panel of judges with hopes of securing one of the "Golden Tickets" that would carry them to the next round known as "Hollywood Week".
On the show, audiences can watch judges Katy Perry, Luke Bryan and Lionel Richie use their expertise in the music industry to hand pick the hopeful contestants.
While her audition was originally filmed in June, now 19-year-old Baker is excited to see her episode on screen- which is expected to air on March 13.
"I've seen my episode, but it hasn't aired yet," Baker said. "It's really weird to like see myself on the promos they've released to me.
I like look at myself on those videos and it doesn't even like look like me. I mean my hair is shorter and blonder obviously, but like it's still just weird to see myself up there."
Despite living through the excitement of the show's filming, Baker must maintain secrecy to ensure the show isn't spoiled before the episodes air to the public. Fans of Baker can rest at ease knowing that her audition "went very well," but will need to tune in to hear the judge's reactions.
Baker has challenged herself to push her career to the next level since her graduation and June audition. During her downtime at home, she is often asked about details of her adventures with American Idol.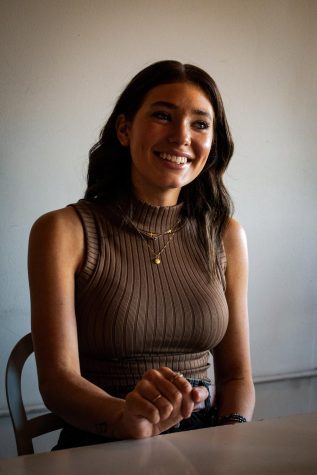 "Don't get me wrong," Baker said. "It's totally cool to have people come up to me and like recognize me. But at the same time I really like to spoil things so I get excited and then I have to stop myself from spoiling anything." The show asks contestants to sign a non-disclosure agreement, or NDA, that restricts the sharing of elements of the competition with outside friends or coworkers until the episodes air. Baker's family has celebrated her journey within the confines of their home to ensure the magic of the situation isn't lost on her.
"I feel so secretive too, especially when I'm here, because I like can't say anything about it," Baker said. "Like for example there were these two people that came up to me and were like 'wow you're that girl on Idol right?' And I was like 'yes, that's me.'"
She accredits her mother's assistance in holding her accountable to the dynamics of the show.
"My parents know everything I've experienced pretty much, the first thing I did was call my mom," said Baker. While the mechanics of the experience have been a transition to get used to, the support she receives from her family and closest friends are what drives Baker.
The clashing of small town homelife and bustling pop stardom is not always an easy passage. Baker's drive often fuels her to continue working as much as possible.
"It's like insane coming from a small town and walking into that whole new realm," Baker said. "The bodyguards, the crazy busy streets… and when I get home I have to like find things to do because I am so used to the adrenaline rush that comes from being on the show."
Baker said that she has worked a number of hours in her grandfather's recording studio to re-vamp the songs she published to YouTube
at age 14.
"It's kind of like the Taylor's Version of my own songs," Baker said. "Like I am re-recording now that my voice has matured."
It is hard to imagine how any modern-day 19-year-old would wear such public hats and maintain humility.
Baker accredits her family's "normal routine" for keeping her grounded.
"They keep it very real at the house," Baker said. "But it's been really nice to be at home and be able to get back to that stuff I'm used to doing, you know? Like, I can write all the time and I can take care of the things in my life I'm used to and really enjoy."