Profile: Dr. Sharifa Love-Rutledge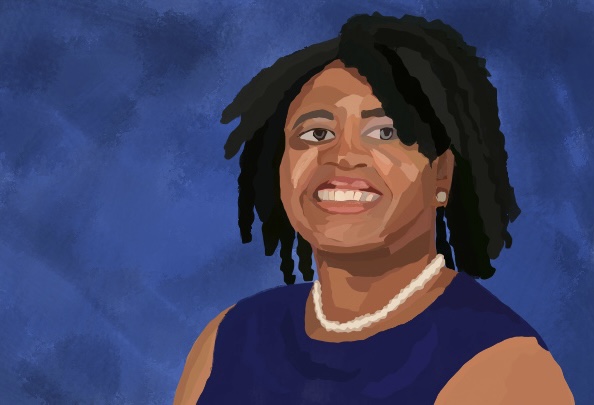 On Tuesday, March 15, Dr. Sharifa Love-Rutledge gave a talk on her academic journey and professional research on diabetes. Love-Rutledge is currently an assistant professor of chemistry at University of Alabama-Huntsville. She received her Bachelors of Science at Tougaloo College in 2008 and her PhD in Biochemistry from the University of Alabama in 2014. 
Love-Rutledge did her post-doctoral work as a Research Associate at Michigan State University from 2014 to 2017. In 2021, she was named in the top 1,000 Inspiring Black Scientists in America by Cell Mentor, an online resource for scientists run by the publisher Cell Press. At UAH, she supervises their chapter of the Louis Stokes Alliance for Minority Participation in which she promotes underrepresented students in STEM fields and helps those students develop a comfortability in a STEM workforce. 
Love-Rutledge is originally from Moss Point, Miss., graduating from Moss Point High School in 2004. MPHS and Tugaloo are both predominantly African-American, according to Love-Rutledge. She began her collegiate career as a biology major but changed her major to chemistry after taking an organic chemistry class. 
"The person who taught [organic chemistry] is still one of my most passionate mentors," Dr. Love-Rutledge said. "He helped me get on the trajectory I'm on now."
She initially took the class because her intended career path was pharmacy. She was more intrigued by the science behind prescriptions rather than filling them herself. One of the main reasons she changed her career path away from pharmacy is because she felt as if she would lack the in-depth look of how things work. From there, she pursued pharmacology and toxicology, but they did not feel like the right path for her. 
Her experience in research began as an undergraduate studying enzymes called carboxylesterases, which break down cancer drugs in the colon (at least, that was what her research was focused on). They sought to find ways to manipulate those enzymes to be more efficient in breaking down the drugs. One of her most well-known research projects was on chromium nutrition. At the time, chromium was considered a worldwide essential element, but Love-Rutledge, her research advisor and her team found that the research that declared it essential was flawed. That research was quoted by Europe's equivalent of the FDA, The European Medicines Agency. With backing from Love-Rutledge's research, chromium was declared non-essential in Europe. However, it is still essential in the United States.
Her postdoctoral research was focused on identifying biomarkers to Type I Diabetes, but her graduate work focused on Type II. Her current research is still diabetes-focused, building off of her old work. She is currently looking at how susceptibility to Type I Diabetes can be linked to nonalcoholic fatty liver disease and insulin resistance. Love-Rutledge has a personal connection to diabetes, as she has lost two grandparents to the disease. Her maternal grandmother had died from complications of Type II Diabetes before she began her graduate research and shortly after her graduation, she lost her paternal grandmother to the same exact disease. Due to her close connection to diabetes, she wants to discover what causes it. 
"A large portion of the African-American community has this increased susceptibility to diabetes, but it's not really clear as to what some of these underlying things are," Love-Rutledge said. "You hear the same things, diet and exercise-based interventions. They are good interventions, but oftentimes they're not long-term because it's hard for people to keep that up forever. There may be some underlying things that make people more susceptible to developing [diabetes] in the first place."
On a more personal note, Love-Rutledge wishes to be a good model to young female STEM majors. When applying for graduate school, Love-Rutledge's personal statement stated that she wished to be who she never had. Despite attending a historically Black college, she didn't see much of herself in her professors. The entirety of the Tugaloo's chemistry department was male, which made it difficult to see herself within that field. 
"There is an intersectionality in who I am that I will face challenges in the field not just because of my race, but also due to my gender," Love-Rutledge said. "I want to remind [women in STEM] that they belong. Even if you are the only one in the room, you are in the room for a reason."
She wishes for young college students of every race and gender to understand that they work at their own pace. Oftentimes, she notices people comparing their lives and struggles to others, which she finds to be an unrealistic practice. She wants students to set attainable goals for themselves that will not result in burnout. She also emphasizes the importance of rest, as it is a necessity to the body, not a luxury. 
Love-Rutledge wants others to know that they should not race to keep up with others. Many types of people may feel a need to "prove themselves" to peers and mentors, but it only results in exhaustion. Overworking can result in less success in maintaining goals. As an undergraduate, Love-Rutledge said that she would compare herself to others, which caused her to lose sight of the goals she had set for herself. 
"Your timeline is not everybody else's timeline," Love-Rutledge said. "Sometimes when you observe others' highlight reels, you don't recognize the amount of time they had to wait to get those accolades and successes. I think it is really important to not compare your journey to other people's journey."
Overall, she wishes for students to know their worth and be aware that no matter what, they belong in the field they are pursuing.