BLA Showcases 'Shades of Beauty'
UNA's Black Lioness Alliance (BLA) held their first ever fashion show on March 18. The event was held in the Guillot University Center (GUC) banquet halls. The doors opened at 5:30 p.m., but the show did not begin until 6:00 p.m. Guests were able to walk the red carpet into the banquet hall and take their seats around the runway. Admission to the event was free, but donations for the club were being accepted. The show was separated into four separate categories: Reflections, Nudes, College Night and a fourth surprise category. Each category featured fashions from Florence boutiques Billy Reid, Kodee Lissa, Kusudi Bosi Co. and Fashion Exchange. These fashions were modeled by UNA volunteer students from around the globe, hence the name 'Shades of Beauty'. Aliyah McCary, BLA President, said that she came up with the idea of a fashion show when trying to think of an event that incorporated a diverse range of students. 
 "I wanted people to see different shades of students in a positive, fun way," said McCary. "We had a lot of international students participate. I wanted guests to see all the different shades of people we have on campus. They're beautiful in their own way– they don't need any fancy gowns to have a good time."  
There had not been a fashion show at UNA since 2017, and McCary wanted to bring back the runway in a new style. She wanted to put a spin on the typical fashion show and present models that were not predominantly white. 'Shades of Beauty' veered away from the traditional fashion show with ballgowns and size-zero models that all have the same look. Instead, McCary wanted to showcase real people of all shades and sizes wearing real, everyday clothes that are practical for everyone. And she did just that. The first category of the night, Reflections, featured casual clothing that could be worn every day. The next category, Nudes, highlighted the raw beauty of the models, as the clothes did not have much to them and matched the models' skin tones.  
"It's just something about seeing brown people wearing brown– it's so powerful," said Destiny Cade, a freshman who attended the show with friends.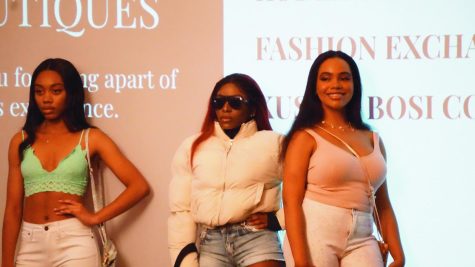 The final two categories, College Night and a surprise fourth category that featured all black styles, showed off more fancy fashions. The models were able to tap into their scandalous sides and have a bit more fun with their poses. 
 "I had a lot of fun, and it was a very cool experience," said Chrysler Goshea, one of the models in the show. 
For the majority of the models, 'Shades of Beauty'  was their first time modeling and they were grateful for the experience. 
"I've been a member of BLA since last semester, but the fashion show got me more involved. I got to know many different people and learn how to model since I've never done it before. I really appreciate the experience and the ability to come together and make something like this happen," said Macaulay Shepphard, a freshman who modeled in the show.  
"It was a great experience and a good environment. I've never done anything like it before and it was pretty fun," said another model.  
In between each category there was a brief intermission where guests could grab free refreshments. Keairria Hall, the event chairwoman for BLA and creative genius behind the show, took this time to interact with guests and give out free t-shirts. In order to win a t-shirt, guests could strut their stuff on the runway, guess the name of the song that was playing overhead or follow BLA on Instagram. Hall also held a dance competition for a free outfit from Kusudi Bosi Co., one of the boutiques shown in the show. Throughout the event, Hall kept the audience laughing and engaged in the show.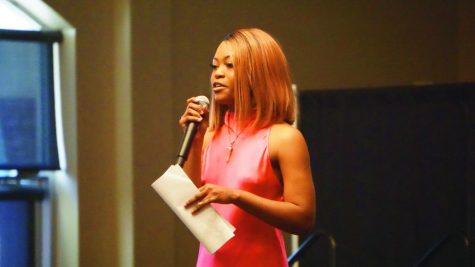 Over 150 people came to the event, 100 of those being UNA students alone. Seats ran out quickly and some guests had to resort to standing. The crowd was composed of students, family members, boutique owners, designers and general lovers of the fashion world. The diverse crowd range coincided with the show's theme 'Shades of Beauty'. 
"I was shocked with the turnout. We didn't think people were going to show up because there were so many other events going on that night. That was my biggest concern. I really wanted a big crowd," said McCary. "We had people from Huntsville coming, people from Birmingham– it was our biggest event."  
The club had hoped to at least attract about 100 attendees, and they certainly reached that. There was a lot of time and effort put into the show, and McCary was grateful that everyone's hard work had paid off and attracted such a large turnout. McCary, Hall and other BLA members had been working on this event since early January, with modeling practices beginning in February. According to McCary, the models had been meeting outside of scheduled practices and were spending as much of their free time as possible rehearsing for the show. 
"My favorite part was seeing the end product. After you've worked so hard on it, you're just like 'wow'. After all the hard practices and rehearsals– you're like 'wow, we're finally here,'" said Lauryn Stovall, another student who modeled in the show.  
Hall wrapped up the show by thanking everyone who attended and helped out with the event. Trophies were given to the most dedicated male and female model. 
Although McCary graduates from the university this May, she hopes that the club will continue the fashion show each year. Her primary goal for the show was to bring different types of people together to see that beauty can come in all shapes, shades, and sizes. 
"This is not just a black women's club, this club is for anybody. People are so objective of color sometimes that they forget the bigger picture. It's called 'Shades of Beauty', so we wanted to represent all shades. I really want people to know that anybody can join– any race, any country."