A lockdown livelihood: ThriftGoods Clothing
Dandelion & Co. Tea and Coffee Bar doesn't just have affordable java and friendly staff– it also is home base for Lauren Harrison's business, ThriftGoods Clothing. ThriftGoods has evolved from a quarantine side hustle to a business of its own.
Harrison is a Shoals native, graduating from Muscle Shoals High School and then attending UNA. In 2019, she graduated with a degree in Psychology. Aside from owning ThriftGoods, she is a full-time behavioral therapist, specializing in ABA at For the One Pediatric Therapy.
ThriftGoods came to fruition after COVID left Harrison unemployed. With nothing to do during lockdown, she turned to YouTube for entertainment. She began making videos of her own when COVID restrictions were lifted and began selling clothes once she realized that she was spending too much money on items. In September of 2020, she decided to make it a business.
"I started [ThriftGoods] because I needed an outlet to be creative," Harrison said. "When I didn't have a job, I just needed something to do."
Harrison scouts out thrift stores, estate sales, and yard sales to find the perfect fits for her customers. However, she buys from thrift stores with caution, as she doesn't wish to take items from those in need. She does not only sell clothes, occasionally picking up home items (such as vases or baskets). 
From there, she cultivated a business. With an aesthetically pleasing Instagram feed and trendy vintage clothing, ThriftGoods thrived. Social media has proven to be a friend and foe to Harrison. She met Dandelion & Co. owner Kristin Johnson via Instagram, and the two became friends after Johnson bought from the shop. They continuously agreed that Harrison would set up the shop in the cafe, but the plan only recently happened during the cafe's regular "Small Business Saturday". Harrison has been a part of Dandelion & Co. since.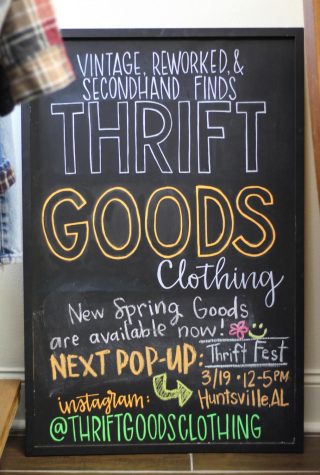 Harrison also brings ThriftGoods to various other small business events. She went to Florence's Night Moves, a "street market featuring local vendors selling vintage and handmade goods" that appears on E Mobile Street the second Saturday of each month. She also occasionally attends events in Huntsville. 
"At these markets, the people that come are all dressed the same with that thrifted style," Harrison said. "It's all so unique because it's all thrifted."
The increased popularity in sustainable fashion has proven to be useful to ThriftGoods' success. Research from Vogue has even proven that shoppers care more about sustainability in a post-lockdown world. Many sustainable fashion lines have a high price tag, but businesses such as Harrison's can provide attainable sustainability. ThriftGoods is an intermediary of sorts, helping people find nice items without having to search for them.
"I love being the middleman," Harrison said. "I love to dig through everything at the thrift store."
Harrison also creates with the items she has. Some of her hobbies aside from thrifting are pottery and sewing. She uses the latter within ThriftGoods, creating clothing for Dandelion & Co. and for her shop. She also enjoys going to events for the children with autism that she works with. 
One of her favorite parts of owning her own business is the flexible work hours and being able to be her own boss (outside of her full-time job). Not only is ThriftGoods her creative outlet, but it's also a way for her to express and enjoy her freedom. For those wanting to start her own business, she encourages them to follow that dream.

"I remember during COVID I was like, 'Man, I just need something to do. I'm sad. I don't have anything to do. I don't have a job. I don't have anything on the side,'" Harrison said. "I was driving down the road one day and decided I was going to start an Instagram page. I started by just selling t-shirts and random things. The scariest part is starting."
Harrison wants to motivate others to feel comfortable in starting their own business. She asserts that it is possible to run a small business alongside a full-time job. In creating your own hours, they are endlessly flexible and can work around a preexisting work schedule. The hardest part for her was being able to get her business off the ground. Now, her store has over three thousand followers on Instagram. 
"That was a big thing for me, thinking I couldn't do this if I had a full-time job," she said. "You definitely can, you just have to make the time for it."