New dining options open in the Shoals
The Pour House at Coldwater – Tuscumbia
By Audrey Johnson, Editor-in-Chief
The Pour House at Coldwater opened in downtown Tuscumbia, Ala., on June 4. Their owners, Skip Nichols, Ashley Morrow and Josh Kelley, opened the restaurant after wanting more dining options to choose from on their lunch breaks. They wanted to create a community center point for everyone to enjoy. 
"[The Pour House] is a common name for bars and taverns across the United States," said owner Skip Nichols. "We wanted to let people know we also have a decent selection of bourbons and wines–so we put 'pour' into the name of the restaurant." 
The new eatery on Main Street opens at 7 a.m. and closes at 9 p.m. on weekdays, and they serve breakfast, lunch, dinner and drinks. Nichols described the restaurant's cuisine as "American gastropub" (a combination of "pub" and "gastronomy," the study of the relationship between food and culture). 
"We needed a place where I didn't have to drive all the way to Florence to eat lunch," said owner Josh Kelley. "I wanted a place where you could come to eat three or four days a week and get something different."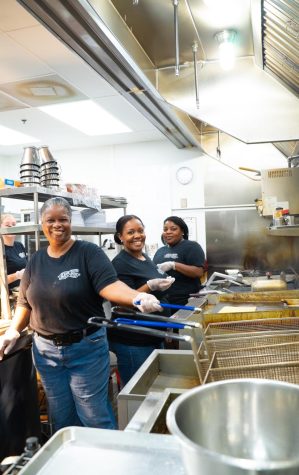 The Pour House at Coldwater serves a variety of meals from pasta to pizza to catfish to sandwiches. The restaurant also offers an all you can eat salad bar, lotus energy bomb teas and a bar. 
"I like everything on the menu," Kelley said. "I think we were very thoughtful when we laid everything out."
In addition to an array of breakfast, lunch and dinner options, the restaurant also hosts a variety of events: trivia on Mondays nights, music bingo on Tuesday nights, themed trivia on Wednesday nights, live music from Travis Womack on Thursday nights and alternating live music on Friday and Saturday nights. Going into football season, The Pour House at Coldwater will play SEC football. 
"Even after only three months of being open, it's really turned into a place where people feel like they can meet friends or business associates," said Morrow. "It's been really cool to watch it go from zero to hero in such a short amount of time. 
Though The Pour House at Coldwater has only been open for the building is 135 years old. Before it was a restaurant, the building was a bank, jewelry store, antique store and a law office housing Senator Howell Heflin's office.  
The Tuscumbia community has embraced the new restaurant on the block.
"Skip [Nichols] is here every day," Kelley said. "We're here every day. We have amazing managers and our team is just fantastic. We're very invested in Tuscumbia."
Smooths Wellness Bus – Florence
Mary Stella Mangina, Arts & Entertainment Editor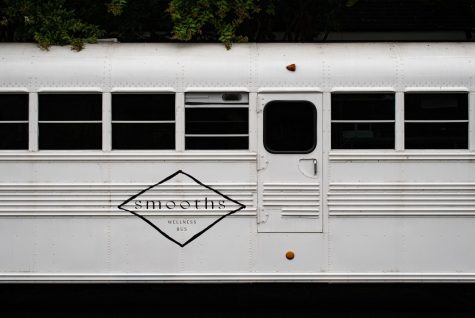 Eliza Hyatt founded Smooths Wellness Bus, a smoothie and wellness bus, this summer in the Shoals. Smooths has garnered admiration as a result of its unconventional storefront.
Occupying a sizable school bus that Hyatt reupholstered with the help of her friends and family, Smooths Wellness Bus deviates artistically from the average health food cafe. Its white veneer gives it a pristine appearance. Its inner look does not stray from its aesthetically pleasing crispness. 
Spending time inside Smooths Wellness Bus is not likely to remind one of riding in a familiar school bus. The floor of the bus is made of hardwood and furnished with tasteful rugs. On top of niceties such as these, Smooths Wellness Bus has diner-style tables and seats. The vehicle's structure was partially redesigned to accommodate guests looking to sit down and enjoy a meal. Its dining room is open on weekdays from 7 a.m.-2 p.m. and on Saturdays from 8 a.m.-12 p.m.
Hyatt's bus sells myriad smoothies, blended bowls and breakfast sandwiches. More often than not, the ingredients comprising its menu are locally sourced. The restaurant has two toast options: classic avocado and nut butter with apples or bananas. Furthermore, Hyatt, a mother of small children, has included a few simple, child-friendly drinks on her smoothie list.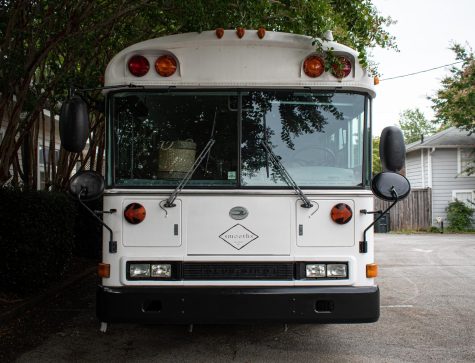 In contrast to other coffee shops, Smooths Wellness Bus's modest but comprehensive coffee refreshments are flavored with sustaining sweeteners. The cafe's cold brew and accompanying caffeine fixings are sure to appeal to students at the University of North Alabama; the casual climate cultivated by its counter-service cashiers encourages quick and easy ordering.
The positive impacts of healthy living are becoming common knowledge, with people having easy access to information on the benefits of a clean lifestyle via countless articles on the internet. Now more than ever, proper diet and exercise are being given the attention they deserve in American dialogue.
Electing to make wholesome choices can be challenging, especially for young university students. Hyatt also founded and owns a boutique physical training studio Grit Fitness. Her gym, complete with barre classes and cycle sessions, sits at 116 East Tennessee St.
Ordinarily, undergraduates in their late teens and early 20s are expected to budget their money, time and energy. Bearing in mind that cheap, empty calories continually seem to be their economically safest option, it can be tough for them to consistently opt for nutritious foods.
Now, however, with Smooths Wellness Bus vending early-morning and afternoon bites and beverages with the potential to coincidently save precious seconds and nourish the body, it is markedly less of a hassle for university students to take care of themselves.
The Lava Room – Florence
Mary Stella Mangina, Arts & Entertainment Editor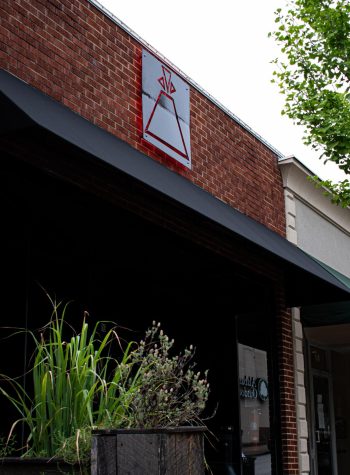 Among the new taprooms and restaurants in the Shoals area is Lava Room. A contemporary bar, dining spot and entertainment venue located at 116 West Mobile St. Tyler Ross opened Lava Room this summer. Ross is a resident of downtown Florence who owns and operates Wildwood Tavern and the Chicago Cafe–both of which are also located on Mobile St. 
Florence, Ala., has expanded tremendously within the past few years, as reported by the U.S. Census Bureau. A popular place to live in Alabama, the downtown area is attracting small businesses.
Born and raised in Florence, Ross ensures that his ventures stand out against a backdrop of other, less creative bars. Unfalteringly daring, he is not new to taking on projects that to some, might seem daunting. 
Lava Room has plenty of facets that make it distinctive, namely its one-of-a-kind interior design and its exterior ambiguity. One would not necessarily be able to tell from standing outside Lava Room that it is a bar considering its only signage is a minimalistic illustration of an active volcano.
"I like the intriguing vibe our sign puts out," Ross said. "I would not call our bar a speakeasy or anything, but I do like the notion of people walking into it without knowing exactly what to expect."
The contrast between Lava Room's facade and its seating area transports patrons to an otherworldly location that is simultaneously private and humming with activity. Dimly lit, it is kept from appearing seedy by illuminating red lights. 
Triangular panes of gleaming red stained glass hang from its ceiling. They were left behind by Stained Glass Artistry, the stained and leaded glass store that formerly occupied the Lava Room's building.
Furthering the overall transcendental feel of Lava Room are mystifying effects that result in discontinuous volcanic eruptions–fog–from behind the bar.
Lava Room serves drinks in a way that is largely unrivaled in originality. At the moment, it has a collection of ten signature cocktails. The recipes for every mixed drink were effortfully devised, and the drinks themselves were endearingly named. A prevalent choice, cleverly titled Big Bubble in Little China, is a refreshing tequila drink with aperol and grilled jalapeño topped with a lofty, rosemary-flavored smoke bubble.
Ross clarified that the work behind his lounge's unmatched specialty drinks was a collaborative job he undertook with Wildwood Tavern's bartenders, who now work at Lava Room, too. 
"I had laid out rough plans for a lot of the cocktails I wanted to see on our menu," Ross said. "And our bartenders took those plans and ran with them. They absolutely crushed it."  
Ross' individual contribution to the quintessential bar menu, The Sensei, is a smoked Japanese Old Fashioned with Suntory Toki and house-made fennel syrup.
Beside its array of signature drinks, Lava Room presents alluring lists of sakes, wines and Japanese whiskeys–not to mention a kaleidoscopic variety of beers.
With a penchant for the outdoors, Ross has trekked across the Appalachian, Pacific Crest and Continental Divide trails. He spent five months biking from Seattle, Washington, to Key West, Florida.
"Those trips definitely changed my life. They shaped who I am today," said Ross. "When you put yourself out there in the way I did, you are at the mercy of not only your surroundings, but also the people you choose to surround yourself with. Most of the time, you are up and on your feet. You have to seek help from others. There is a lot of trust necessary there, so you learn how to give thanks, which is a skill I have been able to apply to my work [in the service industry]."
Clearly, Ross's bold spirit followed him from his early successes to Lava Room. 
Wildwood Tavern is, for example, different from other downtown-based hangouts because of its game room. It provides patrons with classic arcade games, such as skee ball, pinball and Golden Tee Golf.
It, like Lava Room, is known for its eclectic lineup of cocktails, as well as its extensive beer menu of beverages from local and out-of-state breweries. Both Wildwood Tavern and the Chicago Cafe boast unique takes on classic American foods. The latter is a popular place for a quick meal, frequented by college students and locals who enjoy nightlife in downtown Florence. The cafe's doors are open until 2 a.m.
"Florence is a town for artists and musicians," says Ross. "It's a town for creators. When I opened Wildwood Tavern, it was because I had always wanted there to be a sort of haven for creative people to have a good time in their community."
One of the aspects of Lava Room that sets it apart from Ross's other establishments is its cuisine. Unlike Wildwood Tavern and the Chicago Cafe, its cuisine does not riff on conventional bar food. Its menu consists of ramen dishes, handcrafted egg rolls, bao buns and lettuce wraps, plus a small but enticing assortment of Japanese-inspired desserts.
In a matter of months, Lava Room grew in popularity because of its food. The bar's culinary spread manages to be at once accessible and adventurous. The kitchen's appreciable selection of ramen bowls is a massive draw for many Florence locals.
Ramen's popularity has been growing in the continental United States since the early 2000s, though restaurants that serve it skillfully are usually few and far between in small-scale cities like Florence. 
Fortunately, Lava Room's izakaya ramen offerings are traditional enough to be authentic and innovative enough to be fun. Its primary options are simple enough: pork tonkotsu, miso chicken and veggie lovers'. But it additionally leaves people room to build their own bowls, with toppings ranging from nori seaweed to house pickles and the supplementary choice of whether or not to add a spice bomb.
"Our kitchen has a great team of cooks," Ross said. "We were able to put our heads together and come up with a menu that I thought worked in the best possible ways."
In conjunction with its food and drink, Lava Room has designated itself a fixture of the downtown Florence community with its stage. Ross foresees his new bar doubling as a coveted, albeit comfortable venue for local and touring bands to showcase their repertoires. Up to now, its stage has triumphantly seen two music shows.
Regarding Lava Room's emergence onto Florence's music scene.
"We want it to be a space for original music," Ross said. "So we will be having touring acts play, along with local bands in the process of recording new albums. It has been great, adding to the inventive downtown spirit. So far, everything is sounding good and running smoothly."
Ross's vision appears to be coming to fruition; Lava Room will host events well into the upcoming autumn.
It is unlikely that Florence citizens will hear less about Lava Room any time soon. If anything, the buzz brought about by its expansive appeal will only grow.