Amy Goss Robinson named Shoals Woman of the Year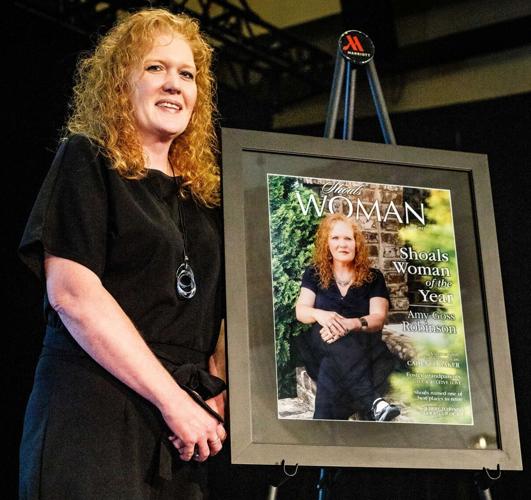 Amy Goss Robinson was announced as the TimesDaily 2022 Shoals Woman of the Year. She was officially announced as winner on Aug. 30. 
The award has been given since 2005 and aims to honor local women based on public service, safety/heroism, human relations and "the spirit of the Shoals." Finalists included Dr. Andrea Hunt, Dr. Jaqueline Parsons, Tricia Lewis and Cindy Young. They were chosen from eleven nominees. 
Robinson is a Sheffield, Ala., native and Deshler High School alumna. She graduated UNA with a degree in Health, Physical Education and Restoration (HPER) and a minor in biology in 2000. She worked as an athletic trainer for UNA's football, volleyball and tennis teams. Robinson obtained a doctorate in physical therapy from the University of South Carolina and returned to the Shoals area in 2011. She currently works as a physical therapist at Helen Keller Hospital in Sheffield.
Robinson's life changed when she was diagnosed with breast cancer in 2013. Until then, her life had been fun and easygoing. She worked hard during the week and enjoyed nightlife on the weekends. After her diagnosis, she underwent a double mastectomy and eight rounds of chemotherapy. She found the experience isolating, as there were no local breast cancer support groups. 
"I didn't have anyone to talk to," said Robinson. "I was 36. I didn't know anybody that had been through breast cancer."
One of her nurses, Jamie White, was a mentor to Robinson throughout her treatment. White was a breast cancer survivor, and the two developed a close bond. White introduced her to other young breast cancer survivors and patients. The entire group created a sisterhood from their shared diagnosis. Before Robinson knew it, she had created the support group she previously lacked. 
Robinson found another friend in Whitney McCartt, who was a nurse at Dr. Patrick Doherty's plastic surgery office. Dr. Doherty was the surgeon who performed her breast reconstructive surgery. McCartt suggested the women form an official support group and the Breast cancer Recovery and Awareness Together (BRAT) Pack was born. The first meetings of the BRAT Pack were held in Dr. Doherty's office. The group started with a few members and the occasional guest speaker but now boasts nearly 150 members. 
The BRAT Pack expanded to community work and fundraising after attending a Relay for Life event. They wanted to limit their reach to the Shoals, using every bit of money they earned to give back to the community. Their largest fundraiser is t-shirt sales. The BRAT Pack makes care packages for newly diagnosed women and leaves them at doctors offices to be given upon diagnosis. These care packages include thank you notes and stamps, fuzzy socks, gift certificates and many other items to help patients through chemotherapy. The group also helps arrange Christmas gifts for children of affected women. 
The BRAT Pack continues to have monthly meetings, which include fun gatherings. Most recently, the group attended a cooking class on UNA's campus. The group always welcomes new members.
Not long after completing cancer treatment, Robinson (then Amy Goss) met Chad Robinson. He had assisted her with the BRAT Pack's work on Relay for Life. They were introduced by a BRAT Pack friend who passed away. 
"He was with me when I had no hair and still was at what I consider to be my worst," Robinson said. 
Even with the camaraderie gained from the BRAT Pack, Robinson still felt a deep sadness in her heart. She could not place what the source was.
"There were so many women that I went through treatment with and got to know that didn't survive," Robinson said. "They had these awesome careers and families and kids. Here I was, kind of a selfish person, not married, no kids, kind of just doing whatever I wanted to do. All of my goals and ambitions were directed at myself."
Robinson had survivor's guilt. She felt the need to leave an impression on the world because life was too short to procrastinate any longer. Her life had been non-stop since college. She never made time to have a family or children and her cancer diagnosis only made it harder. By the time she finished treatment, the chemotherapy rendered her infertile.
She began looking at adoption, but discovered that cancer patients are blacklisted from private adoption agencies. She explored foster parenting, took the required classes and was certified. After housing a few short-term placements, she got the call for a 3-year-old boy with medical special needs in April 2018. His needs exceeded what his previous home could handle. Robinson didn't hesitate to take him in. 
The little boy, Nicholas, became medically stable over the next few months. Six or seven months later, Robinson decided to reunite him with his sisters. Her home was soon bustling with three, occasionally four (as Chad had partial custody of his daughter from a previous marriage), young children. Robinson was not seasoned in caring for multiple young children at a time and found the work stressful. The entire family took time to adjust.
She knew she wanted to adopt the children, but it was another two and a half years before the adoption was final. 
The children also saw Chad as a father. However, in order for Robinson to adopt the children, she could not marry while the case was active. Getting married during an adoption process is significantly more difficult. Any time a significant life event occurs in a prospective parent's life, a home study must be done again. Adoptions may also be put on hold for marriages, depending on the state law or regulations.
The children were officially hers in August 2020. COVID-19 prolonged the original adoption plan. Rather than having their time in the courtroom, the children's adoption happened via phone. 
Robinson and Chad married in January 2021. Chad had always wanted to adopt the children, but stepparent adoptions require a couple to be married for at least a year. The family was finally united as Robinsons in January 2022. The children are now seven, seven and eight. 
Robinson's main goal as Woman of the Year is to promote that BRAT Pack and what they stand for. She is now ready for the organization to branch out further than the Shoals and create an even larger sisterhood. The BRAT Pack was her main support at the Woman of the Year luncheon. She credited them in her acceptance speech. 
Another goal is to spread the word about foster care and the shortage of foster parents. She sees the need for reform in the child welfare system. In her eyes, the foster care system does not value foster parents and sees them as "glorified babysitters." 
"Laws and policies need a whole lot of updating," Robinson said. "The system is very broken and very difficult to navigate. I hope to help other foster families navigate the system and know about their rights as foster parents."
Cancer gave Robinson a wake-up call. Through the people she met and experiences she had, she underwent a personal transformation. She saw her diagnosis as a sign that she was not living her life the way it was intended. She did not understand true happiness until she reflected on herself and began giving back. 
"I hope my story inspires people to reach out beyond themselves," Robinson said. "Do more for the community. Do more for things that are important to you. There is so much more happiness and fulfillment from doing for others than from doing for yourself."