Singin' River Brewing Co. launches Golden Mane Beer
Singin' River Brewing Company hosted an official release party for Golden Mane, a beer created in partnership with UNA Athletics, on Sept. 9. Fifty percent of the beer's proceeds will be donated to the athletics department.
In attendance were UNA President Dr. Kenneth Kitts and First Lady Dena Kitts, Athletics Director Dr. Josh Looney, Head Football Coach Chris Willis and Board of Trustees members William Trapp and Steven Pierce, among others. Singin' River owners Michelle and Rob Jones had planned to make a beer in collaboration with UNA for some time but only recently began putting the plan into motion.
"I am delighted [Michelle and Rob Jones] did this on behalf of the university," said University Media & Public Relations Director Michelle Eubanks.
Both UNA and Singin' River have big plans for the ale. Golden Mane will be available for purchase indefinitely. The current cost of a six-pack is $9.99. The beer is already in high demand, as Singin' River has already received calls from a bar in Tuscaloosa wishing to carry Golden Mane.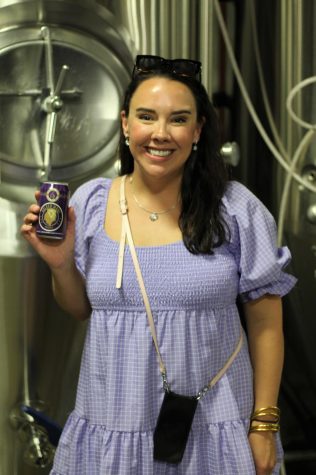 "In time for homecoming, [Golden Mane] will be throughout the Shoals," said Looney. "It will be in restaurants and the Marriott and supermarkets. Two days before we play Jacksonville State in Madison at Toyota Field, we will launch in the Madison-Huntsville market. It will also be available at Toyota Field. By October, we anticipate this being in Birmingham as well."
Around the country, major universities have partnered with craft beer breweries to have their own specialized beer. The idea of Golden Mane began with Associate Athletic Director Megan Dye a few years before. Dye reintroduced the idea to Looney in late spring of 2022. A business and brewing plan was formulated by Singin' River, wherein they decided to give back to the university.
The coaching staff and Board of Trustees were pivotal in deciding what the beer would be. They served as a tasting sample. The main goal of the taste was a lighter, easily drinkable craft beer with a low alcohol concentration.
"Whether people enjoy craft beer or not, [Golden Mane] is meant for a wide variety of people and their preferences," Looney said. "I think it will be perfect for tailgates and functions."
UNA is unique in the fact that it is one of the only colleges in Alabama to have its own beer.
Singin' River Brewing Co. was established in 2014 by Michelle and Rob Jones. Both Michelle and Rob hold full time jobs outside of Singin' River. Most of the brewing is credited to Zach Brenner, Singin' River's head brewer. However, the Joneses are brewers in their own right. Rob's experience stemmed from home-brewing in college, while Michelle pursued a license from Auburn University. She was one of the first women in the state of Alabama to obtain a brewing license. She is also a UNA alumna and was a member of the Phi Mu sorority.
"I think UNA was ready for [Golden Mane]," said Michelle Jones. "It also is a part of Division I. Everybody is excited that it's finally here."
Singin' River is no stranger to college events. In its eight years of existence, it has hosted many comedy shows, concerts and even theater shows. Its concert venue is next door to the taproom.
Aside from Golden Mane, Singin' River's other flagship drinks include IPAcalypse Now, an "intense IPA with a punch of citrusy hop flavor" that won silver in the 2017 Alabama Craft Beer State Championship; Lawn Patrol, a light, clear ale; and Swamper, a dark brew with "a rich coffee tone and smoky malt finish."
Its seasonal drinks are Invisible Swordsman, a Mexican lager; Citracabra, a sour ale that won gold in the 2018 Alabama Craft Beer State Championship; Shoals Oktoberfest, a Munich malt "with a lightly toasted malt flavor, malty body and a balanced finish," which won gold and silver in the 2017 and 2018 Alabama Craft Beer State Championships respectively; Ghost Bridge, "a black ale with a rich, fruity nose and aromas of black currant, prune, and coffee" and silver winner at the 2018 Alabama Craft Beer State Championship; and Tiger Chainsaw Arms, a "Belgian Abbey Tripel-American IPA hybrid" that won gold in the 2016 Alabama Craft Beer State Championship.
The process of making beer is no easy task. Grain is boiled in tanks of water. After cycling through the water, the grain is sifted and mashed through a screen. The remaining water is used in the beer making process. The leftover, or spent, grain is picked up and used by local farmers to compost and feed to livestock. The hops (aroma, flavor and bittering agents for beer) are added to the remaining water for about an hour.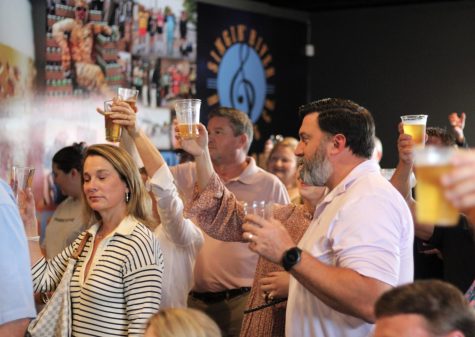 While being fermented in tanks of varying size (10, 20 or 30 gallons), yeast is added to turn the liquid alcoholic. An easy way to tell that it has turned alcoholic is the presence of bubbles from releasing CO2. The beer is canned from the tanks. Due to Singin' River's size, the beer making process is very manual.