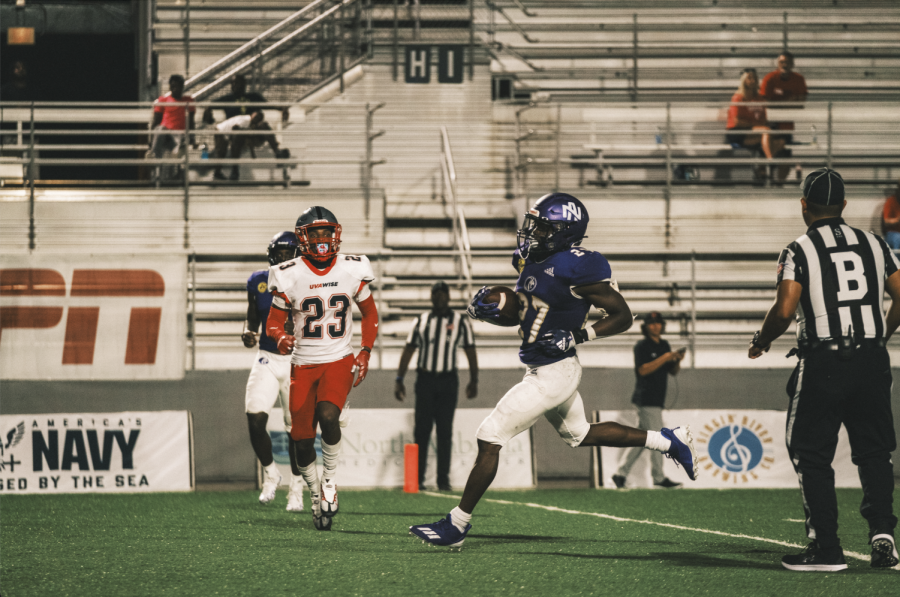 Lions win against Virginia-Wise
ShunDerrick Powell rushes 251 yards, breaks school record .
The first home football game for the University of North Alabama Lions left fans on the edge of their seats. The game started a little rocky. In the first quarter, the Lions trailed Virginia-Wise 0-14.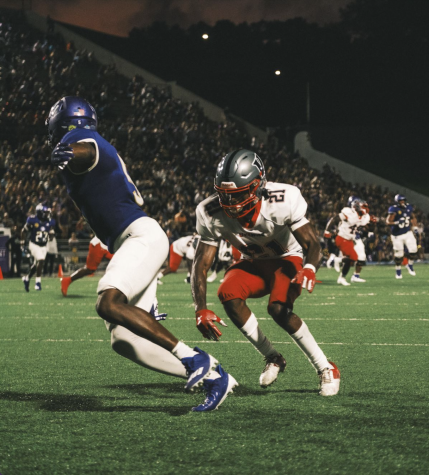 When players made mistakes, things didn't look promising for the Lions. Leading to the second quarter, sophomore running back ShunDerrick Powell ran two touchdown plays, and freshman quarterback Noah Walters landed a 9-yard pass to redshirt junior receiver Andre Little. Redshirt sophomore kicker Sam Contorno added the extra point to each of these touchdowns. Before Walter's pass to Little, Virginia-Wise kicked a field goal for 3 points which still left the Lions trailing 14-17 at halftime.
At the half, the Lions made adjustments. Just a few minutes into the third quarter, Powell ran 31 yards for another touchdown with Contorno tacking on the extra point. After Virginia-Wise's possession, freshman wide receiver Demarcus Lacey rushed for a 1-yard touchdown followed by another extra point from Contorno which put the Lions at a lead of 35-17.
By the fourth quarter, Virginia-Wise had not scored a touchdown since the second quarter and the Lions planned on keeping it that way. Right off the bat, Powell rushed for a 41-yard touchdown with redshirt freshman kicker Scott Robinson following up the touchdown with an extra point. After great defense on the Lion's part, freshman running back T.J. Finney ran a 3-yard touchdown followed up by Scott Robinson to make the final score 17-49.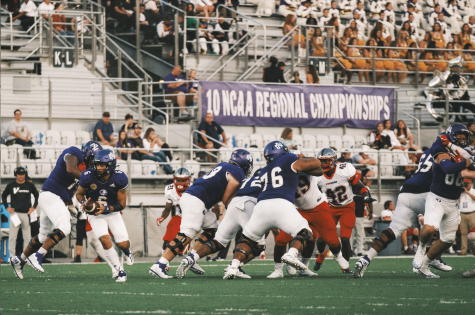 Powell broke the UNA record for most rushing yards scored in a game: he rushed for 251 yards. In doing so, he scored four touchdowns as well. 
Fans are itching to see the Lions face their rival Jacksonville State University at the Trash Pandas Stadium on Oct. 15. Both teams will have offensive drives facing the first base dugout. Since Trash Pandas stadium is a baseball stadium, to make it even odder, all offensive plays go in the same direction. This is due to required safety protocols that the NCAA has put into play that the teams must follow.
Tickets are on sale for $32.70 for Box Seats, $54.50 for Four Tops Box Seats, $81.75 for HP Box Seats, and $130.80 for Stadium Club Seats. The Standing room-only tickets are $21.80. As of right now, all the box seats have been sold.