Jason Isbell brings ShoalsFest to McFarland Park
October 6, 2022
Widely considered towns whose driving force is music, Florence and Muscle Shoals have rich musical histories. The two have been closely intertwined with rhythm and blues and roots rock going back to the middle of the 20th century. Their renowned affiliation with major musicians is attributed partly to the Muscle Shoals Sound Studio. Opened in the late 1960s by the Muscle Shoals Rhythm Section, a quartet of well-traveled session players, the studio has welcomed its share of household names into its chambers.
In conjunction with the Muscle Shoals Sound Studio, Muscle Shoals lays claim to another jewel in the crown of genuine Southern music- Florence Alabama Music Enterprises, or FAME Recording Studios. The first studio in the Shoals area to put out a chart-topping record, FAME has produced hits for over 60 years. It has also maintained close ties with Jason Isbell, the Greenhill-born Americana artist responsible for bringing ShoalsFest to life.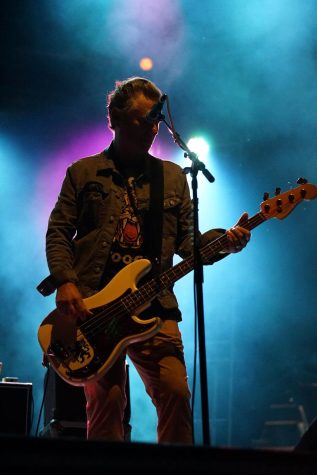 Now one of the most prominent players of Americana and Southern roots rock, Isbell credits his Alabama beginnings as having had a massive impact on both the technical and lyrical aspects of his songwriting. With help from his family and friends, along with practice on his school's marching band, he gained a knack for manipulating music theory to create catchy, original tunes.
"I never felt anything but supported by my community, so I was lucky in that sense," said Isbell. "Of course, I started playing music when I was very little, and I loved it. People called it a talent. There was something to what they said, but really, what kept me playing was the fact that I did not ever want to do anything else, simply because I enjoyed practicing above all. Eventually, I started writing my own songs. Honestly, it came easily to me. I think I owe that ease to [the Shoals]. The people I grew up around were encouraging. I never felt overlooked as an artist."
Paired with his unmatched talent for storytelling, Isbell's instrumental know-how has earned him four Grammys, nine Americana Music Honors and a recognition by the Country Music Hall of Fame.
Isbell began traversing the American South when he was a teenager. At the age of 16, for example, he performed at the Grand Ole Opry in Nashville, Tenn. Despite the expansive appeal of his music, his homebase has always been the Shoals. Many of his formative shows were played locally, with other influential Southern rock singers such as his friend and fellow Grammy winner John Paul White. Five years following his debut at the Opry, he began a professional relationship with FAME publishing company.
"When I began making music professionally some of the first people I met were legends," said Isbell. "Those incredible musicians had recorded beautiful records, yet they were humble about it. It did not seem like they felt as if they had to compete with the younger generation. They were excited to help us out."
Isbell places ample faith in aspiring musicians. He is all about intergenerational exchange and has a personal philosophy that, through and through, reveals itself to be youth-centric. About the evolution of a young artist's career, Isbell said, "It is part of a cycle of gift-giving. If you are an artist, you start out with the gift of music or some other kind of creative pursuit. The people around you then give you the gifts of their time and attention and allow you to share your gift with the world. You start to realize that you are a part of something bigger than yourself, and soon, you see that it is your turn to give your time and attention so that another determined artist can experience the same opportunities you had. In the end, the thing that serves you most is the act of passing your wisdom down to younger voices; in them, you start to see your values reflected."
Some of the most memorable performances of Isbell's adolescence took place at McFarland Park's Spirit of Freedom Festivals, which have recurred over a span of 39 years to celebrate Independence Day on the Tennessee River. 
Three years ago, Isbell, accompanied by his band, the 400 Unit, returned to McFarland Park in groundbreaking fashion, commencing ShoalsFest.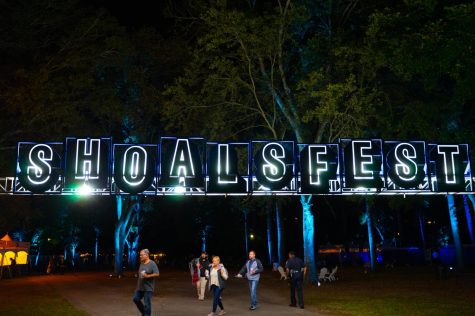 Assisted by his manager, Traci Thomas, plus various musicians and municipal figures, the artist inaugurated a music festival that reveres the true Muscle Shoals sound and imbues the locality with creative energy. The third ShoalsFest visited North Alabama on Oct. 1-2.
Serving as a sort of love letter to the places that sparked his interest in meaningful balladry, Isbell's ShoalsFest has yet to see a commercially unsuccessful round. Given its inclusive lineup of internationally-acclaimed and regional musicians, this year's festival promises something for everyone. 
In addition to Isbell and the 400 Unit, a musical appearance is slated to be made by Amanda Shires, a trailblazing singer-songwriter and fiddle player who happens to be Isbell's wife of nine years. Among other achievements, Shires is known for having founded big-name country band The Highwomen, in which she plays alongside Brandi Carlisle, Maren Morris and Natalie Hemby. In 2020, her group was said to have released the album of the year at the Americana Music Honors and Awards Ceremony. Her newest album, "Take it Like a Man," has amassed critical acclaim.
Isbell and Shires have found good company in a litany of local musicians from the Tennessee River region. ShoalsFest's 2022 stage hosted the Wanda Band, a group whose frontwoman, University of North Alabama student Wanda Wesolowski, is frequently seen working from downtown Florence coffee shops and performing at adjacent venues.
Noteworthy acts besides the Wanda Band included, but were not limited to, Billy Allen and The Pollies, who will play a set together. The former is a soulful singer from Town Creek, Ala., who has just recently emerged onto the freshly enlivened blues scene, and the latter, another enviable product of the Shoals, have been redefining the constitutions of Southern music since 2012, when their first album dropped.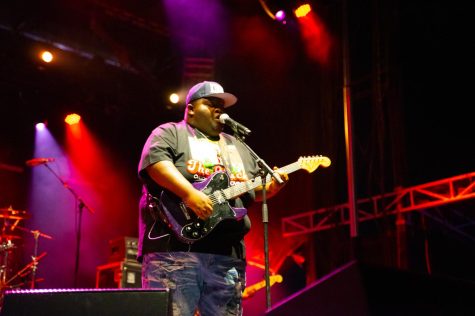 "I'm happy to see that now, there are people in town coming up with ideas as to how to support local bands," Isbell said. "Today, there are motions in place and places to perform that were not around when I was starting out. Then, I had a lot of time to practice, but whenever it would come time to find a gig, I would usually have to look to out-of-town venues. I do not think that musicians have to grapple with that problem so often anymore."
The idea behind ShoalsFest was to hold a celebration in Florence that had the potential to simultaneously appreciate the Shoals' maiden music and inspire its future music makers. 
"[My team and I] reached out to people we know and respect as makers, international and local touring acts alike. We did our best to work out a deal that would be desirable for them and the people of the Shoals," said Isbell. "We wanted to make sure that ShoalsFest would unfold in the most beneficial way possible. I hear about musicians producing festivals overseas, like in Mexico or the Caribbean. Those shows are great for people who have the means to fly to them, but they do not actually do anything substantial for citizens in those countries. What I would like to do in Florence is seriously invest in its people."