Kellett discovers kinship far from home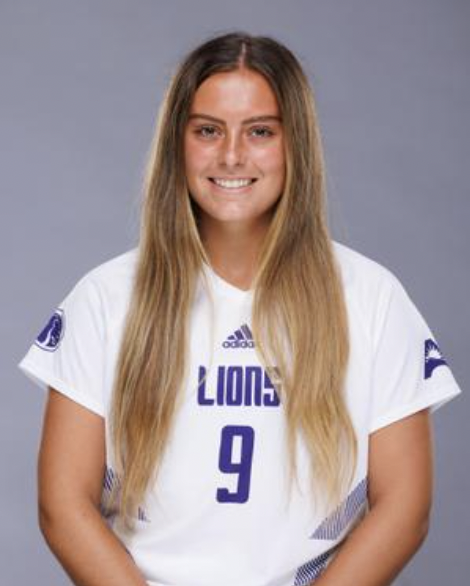 Charlotte Kellett, a women's soccer player at the University of North Alabama, finds community and friendship within her team.
Originally from Colchester, England, Kellett started playing soccer at a early age. 
"I've been playing football since I was four," Kellett said. "My twin brother played, and I wanted to be better at everything than him. He was playing, so I started playing. At lunchtime, I'd go play football with the boys." 
After playing soccer throughout school, Kellett decided to come to UNA in 2019 and pursue a degree in exercise science. She is working to earn her master's degree in May. With this degree, she hopes to become a teacher or coach at a high school or college. Before beginning work, Kellett plans to go home and try to find opportunities to continue playing soccer for a bit longer.
Kellett chose UNA because of the diversity of the coaches and team. 
"The coaches were all English at the time, so they flew over and watched me play," Kellett said. "There was also another English girl here, so that was familiar. You don't really want to go somewhere where they don't have any international students. It also seemed very family-oriented and looked like a good program. The campus is really pretty, and Florence is a nice town." 
With seven international students on the team, Kellett feels that those who come from other countries to play soccer at UNA feel more at home than they would elsewhere. 
"I think that, to an extent, the international students group together," Kellett said. "We talk about football at home. The [European Championships] just happened. Malin's from Sweden, while four of us are from England, and we played each other in the finals. Kira was also a part of that because she's from Germany, and we played them. It was funny to banter back and forth because England won. We do group together, but then the Americans take you in as family. I think that everyone has their close-knit groups."
The team environment and the relationships between team members and coaches have been the key determiners in how the season has gone thus far. Kellett has high hopes for the remainder of the season and, hopefully, the conference tournament. 
"We started off really good, and then with conferences, it was hard," Kellett said. "There's never an easy game. We opened up with two draws, and we lost a couple games, but we brought it back. We'd be playing well and just didn't get the result [we wanted]. It doesn't always go your way. Even if you're the better team, you don't always win. We just had a really successful weekend. We had two wins, which was great. Hopefully we can keep that going, get two more wins and make the conference tournament. The coming weeks are really important for us."
As a forward, Kellett has played in 61 career matches and has started in 45, with six goals scored. She takes pride in being a hard worker and a good communicator with her coaches and teammates. 
"I always want to be better than the day before, so I work really hard," Kellett said. "I'm also quite aggressive and strong with the ball."
During her time at UNA, Kellett feels that her shots have gotten better. Through work with her coaches, she has practiced ball placement when shooting, as well as building strength and aggression during games. 
Putting in the work needed to constantly improve can be challenging, especially while pursuing a master's degree.
"We travel a lot," Kellett said. "This year, we had a bunch of five-day trips, which was hard because in grad school, you have super long classes. If you miss a class, you've missed around three hours of content. That's been hard, but they've really worked with us. We tend to be away on Thursdays, so we miss [that day's] class a bunch, but our teacher worked with us and recorded it on Zoom, which was really helpful. The long days and traveling, especially getting back late on Sundays, is difficult."
Having played soccer while attending college for years, Kellett has had a chance to adjust to the gradually increasing workload. She has found that her friends, boyfriend and parents at home keep her motivated to keep going. 
In her free time, she likes to go walking on trails around Florence. Because she grew up participating in water sports with her family, she also enjoys finding time to do water activities with friends and teammates.
Through adjusting to life in America, Kellett has found a place she feels at home: with her team. 
"It's such a family," Kellett said. "We always hang out or grab food together. It's a good atmosphere. We have a really good team dynamic at the moment. We're always laughing with the coaches. Obviously, we're serious when we need to be, but it's always fun. As long as you keep it fun, you're always going to enjoy it."