Lauren Vance crowned Miss UNA
Lauren Vance of Muscle Shoals was crowned Miss University of North Alabama on Jan. 21 at the 49th Miss UNA scholarship competition.
Vance is a sophomore at the University of North Alabama majoring in Biochemistry. She will now qualify for the title of Miss Alabama, receive a year's tuition and book scholarship, a custom ring from Creative Jewelers and many other prizes from the event's sponsors. 
Vance was one amongst 10 competitors for this year's title. Maddie Davis won third runner-up. Among the competitors was Caitlin McCrary, Miss UNA 2020 who is now getting her masters degree in education at UNA. McCrary placed as second runner-up in this year's competition, received the award for outstanding service and won the Creative Jewelers ring design contest for which she will receive an amethyst necklace. Mallory Brewer was named first runner-up and Miss Congeniality. Jesslyn Unger was also tied with Brewer for Miss Congeniality.
Each contestant competing in a Miss America qualifier is required to present an original social impact initiative that they will use their platform to advocate for. Vance's initiative is "The Two Hour Challenge", which encourages individuals to spend less time on social media each day. She will spend 2023 advocating for this initiative throughout the state of Alabama while representing UNA. 
"I love having human connections, and that's something that I want to do as Miss UNA is foster that on campus and encourage people to not just find their identity in what Instagram or Snapchat says about them, but rather the real human connection that they have, " Vance said. 
As a child Vance's parents would not allow her to have social media pages until she was in her teens, but when she reached what they deemed to be the appropriate age, she had no desire to sign up for an account.
She only caved and made an Instagram page her senior year of high school when it was required for a project in her Physics class. 
Two hours a day is the estimated amount of time that each person with active social media pages spends on social media platforms each day. The idea of the Two Hour Challenge is to take two hours out of one's day to do something productive, such as having a face to face conversation with a friend, going on a walk and exercising. 
"I think it's important to use it in a balanced way, which is really what I want to show people as Miss UNA," Vance said. "It's okay to spend a little bit of time every day, because there are positive benefits like keeping up with people that you haven't seen in awhile. I have a lot of high school friends that I keep up with through social media, but when it gets to the point that we need to take a look at how this is affecting us is when we're spending hours upon hours and just scrolling for no reason."
Because she did not grow up on social media, Vance says she understands that it may be hard for people who default to checking social media when their mind wanders to set aside a full two hours a day. She suggests that even if people start out by taking five minutes a day to intentionally do something other than social media, it can be beneficial to their mental and physical health and raise their self esteem.
"I really grew up knowing what my value was apart from social media and apart from online image, and I really saw a lot of my peers struggle with putting their identity in social media, and that's something I really never had to struggle with, so I wanted to share with people what it's like to not have to worry about who you are online," Vance said. "Setting that first boundary is a great way to realize that you're going to survive without it. You're going to be okay. The two hour challenge is really a stepping off point. Whether you can take the whole two hours or not, I really want to encourage people to take 5 minutes or take 3 minutes and set a timer to just put their phones away."
Although Vance uses Instagram and other platforms to advocate against social media addiction and obsession, she considers her usage to be balanced. With her invigorating school schedule, she does not have much time to scroll. When asked what she does in her two hours each day, she answered "homework."
Vance is on a premedical track, majoring in Professional Biochemistry. After graduating from UNA in 2025, she plans to go to medical school at the University of Alabama at Birmingham. She wants to be a pediatrician so she can work with children. 
"I've always had a love for children, and being a doctor is about helping people, so that's what I want to do," Vance said. 
Vance states that she wants to stay in the state of Alabama to practice medicine, because she loves the state and wants to be able to make her own community a better place through her work.
Her nurturing characteristics have come to her naturally throughout her life, as she is the oldest of five siblings, the rest of which are boys. Vance recalls that when she was a child and one of her younger brothers was sick, she would love to make them chicken noodle soup and pour them some Gatorade to take care of them. Growing up being an example for and caregiver to these four boys helped form her personality and passion for helping care for others.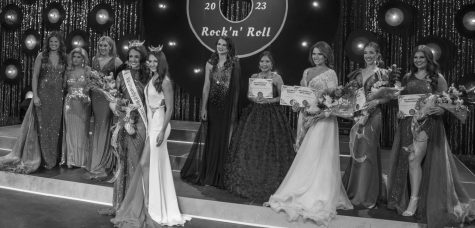 Being the only girl in a large family, Vance's love for pageants and all things feminine was supported by her parents. She began competing in the Little Miss Trojan pageants held by the Muscle Shoals school system when she was in elementary school and competed every year until graduation. Her senior year of high school she was crowned Miss Trojan Beauty.
Vance had never competed in a Miss America qualifying pageant until Miss UNA. Now she prepares to compete for the title of Miss Alabama in June. If she wins Miss Alabama, she will then be  eligible for Miss America. When asked in the on-stage interview portion of the pageant who she believed the most influential person was, Vance answered, "Miss America." She says it is "surreal" that she will now be able to compete for the title of Miss Alabama and be able to represent her university and state on a nationwide level. 
Vance's talent in every pageant is playing the piano. For Miss UNA, she played the classical piece, "Valse Dramtico." She has been playing piano for 12 years and played flute in her middle and high school marching bands as well as participating in the color guard. 
She states that being in the marching band and subsequently being in the Marching Pride color guard for a year taught her a lot about representing others, something she hopes to carry on in her role as Miss UNA.
Vance says she can never answer the question of if she's right or left-brained, because she loves math, science and the arts, but most of all, she loves people. Her initiative focuses on the gift of time and making human connections, which is what she strives for in her roles as a Student Government Association justice, Baptist Campus Ministries devotion leader and now, Miss UNA.
"Being Miss UNA is loving all people and being a representative of all of our campus," Vance said. "I've never run in to someone who didn't make me feel welcome here."