Starter Georgia Land balances art and athletics
Art and sports are two things that usually do not go together, but for University of North Alabama softball player Georgia Land, the two go hand in glove. She is one of the few athletes at UNA that is also an art major.
Land was born and raised in Lawrenceburg, Tenn. She played on club teams and travel teams as a kid, and moved on to join her middle and high school's softball teams when she got older.
"I started playing softball when I was about seven or eight, but I did T-ball when I was like three, so it's been with me my whole life. Softball wasn't really big when I was younger, it kind of grew as I grew. I started with T-ball and now here I am, 20 years later," said Land. 
Land has known from a young age that she wanted to pursue softball as a career. Playing softball in college has been a dream come true for her.
"Growing up, you always see all these big teams playing on T.V., and you're like 'I wanna go and play on T.V.!' That was my biggest dream," Land said. "I've been able to play at a division one level my entire college career, which is a blessing. And, I have been on T.V." 
After graduating from Lawrence County High School, Land began her collegiate softball career at the University of Tennessee at Martin. However, she did not feel at home there and knew she needed a change. One of Land's friends played on the softball team at UNA and encouraged her to transfer. After meeting with the coaches and touring UNA's campus, Land knew she belonged in Florence. 
"Last year, I had a very good season. I have this expectation that I want to do as well as I did, because I know I can, but I also know that if that doesn't happen this year, it's okay," Land said about this season so far. "I have hit goals that I've planned for myself in college, and now I'm just trying to add to that. Even if I don't do as well as I did last year, I'm going out strong."
Land not only has a deep love for softball, but for art as well. She started as a digital media major, but after taking a ceramics course, she fell in love with the craft. Land is double majoring in Ceramics and Marketing.
"My grandmother is a painter, so I've always had that exposure. Growing up, I loved art and drawing. Basically anything that I could put my hands on and put together to make something, I loved," Land said. "Ceramics are both of those things put together. It is art, but it's also very hands on and that's something that I was missing in digital media. It just pulled it together."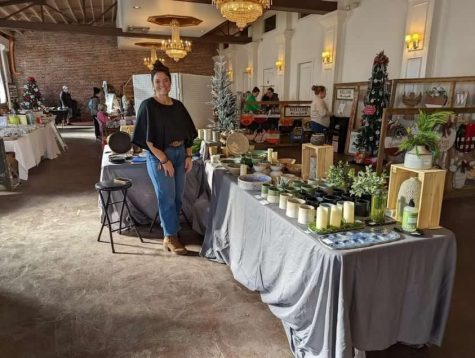 Land is a minimalist, and her work represents this. She wants to create a line of home goods that anyone and everyone would want to buy for their home. 
"A lot of my pottery is very simple. I want it to look handmade, but still neat enough to where you'd think a machine made it. My thing is making sets, like plate sets, for people's homes. I want it to be neat enough where they can have a whole set of it, but it goes with everything else they already have," Land said. 
Balancing softball and art has been challenging for Land. UNA art students are required to take studio classes – three hour long classes, twice a week. With practice throughout the year and the season starting up, her softball schedule sometimes clashes with her class schedule. 
"We have an off day once a week [for softball], and that's the day I try to go to the ceramics studio and push out my work. This semester, I only have two classes during the week because I'm finishing up, but in the past I've had to schedule time between and after practice to work on things," Land said. "I have to bounce back and forth a lot, especially because ceramics are a lot more time consuming than other mediums."
Because she is in her final semester, Land does not have too much coursework left to worry about. She recalled that in the past, though, she would have to plan her days out hour-by-hour to make sure she had enough time in between classes and practice to work in the ceramics studio. 
"I'm doing what I need to be doing. I'm still working through some things and struggling, but I'm working with what I have. It's going good," Land said. 
After graduation, Land wants to coach softball lessons. She has been teaching lessons for years to help her pay for ceramics supplies, but she hopes to one day have her own indoor softball facility and teach lessons full-time. 
"I want to do full-time lessons, so that ceramics can really become something I just enjoy doing – not that I don't now, but it's going to be really hard for that to be my main income," Land said. "I still enjoy it and I really do like it, but the lessons and softball coaching are going to be my main source to pay bills. Ceramics will be something I do on the side."