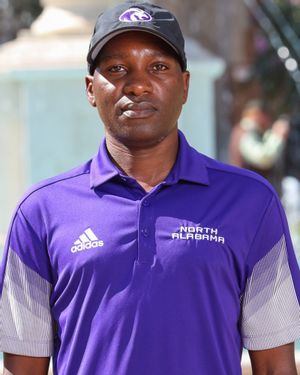 Last spring, University of North Alabama athletics director Dr. Josh Looney named Evans Kiptoo as the university's official cross-country coach. Kiptoo will be the 14th men's head coach and the 13th women's head coach, replacing Jeremy Provence.
Born in Kenya, Kiptoo grew up running. Where he was raised, public transportation was largely unavailable. 
"I'd have to run from home to school and from school to home," said Kiptoo. "I was running everywhere, around five miles, three times a day."
Luckily, Kiptoo has never harbored any ill will against running. His uncle was a professional distance runner in Kenya, who encouraged his own interest in the sport. Straight out of secondary school, Kiptoo was granted a scholarship that allowed him to live, study and run in the United States.
For 16 years, Kiptoo has lived in the states, but he's only been in Florence for under a year. He described the coaching job at UNA as a "great opportunity" and says he has "fallen in love" with the campus. 
"It really is very beautiful, very attractive," Kiptoo said. "It's probably one of the cleanest campuses I've ever seen."
In college, Kiptoo was a successful long-distance runner. In 2007, at Lindenwood University in St. Charles, Mo., he was named an All-American athlete. His athletic career followed him to Eastern Kentucky. There, he continually strengthened his running abilities. 
Kiptoo started coaching in 2012. He was appointed Graduate Assistant Coach at Eastern Kentucky University, alongside Coach Rick Erdman. Under the direction of Erdman and Kiptoo, the distance runners at EKU qualified for the National Collegiate Athletics Association Cross Country Championship. 
Before coming to UNA, Kiptoo served as both cross-country and track and field coach at Northwest Kansas Technical College. In 2020, he helped facilitate the progress of Vincent Nchogu and Oliver Kiptoo, the latter going on to be the National Junior College Athletic Association Nationals runner-up in the 5000-meter steeplechase and third-place recipient in the 3000-meter obstacle. 
Also in 2020, Kiptoo's team won third place at Nationals. The following year, he helped his cross-country team, still consisting of Nchogu, achieve the highest finish in the history of its program. One of Kiptoo's glowing trainees, Nchogu gained two NJCAA National awards in 5000m and 10000m, plus the title of Central Region Male Athlete of the Year. All this not to mention Kiptoo's then-team placing fifth and second in the NJCAA National Championship and National Half-marathon Championship, respectively. Multiple All-American athletes improved their skills in learning from Kiptoo, who himself earned the Central Region U.S. Track & Field and Cross Country Coaches Association's Cross Country Coach of the Year Award.
Considering the recent coronavirus pandemic that transformed the lives of people everywhere, Kiptoo's victories in 2020 are especially commendable. While weathering the storm that was the early months of the global health crisis, Kiptoo worked safely alongside his runners, making do with scheduling difficulties and taking necessary precautions.
Kiptoo's track record with producing extraordinary runners is impressive; his 2022 cross-country and track & field teams ended up consisting of three All-Americans and a High point athlete. Kiptoo's high excellence rate can be attributed to his hands-on coaching technique. Throughout his mentees' highs and lows, he is sure to monitor their progress, touching base regularly so as to keep things running smoothly.
Between jobs at EKU and Northwest Kansas Technical College, Kiptoo served in the United States Army for four years. Seeing as he is fluent in Swahili as well as English, he was of high military importance as an interpreter. In light of his exceptional resilience, Kiptoo thrived in the army. He hails resilience and proper time management as the most useful virtues he honed during service.
UNA's cross country teams are a good match for Kiptoo's exceedingly engaging teaching methods. On the whole, its cross country program has produced four Atlantic Sun Conference Runners of the Week.
At UNA, Kiptoo plans to increase cross-country's size and popularity. 
"You know, change is always difficult," Kiptoo said, referring to his new position. 
He concedes that it might have initially been tough for student athletes to adjust to his presence and style of coaching. Nevertheless, after a summer full of rigorous training and attentive mentoring, he finds he can communicate easily and effectively with his teams. Kiptoo is confident he will take UNA's already-adept cross country teams to the next athletic level.