Vice president of University Program Council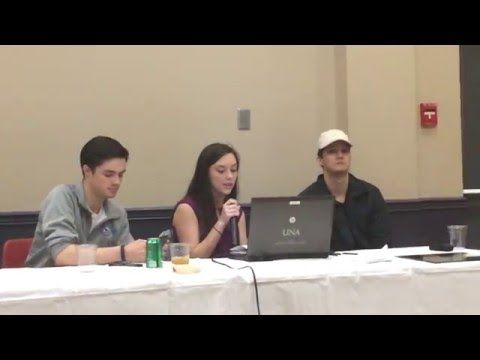 Student Government Association held an event called "Meat the Candidates" where students could meet the SGA officer candidates and learn more about their platforms Feb. 17.
Austin Bullock and Nicholas Smith are running for Vice President of University Program Council. Both candidates said they want to keep UNA's traditions, but the traditions have room for improvement.
"What I want to create is a unified marketing plan," Bullock said. "We need to know how we can start (improving events). We can know if (the events) were great or terrible if we get student feedback from every event
Smith said he wants to focus on reaching students not involved in Greek life. He said he thinks the Greeks are only a small portion of the student body.
Bullock and Smith both mentioned the importance of delegation and communication as the vice president of UPC.
"I understand what needs to be done to get the job done," Smith said. "I've done a good job delegating."
Bullock said he knows communication is important, but he struggled to communicate effectively this year, he said.
"I stretched myself too thin," he said. "(I realized) I had to give 110 percent or I was not serving."
He said he has improved his communication skills and "promises to do that for UPC."