I hated 'Wonder Woman 1984'
Superhero movies usually bore me. I'm not overly into action movies. My childhood consisted more of Polly Pockets than Marvel action figures, and I've never read a comic book in my life. Personal preference aside, there are superhero movies I've enjoyed. Hayley Atwell as Peggy Carter in "Captain America: The First Avenger"? What a show stealer. Tom Holland as a teenage Spider-man in "Spider-man: Homecoming"? Tons of fun. I don't remember anything about the original "Avengers" movie, but that fact alone tells me I didn't hate it.
I arrived late to the "Wonder Woman"
party. When COVID-19 forced my family. to spend every hour of the day together last March, we watched it on the living room TV–appropriate foreshadowing for its sequel's release on HBO. If you haven't seen it, the first."Wonder Woman" is worth a watch. It earned a 7.4 on IMDb and a 93%, certified fresh, on Rotten Tomatoes. It was full of action, drama
and Chris Pine. It transcended superhero flicks and instead became just-a-good-ole-movie. Maybe my expectations for "Wonder Woman 1984" were too high, but its ratings lead me to think otherwise. The highly anticipated sequel currently sits at 5.5 on IMDb and 60% on the Tomatometer. Like the first movie, I watched it on TV with my family– this time on Christmas
day. Thanks to this control factor in both of my "Wonder
Woman" viewing experiences, I can cancel out any cinematic thrill a theater may have incited. My first question for "Wonder Woman
1984": Where was the 80s soundtrack? Although plenty of tracks from the
era stand the test of time, the 80s inspired revival of music by the Weeknd, Miley Cyrus and other current artists could have been
a better choice. Hans Zimmer is fine, but imagine
Diana kicking ass to Michael Jackson. In fact, the 80s setting had nothing to do with the plot whatsoever. Sure, rampant consumerism
was a hallmark of the time. Is it not also a stamp on the 90s, 00s, 10s and today? Aside from the costumes and knock off setting of "Stranger Things'" Starcourt Mall, nothing about this film paid homage to the
1980s in any way.
Also, hardly anything felt connected to the first film either except for Chris Pine as Steve Trevor. While his montage of 80s outfits made me smile, he only served the purpose of flying Diana to Egypt (crazy sounding, I know)
and "dying" again to propel our protagonist forward. So many of
the movie's elements felt completely random. When Barbra decided to become an "apex predator" out of the blue, she came off more like a cross between a cat woman and one of the Cheetah Girls.
When Asteria's magical armor joined the cast halfway through, it conveniently saved the day. The prologue scene of young Diana at the film's beginning should have revealed Asteria and the armor's origin story instead of completely unnecessary, twenty minute long Amazonian olympics that earned a sentence long reference an hour and a half later.
Because of the chaotic blend of choices in this film, the entire theme got lost in between them. In fact, the central theme of "be happy with what you have," was muddled by the sub themes of being honest, being yourself
and being selfless. This list goes on just like the others I referenced above because it seems like director Patty Jenkins decided to throw in everything but the kitchen sink. Thanks to that move, the film literally went to a world ending place– I'm talking about the world's supply of nuclear missiles launched–but was saved when antagonist and capitalist, wannabe oil tycoon Max Lord whispered "I renounce my wish." Anti-climatic much? Nuclear bombs literally disappeared out of thin air and we all lived happily ever after with a stunning cameo from Lynda Carter before credits rolled.
On the list of movies I've watched on Christmas day, "Wonder Woman 1984" ranks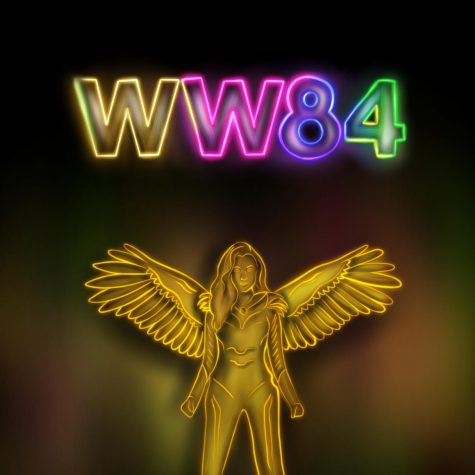 dead last behind "Megamind" and "Alvin and the
Chipmunks: The Squeakquel." One and a half stars.