UNA finishes fall semester without going virtual
As finals ensue at the University of North Alabama, the students have successfully made it to the close of the fall semester without having to go back to virtual instruction. 
In March of this year, UNA closed its doors and went fully online for the remainder of the semester due to concerns with the coronavirus. 
The question of whether or not UNA would allow its students to return to campus for the fall remained unanswered until May. On May 4, the office of University Communications and Marketing released an announcement detailing UNA's plan to reopen.
COVID-19 infections, hospitalizations and deaths rose rapidly after the coronavirus was identified this past December in Wuhan, China.
According to the CDC, the number of U.S. cases as of Dec. 4 was 14,041,436. The number of Americans who have died from the virus was 275,386.
The CDC recommends to combat the virus' spread the wearing of cloth face coverings, diligent hand washing and the practice of social distancing, as said on UNA's Information about COVID-19 page.
UNA has been promoting all three of these preventative measures throughout the fall semester, in order to lessen the spread of COVID-19 amongst students, faculty and staff members. 
Behind this effort is UNA's University Health Services department. Throughout the semester, UHS has been in correspondence with and monitoring activity from the CDC, the Alabama Department of Public Health and the College Health Association task force to combat COVID-19, according to the Information about COVID-19 page. 
While all of these extensive preventative measures have been taken at UNA, cases were still seen. The same can be said for other universities within the state. 
At UNA, there was a cumulative case total of 392 for the fall semester. 
At the beginning of the pandemic, UNA assembled a COVID Task Force. The success of the university not having to revert to online instruction was rooted within its members.
"My role as vice president of student affairs has been to chair the COVID-19 Recovery Task Force," said Kimberly Greenway. "We were appointed through the shared governance process and my role is to chair that group to make sure that we're addressing all the health and safety needs and following the guidance from the national health professionals." 
Greenway said that the Assistant Vice President Tammy Jacques, has taken a lead role on several of the smaller committees within the COVID Task Force and partially in the GuideSafe program which provided testing for students throughout the semester.
"I served as the co-chair of a sub-group of the COVID Recovery Task Force to do all the GuideSafe stuff," said Jacques. 
Over the summer, UNA, through the GuideSafe program,powered by UAB, provides students with a symptom evaluation, exposure notification app and an event passport which UNA utilized at many of its events. 
Additionally, it required students to complete a number of tasks in order to be permitted to return back to campus. Amongst these requirements was the "COVID-19: Basic Safety and Awareness Course," complete a daily health check at least 14 days prior to arriving on campus and be given a COVID-19 test. 
After completing all of these steps, any student, faculty or staff member who was coming onto UNA's campus were asked to do a daily health check that asked about various symptoms and potential sources of contact. 
Along with the Director of UHS Sheena Burgreen, Jacques helped put the GuideSafe program into place at UNA. 
"We really heard from our students that they wanted the opportunity to have the choice of whether to return face-to-face, whether to do hybrid or whether to do remote classes only," said Greenway. "We felt as a university that if at all possible, we wanted students to have the kind of experience in college to the level that we could give it to them during the pandemic."
Greenway added another factor in the university's decision to allow students back onto campus is the research that was behind the risk factors associated with large groups of people being together for long periods of time.
The risk amongst the college aged demographic is very low, according to the CDC. UNA did not want students to be penalized because the risk factors were high in other categories, said Greenway. 
"We felt like we could provide a safe enough environment to give them that experience," said Greenway. "We felt like it's our mission as a university to do that and we wanted to make sure that we were doing that in good faith for our students."
While the 18-24 age group is at a low risk for the virus, there were still concerns as the university decided and prepared for the return of students.
"Of course we're still worried about the spread of COVID and how that would impact students, employees and the overall UNA community," said Jacques. "Even though we knew that we wanted to give them [students] the in-person experience and then we also offered those who weren't quite comfortable online opportunities, it still was the number one worry."
Jacques explained that University leaders tried everything they could to mitigate the virus' spread, including sentinel (random) testing, Guidesafe testing and random testing throughout the semester.
 "We didn't have answers upfront," said Greenway. "None of us had ever been through this before in our lifetimes and people really wanted answers. They wanted to know 'what's our experience gonna look like,' 'when are we starting,' and we really didn't have answers until we had the opportunity to come together as a group and really plan this out well." 
Greenway didn't want to frustrate those asking her about UNA's plans then, but the planning process took time.
"The task force began meeting pretty immediately after it was established through the approval of the president and shared governance," said Greenway. "We decided to return in phases."
The first obstacle that the COVID-19 task force had to address was preparing the campus physically, said Greenway. This proved to be a bit of a challenge since, as Greenway said, no one on the task force had experienced anything like this. So, the task force looked at what the Alabama Department of Public Health guidelines suggested and what the CDC recommended. 
"There was a lot of physical labor in addition to the actual planning and organization," added Greenway. "There's a lot of behind the scenes folks that really haven't gotten a lot of credit for what they did."
Facilities and Administration Planning, Information Technology Services and many other departments and groups at UNA were key factors in ensuring the successful return of students, said Greenway. 
After the campus was physically prepared, employees of the university were brought back in phases, beginning with the gradual return of employees after the stay-at-home order was lifted on May 4. Following the phasing-in of employees, students began to come back to UNA's campus starting with athletes. 
"We had about three athletic teams that came in first and we kind of used them as cohorts to say 'what will the impact on them be,' so that we would know what the impact on our overall student population would be," said Greenway. 
In addition to bringing back employees & students, the university had to think about cleaning supplies, signage, air units, heating, ventilation and air conditioning units, bathroom usage, water fountain usage and multitude of other sources for concern, said Jacques. 
"When the state of Alabama provided this funding to help the institutions do testing, that was very very helpful," said Jacques. "That was another step of how to prepare for the students and prepare this campus for the population that was about to come back."
All of this effort would have been nothing if the UNA community had not been compliant to the requirements and followed all of the guidelines of the university, said Greenway. 
"I think that's what's gotten us where we are today," said Greenway. "We had a good plan, people followed the plan and it proved successful."
In addition to that, Jacques said that she attributes UNA's success to the contact tracing. 
After a student, employee or staff member tested positive for the virus, they were asked to fill out the contact tracing form on UNA's website. This allowed the university to pin point sources for potential spread within the UNA community. 
"That quick response from health services and from the individuals who are willing to report who they've been around helps us mitigate," said Jacques. "As hard as it was for students and employees to go into quarantine, even if they weren't positive… that helps mitigate the potential spread."
Jacques said that the cooperation of the students and their willingness to quarantine or isolate and the quick work of UHS to contact those who tested positive also helped UNA avoid going all-virtual during the semester.
Due to the Health Insurance Portability and Accountability Act of 1996, which outlines The Privacy Rule, an individual's privacy is balanced with the important usage of particular information. 
Due to privacy laws, UNA was unable to disclose who the source of exposure was when an individual was asked to quarantine. This was a common complaint amongst students, to no fault of the university. 
"That's one of the things you can't really work around," said Student Government Association President Tate Gooch. "But also, I feel like there is room for improvement in informing students 'ok well, here are things that you can do if you think you are improperly quarantined.'"
Gooch said that another place for improvement is informing students and ways to to adhere to guidelines during events. He said that this must be done while also making sure no guidelines are being broken. 
As explained in the Quarantine/Isolation Guide for Students, isolation is the separation of a COVID-19 positive individual from individuals who are not sick. 
Quarantine however is the separation of someone exposed to a COVID-19 positive individual who has not necessarily tested positive themselves. 
All students were expected to have a plan for if they were placed in quarantine or isolation, since students who had their own vehicle and lived within a reasonable driving distance had to do so within their primary place of residence. In the case that a student could not return to their primary place of residence, the university provided on-campus isolation housing, the guide added. 
"Early on through contact tracing and later through sentinel testing, we were able to catch those asymptomatic people," said Greenway. "We were able to get those reports early from people who were positive and quarantine people that had been contacts. I am convinced that it certainly, to a very large degree, mitigated the spread of the virus on our campus."
Contact tracing was not only conducted through UHS. Nursing staff, athletic trainers and clinical nursing students helped as well.
"The university can provide the guidelines and the regulations that we need to follow, but we can't control what people do outside the campus," said Jacques. "…that's a challenging part where individuals may follow it on campus… but they can be with 10 to 15 people and not wearing their masks and they think 'it's just us,' and if they test positive that still affects 10 to 15 people and it still can come back to campus." 
This has been one of the challenges to arise throughout the semester. Jacques said that reminding people to not let their guard down while we are still in the heat of the pandemic is a message that the university wants to convey to its students. 
"The biggest challenge is human nature and our need to be with one another," said Greenway. "This is very different and new to us. We're used to being in each other's faces and socializing with each other. So not have to not do that almost goes against our human nature and we have to intentionally make ourselves do it."
Within education, most of the work is done through connection and engagement, she added. The very way we educate is through social engagement and connections between students and faculty. 
"It's been a big challenge to figure out how to effectively still educate ourselves in those environments without having the old way of doing it," said Greenway.
Another key point of success has been the  university's diligence with asking those coming to campus to complete the daily health check, officials said. The presentation of a green screen, which means an individual reported no symptoms, was required to attend some classes, enter many offices across campus and be admitted into campus events throughout the semester. 
Greenway said that the personal inspection and the identifying of symptoms is the first step of realizing that one might be sick. 
"Our expectation for students is for those coming back after the break, that they would continue to over the Thanksgiving break and to do it at least 14 days before returning in the spring semester," said Greenway. 
If a student marks a symptom on their health check, they are shown a red screen at the end of their check and told to call UHS for the next step, said Jacques. 
"What you might think is just a little sniffle or a little headache may actually be COVID and you didn't even realize it," said Jacques. 
Greenway said that the data of students completing the daily health check goes directly to UHS but that the number of students completing it has been consistent throughout the fall semester. The university knows that all students don't complete the health check but feels that most do at least every three days.
"I've just seen where so many other universities where their downfalls were their students, regardless of the policies they had in place," said Gooch. "I would say that UNA, if not the best, was one of the best. I know people at South Alabama did not want to come back for spring because literally couldn't do anything in the fall. I know people at Alabama where it was just this mass exodus of people having to leave because there was notmuch control…"
Gooch said that he knows of individuals who are transferring to UNA for the spring semester due to the handling of the pandemic. 
"We're restrictive,careful and were cautious, but we're not completely overbearing,"he added. 
UNA is data driven and does what is suggested by the ADPH and by UAB's metrics. The safety of the students is of utmost importance and if there should come a time where UNA does not align with either of these sources for guidance, virtual instruction may be the result, said Gooch. 
Once a month, Greenway emails employees asking them to remind those not properly wearing face coverings to kindly ask them to do so, said Greenway. 
"What we're trying to do is build a community of respect so that people don't seem like it's punitive," she added. "We've seen more and more people doing that."
Greenway said that we all have to get used to holding one another accountable in a kind way. Those within the UNA community should not solely depend on student affairs to handle issues regarding face coverings, but individuals should engage those not following guidelines said Greenway.
As UNA nears the end of the fall semester, students are returning home to complete their classes and take their finals; but UNA will remain diligent. 
"If they [individuals who live on campus] test positive, we still want them to report to us," said Jacques. "It keeps us in the loop and helps us continue to track numbers of students."
After the Thanksgiving break, all courses at UNA went fully virtual for the remainder of the fall semester. Students who live on campus, were given three choices, as detailed in an email sent on Nov. 3 entitled "Holiday Break Housing Form." Residents could leave campus until Jan. or stay on campus for part or all of the winter break. 
The number of cases at UNA will include any self reported cases over the winter break. 
This is low in comparison to other universities. The University of Alabama had 2,992 cases, the University of Alabama in Birmingham had 632 cases and the University of Alabama in Huntsville had 189 cases according to the University of Alabama System Dashboard.
UNA reached record enrollment for the year of 2020 when it sat near 8,400 students, according to the university press release on Oct. 30. UAH had 9,988 students enrolled, UA had 37,842 and UAB had 22,583. 
Over the course of the fall semester, UNA had approximately 4.69% of students test positive for COVID-19. In comparison, UA had approximately 7.91%, UAB had approximately 2.8% and UAH had approximately 1.89% of students test positive. 
UNA had a lower enrollment rate for the fall of 2020, as compared to the other universities. Regardless, the university was able to allow students to attend in person up until the end of Nov.
When students return to residence halls for the spring semester, UNA will conduct focused residential testing from Jan. 4 to Jan. 6.
 Testing will alleviate the risk of students going back into the residence halls after the holiday season, Jacques said. 
Additionally, sentinel testing will resume for students and employees on Jan. 13. 
"We're confident that we're going to be able to do the same thing that we did in the fall," said Greenway. 
About the Contributor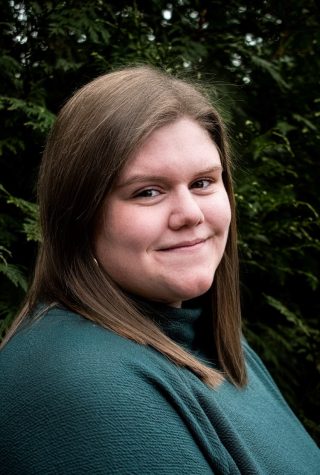 Ellen McDonald, Managing Editor
Ellen McDonald is a sophomore from Huntsville, Alabama. She is majoring in Mass Communications with a concentration in Journalism and Digital Media Production...