Laura M. Harrison officially opens
On Monday, Jan. 11, the Anderson College of Nursing and Health Professions (ACONHP) officially opened the doors of Laura M. Harrison Hall.
During the ceremony, Charles Anderson made the announcement of a $3.2 million donation to the University of North Alabama that will provide for both graduate and undergraduate scholarships for students within ACONHP.
"We've been considering another gift for a while," said Anderson. "We thought about the fact that [Hilda Anderson] always wanted to help everyone and wanted everybody to have an equal opportunity, and we thought maybe that means a scholarship."
Faculty members, university administration and officials within the UNA and Florence community were all present for the ribbon cutting ceremony. 
This comes after an extensive timeline of planning, fundraising, designing and demolition construction.
The entire process took at least ten years, said the Dean of Anderson College of Nursing and Health Professions, Vicki Pierce.
"Has there ever been a time when the supply of highly-trained nurses has been more critical," asked Kitts in his remarks. 
UNA, through the new nursing facility, is able to train nurses and healthcare professionals effectively and efficiently during a global pandemic, which is not something that just any University can claim. 
"UNA has long been known to have outstanding nursing programs," said Pierce during her remarks. "Now we can say that our facility is also the best in the state." 
Within her remarks, Pierce added the building was designed to accommodate growth within the department. On the first and second floors, there are four large classrooms and two large computer labs that can hold 72 students (32 students while COVID-19 precautions are in place). 
This is a major improvement when considering that the program's previous four classrooms held only 50 students each. At times, there would be 200 people in those spaces at once. This does not include faculty staff, students within the graduate programs or those in the Applied Health Science Program.
"In our old space, there were only four offices, other than the dean's office, with a window and that's with 30 people…" said Pierce. "So, it is very nice for everybody to have a window to be able to see out. They don't feel like they're coming to work in a dark, dreary closest."
Besides the five offices with Steven's Hall, the department had converted a broom closet into office space to accommodate for its growth.
"The growth of the program made it necessary for us to grow structurally," said Associate Professor of Nursing, Rachel Winston. 
A new space was not a want, it was imperative. 
"We were in a little bitty, cramped, tight space," said Pierce. "When I came to work here in 2006, we had an entire department that worked from home. We just did not have enough spaces so, our online faculty did not have office space on campus." 
Pierce added that in recent years, the online staff came back to campus but shared one room. It was clear that the department had physically outgrown their space and needed a new facility. 
"Our students used to sit on the floor because there was no place for them to sit to talk," said Pierce. 
Each classroom is now equipped with cameras and audio/visual technology that are controlled by a computer, iPad or a smartphone. This has proven especially helpful during the pandemic due to the amount of faculty having to record their lectures. 
"The third floor of the new facility is dedicated to experiential learning through simulation," said Pierce during her remarks. "The Simulation Center is an 8-bed hospital style unit with various types of medical equipment and high-fidelity simulation mannequins of different ages and gender." 
The mannequins within the simulation lab are able to be programmed through technology to undergo health emergencies, like a heart attack. Additionally, they are able to breathe and blink, making it all the more real for the students within the program. 
"One of the mannequins that we have births a baby," said Winston. "If you were pregnant and having a baby, you don't want a nurse who doesn't know what to expect. But you may not feel comfortable with that nursing student who really doesn't know what to expect."
Through the simulation lab, students are able to learn how to handle situations through the use of advanced technology within the facility, while not putting anyone in danger. 
This technology allows for students to learn to care for all types of patients in a safe, forgiving environment.
After COVID-19 cases rose in north Alabama, nursing students could no longer go to hospitals to shadow and train under healthcare professionals. So, the new simulation lab is one way UNA is supplementing that loss of essential training. 
ACONHP was previously housed in Steven's Hall. The new building has allowed for space within Steven's to become vacant.
"As of now, the Criminal Justice Forensics Lab/Classroom has moved into a third floor space in Stevens," said the Dean of the College of Arts and Sciences, Sara Lynn Baird. "Additionally, the Department of Interdisciplinary and Professional Studies will occupy office space on the second floor. Of course, from our college, the departments of Sociology and Family Studies and Social Work are still occupying their space in Stevens Hall, as is the College of Education."
Baird added that COAS plans to move the faculty in Sociology and Family Studies to Wesleyan Hall because the former separate departments of Psychology and Sociology and Family Studies are now combined into the Department of Psychology and Sociology. 
"Locating the faculty together in close proximity will lead to opportunities for synergy and collaboration among the faculty and students," said Baird. "To accomplish this, the Department of Geography will move to Stevens Hall to space on both the first and second floors. Additionally, the Department of Mathematics will move to Stevens Hall as temporary space until the completion of the planned new building for Computer Science and Mathematics."
COAS does not yet have a definitive timeline for this process but they are working closely with Facilities personnel to accomplish these in a timely manner, said Baird. 
On top of the new office and classroom space and the simulation lab, the new building has some other attractive features. 
"I love the stairwells, you're not in a dark, dingy stairwell," said Pierce. "You want to take the stairs. Why would you get on that… elevator when you can take those stairs and see the view?"
The new building has two wings and a central lobby area on each floor. The center is entirely windows, making the space feel open, clean and it truly draws students in.
"It's designed to really make people want to be in those spaces," said Pierce. "That's probably what I love about it [the new building] the most."
The new facility not only makes current undergraduate and graduate students excited to come and learn, but it will also attract more students to UNA and to ACONHP. 
"I can't imagine a student who saw this space and knew about the reputation of our program wouldn't want to come here," said Pierce. "It's beautiful."
About the Writer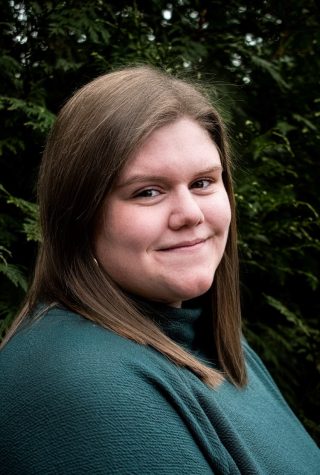 Ellen McDonald, Managing Editor
Ellen McDonald is majoring in Mass Communications with a concentration in Journalism and Digital Media Production with a minor in Political Science. During...