Mane Month Music Festival Highlights
On an electric night headlined by talented musicians, everyone in the house was nodding, jumping and dancing to the beat at the Mane Month Music Festival.
Students flooded the Student Recreation Center to soak up performances by fellow classmates. From Avery Yerlan and The Tomato Soups to Madelyn Corrine, G.I.G.A.N.T.IC., and Jesslyn Downey, there was a wide variety of genres and an obvious overwhelm of talent.
The night started with Avery Yerlan taking the stage with his musical companions, "The Tomato Soups." Equipped with a bass guitar and a set of songs both original and not, Yerlan kicked things off with an energetic pop rock sound that left the audience ready for more.
Alongside a heroic guitar accompaniment, brought to you by Cooper Prater, and smooth but heavy beats from Clay Scarborough on the drums, Yerlan rocked the audience quicker than they could say "roar lions!" The three hooked everyone on one of Yerlan's originals called "Boys Don't Cry," which he describes as their favorite song to play.
If "Boys Don't Cry" was the hook, then another original, "Apathy," was definitely the one that reeled everyone in. For those that wanted something a little more familiar, the group played a nice rendition of "Everybody Wants to Rule the World" by Tears for Fears. Yerlan showcased not only his singing and guitar playing abilities, but also his clever lyricism and impressive rap skills.
 Throughout their set, Yerlan and Prater had some fun and traded instruments with each other, with one playing bass and the other a standard electric guitar.
"I just had a good time and was glad that live music is happening again," said Yerlan. "All of the performers are really incredible in their own unique ways."
Following the high octane opening from Avery Yerlan and the Tomato Soups, everything calmed down for a moment as Madelyn Corrine approached the piano. Corrine won over the crowd with beautiful vocals and a piano accompaniment to match them. With an impressive vocal range, she had the crowd mesmerized from start to finish. People were on their feet, forgetting all of their worries as Corrine grabbed on to everyone's attention with a set of original sounds she had written.
Audience members did not hesitate to turn their phone flashlights on and sway them in the air in place of lighters. Corrine encouraged everyone to continue doing it after being wowed by the love everyone was showing.
A standout performance of her own masterpiece, "Santa Fe Girl," was a hauntingly beautiful tale of a girl needing to run away, which ironically kept everyone in the audience right where they were. Who could miss a performance like this?
Corrine described her involvement with the event as being "last minute," saying that she got the opportunity to perform after another person had dropped out.
"Performing was so awesome, especially getting the opportunity as
a freshman," said Corrine. "I would definitely do it again a million times."
The third entertainer for the night was a performer going by the name of G.I.G.A.N.T.I.C. An international student from The Democratic Republic of the Congo in Africa, G.I.G.A.N.T.I.C. brought an enigmatic vibe with him to the stage that was felt from the front of the gym to the back.
G.I.G.A.N.T.I.C. chose to sing most of his songs in French, such as a original called "Emanuel" and "The Last Dance." While most students did not know what the songs said, they all understood what the music meant. People were locking arms and swaying to the ballad called "Love Story" written by G.I.G.A.N.T.I.C. himself.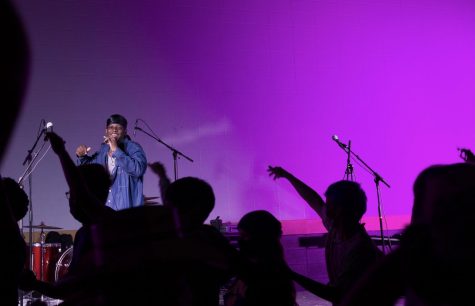 The slow tenderness in the air swiftly transitioned to an upbeat energy that had folks gathered in a conga line, dancing until their hearts were content. After several songs performed in French, G.I.G.A.N.T.I.C. played one song in English, a cover of "Rescue" by Lauren Daigle.
G.I.G.A.N.T.I.C. said he was introduced to the event when a friend showed him a poster that intrigued him.
"I just sent in a video and followed the rules, and that was it," he said. It is no surprise that selecting him to perform was such an easy choice for the University Program Council (UPC).
Last, but certainly not least, was Jesslyn Downey. With a stage presence and confidence like no other, Downey channeled her inner superstar and exploded vocally for all in attendance to enjoy. Beginning strong with a favorite from Harry Styles, "Adore You", Downey quickly won over the crowd. Accompanied by her friend Patrick Crummie on the guitar, Downey played songs from other artists as well as her own songs that she had written with her best friend, Marina McMullen, who Downey described as her biggest supporter.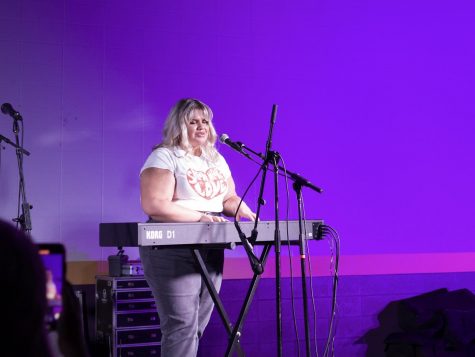 Downey had the crowd singing along when she sang "Dreams" by Fleetwood Mac, but her originals were really the icing on the cake for the evening. With her father and mother in the crowd, Downey noted that her song "Addictions" was not written from personal experience.
Downey explained that her favorite song she has written is "My Fault," which just so happens to be the song that "got her this gig." Downey learned she was selected to perform as she was leaving a Green Day concert. The crowd itself was a basket case with how crazy they were going for Downey.
With the perfect team of performers, a raffle drawing for a brand new guitar and free Miami Ice for all in attendance, the UPC really outdid themselves with this one.
With the past two years being difficult for so many, it was truly magical to see artists and fans gathered together all in the name of music.