"All The Best" of Florence, Alabama
Being a coffee enthusiast and vinyl record collector, we have been to many coffee and record shops in the state of Alabama. Few shops have managed to not only successfully merge the two, but make them compliment one another. Enter All the Best Florence. 
Owned by Kristy Bevis, who has been in the food and beverage industry since she was a teenager, and her husband Ben Tanner, a musician and the co-owner of Single Lock Records, this small corner shop is a hub for the spirit of downtown Florence. 
Bevis is a Florence native who moved away after highschool to get her degree in Journalism from the University of Mississippi. Somewhere along the way, she fell in love with the world of food and beverage and never looked back. She has worked in and developed restaurants across the Southeast, but returned to Florence in 2009 to work at 360 Grille at the Shoals Marriott. She was part of the opening team of the widely successful Odette in downtown Florence and managed there until this summer.
Tanner is a musician who hails from Florence. After he graduated high school, he went to Rhodes College in Memphis. He then lived in Paris, before moving back to the Shoals to take a job as a sound engineer for FAME recording studios. Tanner has toured with the Grammy-award-winning group, Alabama Shakes, as a keyboard player. In 2013, Tanner collaborated with John Paul White and Will Trapp to form Single Lock Records.
Bevis and Tanner went to high school together and were reconnected when they both moved back to the Shoals. They have been married for six years and have a child. 
"[Ben] had kicked this idea around for a long time. There's been various iterations of it, but we kind of let this space, once it became available, dictate the idea of what we wanted to do," Bevis said. 
Sitting at 128 East Tennessee Street, on the corner of Tennessee and Seminary, it is at a prime location for both tourists and Shoals residents.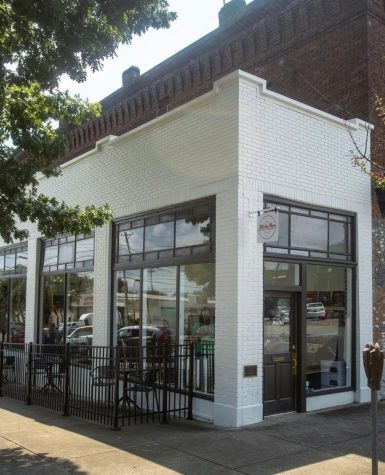 It's not exactly a coffee shop in the traditional sense, but that's a good thing. A curated selection of magazines, newspapers and most importantly, vinyl records line the shelves. All the Best puts a strong emphasis on music in the form of listening stations and mixture of local and mass market vinyl for sale, citing music lovers as their target audience. The shop serves a variety of sodas, candy and snack options. They recently started carrying seasonal bouquets from Hart Floristry, based in Florence. 
"Right now, it's a small, curated selection, and it will probably grow as we do, but that's at the heart of it and we knew we wanted some kind of food and beverage element too, because that's what I know and do, but the space really lends itself to just this Bodega, corner-store kind of vibe," Bevis said. 
"We're basically like a curated convenient shop, and I like the versatility of the space and that we can continue to bring new things in." 
As a record seller, All the Best bridges the gap between new-age record stores and stacks of dusty, used vinyl on thrift shop floors. One browsing their selection will find everything from The Secret Sisters to Billie Eilish to the Beatles. The selection focuses on a diverse variation of Muscle Shoals and Alabama music with featuring labels indicating if an album was recorded at FAME or Muscle Shoals Sound Studio, or if it features a member of the Swampers. Impressively, there are both used and sealed copies of some of the same albums to cater to whichever the buyer prefers. All used records are in excellent condition with prices that accommodate the wear and tear that is present.
Tanner is responsible for curating the vinyl. He shops estate sales, browses Discogs and works with various distributors. The shop also serves as a store-front for his own Single Lock Records.
On the shelves by the counter, a record is always spinning. Sometimes it's Bowie or Fleetwood Mac, and sometimes it's an indie artist. In the back, there is a small listening booth, equipped with an Audio Technica sound system, where customers can test out any record that isn't sealed. 
"The fact that we're downtown and accessible to a lot of the traffic and that we have such a focus on Shoals and Alabama music will kind of fill a niche," Bevis said.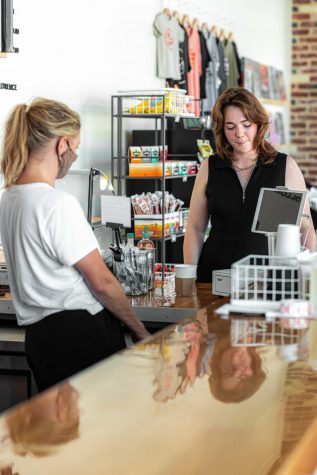 While coffee isn't their main focus, it should be noted that it isn't an omission either. All the Best sources their coffee from Domestique, a roaster based in Birmingham, Ala. The quality of Domestique is unmatched. It's some of the best high-quality coffee of all time.
All the Best really gets it right. Its no-frills formula of cold-brew and regular hot coffee presents the perfect option for everyone from the coffee bean connoisseur to the average person looking for a quick 5 minute stop for a pick-me-up. All the Best isn't another Turbo or Rivertown, and that's a good thing. 
"We went through a bunch of samples. We wanted it to taste like diner coffee, but like really good diner coffee. We wanted to be a place where people can get something quick. It's a quality cup of coffee, but somebody who works at the bank and is on their lunch hour can just grab a quick cup," Bevis said. 
Although they are only beginning, Bevis and her employees are open to suggestions to make the shop a comfortable place for customers. They already have plans for the future in the works.
Before the holiday season, All the Best is planning to launch a monthly vinyl subscription service that is curated to what the listener prefers.
"We love what we do. We love this community, and we want there to be a little something for everyone," Bevis said. 
All the Best is its own unique environment offering a variety of goods and music that just happens to carry the best coffee in the state. The environment and the coffee are warm in this cozy corner of downtown Florence. While sitting in to enjoy the things the shop has to offer, one will watch friends and strangers come and go. 
John Paul White himself even dropped by for coffee one afternoon and said that he "couldn't get enough" of All The Best Florence.
Media by Brady Jordan, Social Media Editor
All The Best, a modern cafe located on Tennessee street in Downtown Florence, debuts "records & refreshments" as they kick off their grand opening.