Characters by Design: Keairria Hall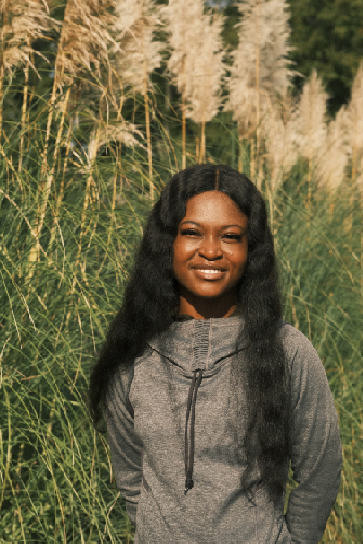 Keairria Hall is not just your average "theater kid." Unlike many, Hall has not received vocal lessons and been singing show tunes since she could speak, nor did she perform in a repertory theater as a child. 
Hall, who is known by those close to her as "Keke," is from Pleasant Grove, Ala, which is on the outskirts of Birmingham. She grew up as the youngest of eight siblings, with four older sisters and three older brothers.
Her parents are both creatives. Her mother designs and bakes cakes, and her father is a construction worker. Hall described them as "characters," and said they are behind her in everything she does, including being the first one in her family to attend and graduate from a university.
"It's hard being first generation, because when I first came to college, I didn't know what to do," Hall said. "All I knew was [to] go to class."
Hall is currently a senior at the University of North Alabama, majoring in Theater with a concentration in Technical Design.
In technical design, she is able to focus on costume designing, which she intends to pursue as well as an acting career.
Hall got her first taste of the spotlight when she was a cheerleader in her fifth grade graduation program, but was not a part of theater until her junior year of high school, when she took a theater class.
Her teacher, Ms. May, is the one who inspired her and encouraged her to pursue acting and told her that she had a beautiful character within her own personality.
That year, she was a part of her high school's production of "Peter Pan," and it was here that she discovered her love not only for stage acting, but for costume design as well.
She helped pick out the costumes for Peter Pan, and also starred as "Skunk," the lost boy. She still credits Skunk as being the character she can relate to most, because she was able to display her silly personality. 
Hall's aunt sews and is creative in many ways, and when Hall saw "The Lion King" on Broadway, she was encouraged to pursue costume design. 
"I always loved art," Hall said. "Even when I was in third grade, they had you choose what you wanted to be when you grew up – I chose an artist."
She discovered UNA in high school when her school participated in the Trumbauer competition. At Trumbauer, she made her own costume, and was awarded for it.
After graduating high school, she packed up and moved to Florence to begin her study of theater. 
When she first came to UNA, it did not really hit her that she was far away from home, but when classes started she felt "lost." 
The first show she helped with on campus was a Christmas show. Her friend in theater, Chelsea, did costumes for UNA theater and took her in to help her learn the world of costume design. 
"My professors didn't really push me into being a costume designer, yet," Hall said. "They pushed me more into being an actor, so she taught me a lot being a costume designer. I've been a costume designer ever since."
Still, into her sophomore year, she felt like she didn't belong in the Theater Department, however many students welcomed her with open arms, and Hall realized that it was the same as her theater family in high school, just on a more professional level. She shared that her friends in theater bought her a birthday cake, and she then knew they were truly there for her. 
"If you're different from a person or in different social groups, when you're in theater, you're a family," said Hall.
Growing up, like many, she dreamed of being a star on stage with a microphone. She wanted to be the main character. When she did her first acting gig at UNA, COVID-19 broke out, and she didn't have the opportunity to actually perform on stage. Instead, the production was filmed and distributed online. Hall was left discouraged, feeling as if she lost opportunities her freshman year of college that she would never be able to replace.
However, Hall persisted, taking classes both towards acting and technical design. She states that the program has only improved for technical designers since she came to UNA.
"When I started, it wasn't really focused on costume designing, but since we gained more professors and people who had more experience in these technical designs, we have the resources," said Hall.
She credits Professor Vince Salpietro, who teaches theater design. Hall herself, as well as many other students are benefiting from his independent study programs.
Although Hall is always drawing clothing designs that are more-so fashion design than costumes, she emphasizes the difference between costume design and traditional fashion design. The technical design program in the Theater Department does not merge with UNA's Fashion Department. She makes the distinction between the two by sharing that fashion design is more about precision in sewing, whereas costume design is more about creating the character's identity.
"With costume, it's much more of playing with your imagination," Hall said. "It doesn't have to perfect. [Costumes] help the audience know where we're at in the environment. If this person is wealthy, they're going to have the nicest clothes, and if the person is poor their clothes are going to be more dirty or look used." 
When the theater decides to do a play, the director chooses a show. Everyone involved with the production sits down for a read-through of the script to learn about each character in the play. Hall then does a second read-through by herself and uses her own sense of empathy to relate to the characters. She tries to create a background for them, depending on how much information she has from the script. She strives to get an idea of where the character is from and researches from the internet and library.
Hall often factors in class to determine how nice the clothes will appear. Are they a human? Do they wear all black, or do they express them self through colors? Are they Tacky? 
"What color comes to my mind when this character pops up?" Hall said. "Is it red? Is it blue? Is it pink? I try to keep those colors in my head while sketching."
 She then creates two or three sketches for the character.
"If they have another character that's crashing into this character, I try to do their costumes as a symbol that they belong together or that they don't, if they're enemies or anything like that," said Hall.
She then creates her design and goes to the director to show them her ideas, and if they do not agree with her, it's back to drawing and research. After a design is approved, she goes on to creating the physical costume. She starts in the University's costume shop, where old costumes and fabrics are stored. 
After it is complete, the actors get measured, and Hall works to make sure her costume designs are flattering to the actor wearing them, ensuring that they are confident in what they are wearing. Then, the actor takes the stage. 
Hall designed the costumes for "Chatroom," a play put on in early 2021, and she will be starring in the upcoming "Men on Boats."
"Costumes, I feel like, make the play, because if we ignored the costumes and we just wore regular clothes, would you really know whats going on on stage?" Hall said. "I believe costumes really tie up everything in the performance."
In her future, she wants to continue doing both acting and costume designing. She does hair as a hobby and would also love to learn more about stage makeup and hair. 
"When I started, I wanted to make costumes for different Broadway shows, but now that I'm a senior, I want to just bring the theater education experience back to my hometown and get people more into it," said Hall.
Being from the Birmingham area, there are many opportunities for her to do so. Her goal is to educate others that they can have a successful career in theater. She also wants to intern with and help with children's theater.
These desires reflect who she is as a person. At heart, she is silly and she is kind. She loves her family. She names her oldest sister as her inspiration, and tells that she still encourages her and reminds her how much potential she has. She loves playing games with her nephews and nieces, and says she's still a country girl.
One thing is evident about Hall: she's not here for glamour or money, she is here to create art and share with others, all while being a one-of-a-kind leader for the next generation of her family.