Meet me at our spot this Valentine's Day
Chalky conversation hearts paired with chocolates and a witty card are classic, but a magnificent meal will forever reign as the love language supreme. The Shoals area has an impressive and expansive restaurant scene for just the occasion. From small businesses with chef-driven cuisine to quirky themed eateries for a memorable night out, there is an establishment to satisfy any sweetheart on their day.
1. Odette
Odette is a gem tucked away in historic downtown Florence. Describing itself as serving elevated American fare with Southern and international influences, this restaurant option is perfect for couples looking for an upscale date night without the pretension. The chef-driven menu concepts were curated by owner Celeste Pillow and head chef Josh Quick. Together, the duo leans on local farmers and sustainably-sourced suppliers to celebrate Southern hospitality in fine dining. In fact, Chef Quick has ties to the prestigious James Beard Foundation for his commitment to highlighting Alabama purveyors. His national prestige presides him at Odette, and diners are sure to relish the freshly sourced menu options like Cornmeal-Dusted Simmons Farm Catfish or housemade Duck Bolognese. Wine and spirits are also available and, of course, carefully curated. Patrons can opt for dinner or Saturday brunch, but reservations are highly suggested for either.
Address: 120 N Court Street, Florence, AL
35630
256-349-5219
2. Yumm Thai: Sushi and Beyond
Another gem located in the heart of downtown Florence, Yumm is a sleek and sophisticated Asian restaurant for the cosmopolitan crowd. The ambiance is modern without being cold, which lends itself well to the elevated Thai classics. Signature dishes include the Korean Stack,  describes as artfully plated grilled beef marinade tenderloin tips stacked on jasmine rice, finished with crispy wonton, grilled broccoli, tomatoes and Korean BBQ sauce. For the galentines, the bar provides IG-worthy drinks with a chic backdrop to match.
Address: 117 N Court St, Florence, AL
(256) 349-2074
3. The Juicy Seafood
Sure enough, a seafood boil might not be the first meal that comes to mind when you think of romance, but therein lies the beauty. The popular chain, which is fairly new to the Muscle Shoals area, is perfect for those daring to experience a dinner that is outside of the box. Crab legs, mussels, or lobster are seasoned to the diner's choice of spice level and served in huge, piping hot bags filled with other goodies like smoked sausage, fresh corn on the cob, seasoned potatoes and hard-boiled eggs. In classic seafood boil fashion, servers will then dump the contents of the bags onto large metal pans at the table. However, rather than fool around with silverware, customers are encouraged to dig in with their hands! Plastic gloves, bibs, wet wipes and a giant bucket for the trash accumulated during the meal are supplied at seating. For those looking to get dirty for Valentine's Day, The Juicy Seafood is the place to be.
Address: 1716 Woodward Ave, Muscle
Shoals, AL 35661
(256) 320-7677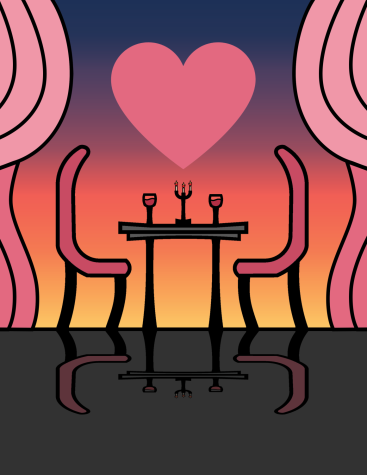 4. Daniella's in the Park
A short drive away from Florence city limits lies Joe Wheeler State Park, a true find for nature-lovers. Within the park is Daniella's, a comfy restaurant with homestyle cooking for the Southern traditionalists. However, what sets Daniella's apart from dinner at Grandma's on a Sunday night is the breathtaking view. Nestled right on Wheeler Lake Marina, diners are seated with a stunning backdrop. The placid waves of Wheeler Lake can provide a memorable sunrise Valentine's Day breakfast or beautiful nighttime scener with filling buffet options. The restaurant is only open Thursday-Sunday, so diners can plan a romantic weekend staycation at one of the beautiful cottages and cabins within the park. For those really looking to make a lasting impression on their bae or beau, perhaps a water excursion to the restaurant will suffice, as Daniella's is also accessible by boat.
Address: 4401 McLean Dr,
Rogersville, AL 35652
(256) 247-5461
5.  . Sweet Water Bakery
No Valentine's Day would be complete without a sugary treat. For those early-morning love birds, there is Sweetwater bakery. Opening in  Sweetwater district like it's namesake, the bakery offers the community fresh baked sweets and savory treats made in-house and rotating daily. Owner Laura Senecal dedicated years cooking for her church community before establishing a brick-and-mortar of her own in 2021. Sweet, pillowy fried beignets and flaky homemade puff pastries are but a few standout baked goods crafted by hand from the freshest ingredients every morning. Customers can also order three-layer cakes born from family recipes, or pans of fresh-baked cinnamon rolls generously slathered with icing. For the caffeine-driven, coffee specials with funky names like 3-Peckered Billy Goat or Deadman's Reach are offered alongside bagels made every Wednesday. Hours of operation throughout the week are from 7 a.m.- 2 p.m., but customers should be sure to get there early for dibs, as they do sell out quickly!
Address: 1410 Huntsville Road, Florence, AL
35630
(256) 712-2300
6. Sweet Basil Alabama
Florence has been home to Sweet Basil Alabama since 1996. Recently, ownership changes have given a fresh face to the hometown lunch spot with an updated menu to match. Headed by Executive Chef Garry Thomas, there are over 10 hot and cold sandwich options to choose from, in addition to burgers, salads, desserts, and house-made potato chips. For couples deciding to celebrate the holiday from home, Sweet Basil also offers generous takeaway options for a fullcourse, fresh meal. As the saying goes, "first comes love, then comes marriage." So if Valentine's Day goes as planned, and Sweet Basil Alabama leaves a lasting impression, they can also provide excellent full-service catering for future nuptials.
Address: 1627 Darby Dr, Florence, AL 35630
(256) 764-5991