Tunnel of Oppression Provides Insight This Halloween
On Oct. 23 and 24, 2019 the University of North Alabama Office of Diversity and Institutional Equity (ODIE) presented The Tunnel of Oppression, an interactive experience that provides its participants  with a glimpse into the lives of those who experience various forms of discrimination. "The goal of the tunnel of oppression is to heighten people's awareness to the experiences of others in society and on campus," says ODIE director, Joan Williams. 
    The tunnel was the collaborative effort of ODIE, the collaborative education department, disability support services, Project Say Something, Student Alliance for Equality (SAFE), the women's center, and student counseling services. 
    Over 200 participants experienced a simulation of the modern classroom for a student with learning disabilities, got a view into the two very difference experiences of a white pregnant woman and a black pregnant woman in the American health care system, heard expressive poetry about the appalling sexualization of young girls, and heard the convicting tales of queer individuals who struggle to find their place in society. The experience is concluded with a group debriefing in the reflection room. "When you get to the reflection room to debrief and unpack it, that's the glue," Williams said. 
The skit presented by Project Say Something gave a fly-on-the-wall view into a gynecologist's office. On one side of the wall, a white woman gossips with her doctor about neighborhood politics. Her concerns about symptoms she is facing are warmly received and she is given proper attention. On the other side, a black woman shares similar woes and is accused of hiding a drug addiction. The doctor tries to intimidate her with the costs of the care she is receiving, despite her having insurance. He even offers to sterilize her during her C section to avoid her becoming pregnant with an unhealthy baby again. The skit emphasized the horrifying statistic that in Alabama black women are three to four times more likely to die during childbirth than white women.
"A Tale of Two Births" was crafted by UNA alumus and Project Say Something board member, Kijana Mitchell, who is currently pregnant with her second child. Although the skit was Kijana's concept, an entire committee helped in putting it together. The story was based off of the experiences of three African-American women, including Kijana, who faced discrimination when trying to receive proper prenatal care. 
"Racism is a huge topic and it's really hard to condense it down to one experience," Mitchell commented. However, Project Say Something chose to emphasize racism in the healthcare industry because it is a form of racism that is not often discussed, but is very real. "The experience that I was playing was more or less my experience when I gave birth," said Dr. Katie Owens-Murphy, the president of Project Say Something who also played the white patient in the skit, "everything was very easy." 
Mitchell encourages students affected by the skit to write about these issues to their local legislators, both Republican and Democratic. Dr. Owens-Murphy encourages and welcomes student involvement with Project Say Something, but above all else, they want Tunnel of Oppression participants and UNA students to understand the real-life horrors of receiving lower quality health care because of race. 
Mitchell concluded, "Racism in health care may be even more sinister than some of the more overt forms of racism that we often see. Its an issue that transcends economic and educational backgrounds and reduces black women's level of care. Too often, we are robbed of experiencing the joy that should accompany pregnancy to where our physicians and the healthcare field in general don't value us as people or patients. Our concerns are overlooked, opinions undervalued, questions dismissed, and voices silenced, sometimes permanently, depending on the severity of the situation. It's very real. I know this because I have lived the experiences referenced in the tunnel of oppression skit and I know far too many women of color who have experienced the same, or worse. We're all high-functioning individuals, well educated. None of that should matter, I'm just saying, this is a racial issue, not a socioeconomic one."
About the Writer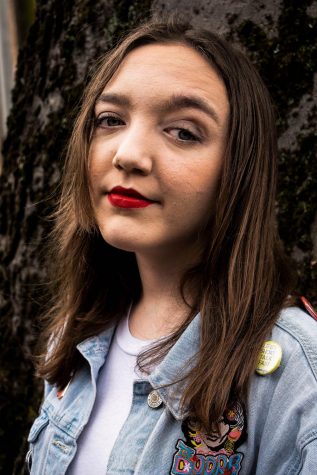 Brooke J. Freundschuh, Arts & Entertainment Editor
Brooke is the editor of the Flor-Ala's Arts and Entertainment section, but has also served as the paper's News Editor and as a staff writer and occasional...