Alpha Gamma Delta Wins Step Sing 2022
Alpha Gamma Delta swept the Step Sing awards Saturday night, earning first place for the Women's Division and Overall Winner.
Step Sing is a treasured campus tradition in which the University of North Alabama's sororities and fraternities perform through dancing and singing. Hosted by the University Program Council (UPC), the money raised by the competition funds infrastructure improvements and the Pantry, which provides food to students in need.
Last year, Step Sing saw complications due to COVID-19, with one team forced into quarantine and the rest being live-streamed through FaceBook. This year the participants returned to Norton Auditorium with a packed audience to show off UNA's school spirit, creativity, and resilience.
The night started with a magic trick by UNA's hype man, Kody Purinton, and was emceed by Miss UNA 2022, Claire Hendrickson.
Performances took place across two days: Friday, February 4th, and Saturday, February 5th. Awards were handed out on the 8th at the conclusion of the show.
Each group that competed produced a playlist of songs and choreographed their own routines to a specific theme. They were judged on five categories: showmanship, musical quality, creativity, choreography, and execution.
This year's theme, "Family Game Night", saw a variety of unique takes.
Phi Gamma Delta performed first and based their show on The Game of Life. Their storyline followed two characters – a student of UNA and a construction worker – who maintained a strong friendship despite their different career paths. Included in the show were songs such as "Lean on Me" "You've Got a Friend in Me".
Pi Kappa Alpha came next and won first place in the Men's Division with their upbeat production, "Jumanji". Based on the movie of the same name, their show brimmed with dramatic choreography full of flips, jumps, and a kickline. They earned cheers from the audience with songs like "Welcome to the Jungle" by Guns n' Roses and "The Lion Sleeps" by The Tokens.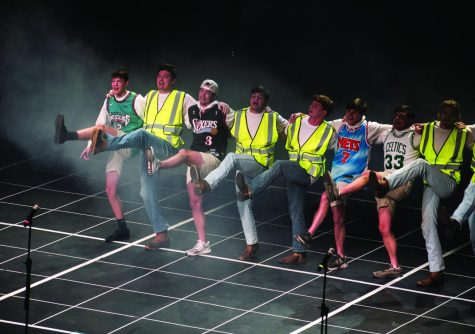 Alpha Tau Omega followed with a presentation based on the game Sorry!, which earned them second place in the Men's Division. The performers were split into four teams – red, yellow, green, and blue – who danced for dominance to see which team could win the most donations for the Pantry.
Last to perform in the men's division was Lambda Sigma Phi with a show entitled "Mo Money, Mo Problems", based on Monopoly. Featuring songs like "Jailhouse Rock" and Dolly Parton's "9 to 5", the brothers of the fraternity sought to defeat Mr. Monopoly to save their city. First to take the stage in the Women's Division were the ladies of Zeta Tau Alpha with a mystical interpretation of Candy Land. Their story followed two sisters as they were sucked into the board game. In order to escape, they had to complete tasks and win a dance battle against an evil villain, Licorice. With synchronized choreography and numerous flips, Zeta Tau Alpha took home second place in the Women's Division.
Phi Mu appeared next with a presentation based on Family Feud. Led by Emma Mary Box, Allie Lovett, and Elizabeth Pierce, the sisters of Phi Mu were split into two "families" competing against each other through song and dance. But it was Alpha Gamma Delta's show based on the board game Clue that stole the show. Captains were Ashley Golden, a secondary education major who developed the choreography, and Jesslyn Downey, a junior who created the playlist.
Titled "The Alpha Gam Detectives", the performance started as every good mystery should: a dark stage, the Pink Panther theme song, and a dramatic murder. The rest of the show saw the sisters of Alpha Gam attempting to discover who the murderer was. Dressed in long trench coats, they appeared on stage before flashing police lights and began with Michael Jackson's "Smooth Criminal".
The songs transitioned as popular characters from Clue were introduced, and one by one were found innocent of the crime. To loud cheers and applause, Miss Mustard began singing "The Room Where it Happened" from the hit musical Hamilton.
Also featured was a song from the movie Chicago and "It Wasn't Me" by Shaggy. Then, amid dramatic smoke and purple lights, the murderer was revealed to Britney Spears' hit, "Oops…! I Did it Again."
The performance wrapped up with a creative mash-up of all the songs and ended on a high note – literally. To loud applause and flashing lights, they exited the stage to make room for the final performance. Step Sing finished with Alpha Delta Pi's show titled "Super ADPI Sisters", based on the popular Super Mario Bros. videogames.
Opening with the videogame's familiar theme song, the show saw three friends enter the world of Super Mario due to a glitch in the game. Taking on the characters of Mario, Luigi, and Princess Peach, the sisters of Alpha Delta Pi had to defeat Browser to leave the game. Singing to songs like "Gold Digger" by Kanye West, they concluded a night of music with a fun finish.
Each team brought their own personalities, styles, and creativity to Step Sing and made it a night to remember. Awards were announced after the shows concluded on Saturday, and although not every group earned a trophy, they all contributed to a much-needed weekend of entertainment at UNA.