UNA remembers their mascot but looks to the future
ersity of North Alabama (UNA) is its live mascots. Leo III and his sister, Una moved to the George H. Carroll Habitat in 2003 from their birthplace in New Hampshire. The lions are deeply loved by the students and faculty of the university.
In April, the siblings celebrated their seventeenth birthday, just before the coronavirus pandemic ensued. Their actual birthday is November 18, 2002. The university celebrates on April 14 since that is the birthdate of the first Leo.
At the beginning of the pandemic, reports were made about lions at the Bronx Zoo in New York contracting the virus. These reports made it clear that Leo and Una are also at risk of becoming ill. 
"We did request that visitors to the habitat maintain six feet distance as there were feline COVID-19 cases identified at the Bronx Zoo," Michelle Eubanks, the Director for Communications Marketing said. 
Students are not the only ones who visit the lions. Those within the Shoals community visit as well, but due to the pandemic many were wary about coming onto campus to visit the lions. 
During the fall and spring semesters, students are constantly passing by the George H. Carroll Habitat; however, with the evacuation of campus this daily interaction ceased. 
The decrease of visitation did not have a negative impact on Leo and Una. Their caretakers noted no changes within their behavior after students left campus. They had one another, and that was enough. 
"After the initial stay-at-home order by Alabama Gov. Kay Ivey expired at the end of April, visitors have come to campus frequently to visit the habitat," Eubanks said. 
Months passed and on the morning of June 30, students were notified that Una had passed away. Many questioned what had happened to our beloved mascot.
"The veterinarians diagnosed her with a form of mesothelioma," Eubanks said. 
Mesothelioma is a type of cancer. It develops in the lining tissues of the body. It is most often diagnosed in the tissues covering the lungs, the website for The Department of Thoracic Surgery of Vanderbilt University states. It can start in the tissues lining the abdominal cavity. These tissues are sometimes called the mesothelium. This is where the cancer, mesothelioma, gets its name. 
Often, when someone hears the word "mesothelioma," they associate it with asbestos. This however was not a factor in the cause of Una's death.
"We feel strongly after speaking with experts at both Auburn and Mississippi State University that Una had a form of cancer with no reason for concern about environmental or infectious causes," Dr. Brandon Fisher of Fisher Animal Hospital said.
Mesothelioma can occur due to genetics or simply old age. Within captivity, the average lifespan of a lion is twenty-five years according to National Geographic. Captive lions can live anywhere from fifteen to thirty years.
Una passed away at the age of seventeen, which was above the minimum age of the lifespan for captive lions. 
"If you live long enough, you're likely to develop some form of cancer," Fisher said. 
Like humans, the older lions get, the more vulnerable they are to the development of fatal diseases. 
"There's not a lot of literature out there. When we suspected that's (mesothelioma) what was going on, I found a few cases in big cats," Fisher said. "Once we consulted with some pathologists and some other universities, we learned that this (mesothelioma) is common in big cats. More common than we realized."
Una was euthanized as to prevent any pain the disease might have caused, explained Fisher. Leo and her caregivers were by her side. Students, faculty members and the community all mourned together. 
"Like all of us on campus, the Howards (Leo and Una's caretakers) experienced a time of mourning. They have been the caregivers for Una since she was a cub, and the loss, after almost 18 years, is significant," Eubanks said. "In the weeks since, they, along with brother Leo III, are learning to adjust. It's a process."
Fortunately, after Una's passing, Leo's caretakers have noticed no major changes within his behavior.
"Leo III and his caretakers, Anne and Dan Howard, are enjoying each day, and he enjoys playing with his toys as well as dipping in and out of the habitat's water feature," said Eubanks. "His veterinarians are also providing his healthcare, and he enjoys being outdoors at the habitat and the visitors who stop by."
Una was an important part of the UNA community. She was the university's first female mascot and will be loved and cherished forever. 
Soon after the passing of Una, People for the Ethical Treatment of Animals (PETA) contacted the university. In their letter sent to the university, PETA called on UNA to terminate their live mascot program. PETA also offered their assistance in placing Leo in an accredited sanctuary. After taking this request into consideration, the university decided to keep Leo III in his home with his caretakers. 
"The decision was reached based on the veterinarians' recommendation regarding Leo III's age and his relationship with his caregivers," Eubanks said. "Ultimately, it was a University decision." 
PETA has not tried to contact the university to make further requests since UNA decided to keep Leo in the George H. Carroll Habitat.
But, what will the university do after the passing of Leo III?
"A succession plan regarding the lions will be presented to the President at a later date," said Eubanks. 
The live mascot tradition has been at the center of UNA since 1974 when the original Leo was brought to campus. Many students are divided on whether this tradition should continue on UNA's campus. 
With the popularization of the Netflix documentary, Tiger King, many developed a negative connotation as to how large cats might be treated within captivity. Unlike the environment the documentary depicted, UNA's lion habitat is maintained, cared for and funded through donations. 
It has been a little over a month since the passing of Una and students are preparing for their return to campus. There will still be signs placed around Leo's habitat to ensure his safety and wellbeing for the fall 2020 semester. 
"Leo III is a member of the UNA family," Eubanks said. "As such, his health and safety is a priority, as it is for students, faculty, staff, and visitors. To that end, the signage was installed for visitors to the habitat to maintain their distance from Leo III."
Students must treat their mascot as if he were a fellow student. Much like how students are expected to wear masks and socially distance around one another, the same will be expected of them in order to interact with Leo. 
Most students see Leo as more than a mascot. Instead, they see him as a vital part of the UNA family. After the loss of his sister, he needs the love of his students more than ever, but from a distance. 
"Maintaining the six feet of social distance is a great way to keep Leo III healthy, as is wearing a face covering," Eubanks said. "Both help tremendously and go a long way toward getting campus back to a more usual schedule. Donations toward Leo III's care are also always welcome."
A memorial event for Una is being considered for later in the year. This is pending due to the pandemic. 
UNA's campus will look differently this fall, but one thing is for sure: Leo will be roaring for his students' return. Still, students must remember to wear their masks in order to protect themselves, their classmates and their mascot. 
About the Writer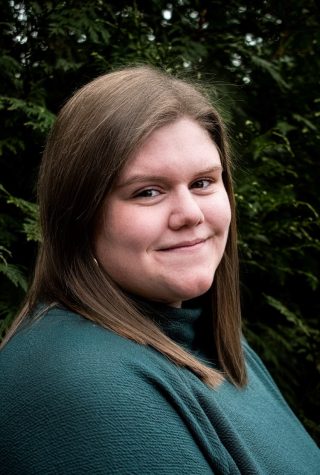 Ellen McDonald, Managing Editor
Ellen McDonald is majoring in Mass Communications with a concentration in Journalism and Digital Media Production with a minor in Political Science. During...