Behind the Curtain
University continues pattern of silence in response to claims of mishandling sexual violence on campus
Grace* pointed to the bruises on her neck as she explained to Kayleigh Baker, the Title IX coordinator, that another UNA student assaulted her after a party in the spring of 2021.
Though the bruises had started to fade, they bore witness to what Grace said Max* did to her just a few nights earlier in his room. 
"He held me down on the bed by my neck and whispered sexual, gross things into my ear," Grace said. "At one point he laid on top of me. During the time he choked me, I physically told him no and to stop."
Yet, as the formal investigation dragged on for four months, Grace found the Title IX process frustrating and unhelpful.
***
Grace's experience echoes what other women told The Flor-Ala about their experiences with the Office of Title IX–the federally mandated process for investigating sexual harassment, sexual misconduct and discrimination on college campuses.
UNA's Office of Title IX came under scrutiny this past spring after The Flor-Ala published a series of stories detailing how the investigations sometimes persists months longer than their 90 business day directive and often retraumatize students who come forward to report sexual violence.  
Students called for change in April by protesting at Memorial Amphitheater against sexual violence. Several local news outlets covered the student protests and asked the university for comment. 
The university responded by defending the Title IX Office. In a statement published April 14 by WHNT, a local TV news station, a university spokesperson said UNA "takes sexual assault seriously and follows federal Title IX regulations when allegations are reported."
When asked for an updated comment, the university's Media and Public Relations Director Michelle Eubanks said the following: "The University takes very seriously the health and safety of students, employees, and visitors. Any reported misconduct is investigated and addressed through the appropriate departments – which can include the Office of Title IX. UNA strives to build a community free from discrimination, including sexual harassment and other forms of sexual misconduct, so that each student, employee, and visitor can work, learn, and succeed in a safe, supportive, and educational environment. UNA provides resources and services to the campus community to educate and support students who may wish to report an incident of concern."
After the TimesDaily reported in April that 14 cases of rape, sexual misconduct and/or sexual harassment had been reported to UNA PD in the past six months, the university suddenly changed the UNA crime logs to show that 24 cases–which had been listed as open–were suddenly closed. 
"Recently, media inquiries on the important topic of sexual assault on campus prompted our team to review and update the open/closed status of some incidents on the log," Eubanks said. "Those incidents had mistakenly been marked as 'open' even though there was no ongoing University Police Department investigation of those matters. So, our team updated the status."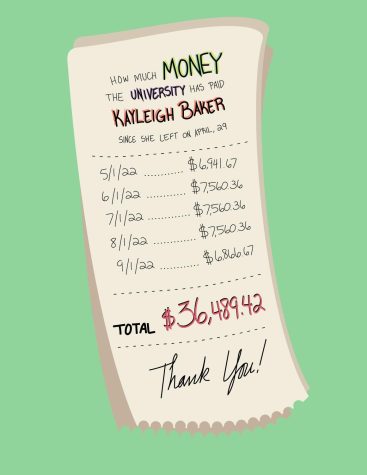 ***
Criticism of the Title IX office only intensified. Later in April, The Flor-Ala published a story about a student, identified as Elizabeth, who said the Title IX office spent over seven months investigating her allegations of sexual assault from September of 2021. Three days after publication, Kayleigh Baker exited the university's first full-time Title IX coordinator position.
The university denied requests for details related to Baker's exit and declined to answer questions or comment publicly on the allegations. Eubanks said officials had "made a change in staffing" but declined to comment publicly about personnel matters. 
The following month, The Flor-Ala reported that in December of 2020, another student had told university officials that a UNA police officer sexually harassed her. The officer was Derek Baker, husband of then-Title IX Coordinator Kayleigh Baker. 
Yet, university spending records show continued pay to Kayleigh Baker. As of this month, UNA has paid her more than $36,000 after she left campus. 
***
Elizabeth, the student who reported being assaulted in Mattielou Hall only to be ignored by Title IX,  told The Flor-Ala in a recent interview that after she went public with her story and threatened legal action, the university changed its posture. 
By July, Minnette Ellis, the Dean of Students, agreed to expedite Elizabeth's investigation, which had dragged on for ten months. The first chapter in the Title IX Sexual Misconduct Procedures is "Promptness" and states that a case should take no more than 90 business days to investigate.
"I told them I had been in contact with lawyers," Elizabeth said. "I have dates. I have proof of me emailing Kayleigh [Baker] and her not getting back to me for three weeks. I said, 'I will sue the school. And I will make you repay me every penny for that semester.'" 
After being sexually assaulted, Elizabeth said she suffered from post-traumatic stress disorder (PTSD). Her grades dropped that fall, and she struggled to cope with what had happened. 
Elizabeth said that Ellis offered to retroactively withdraw her from her Fall 2021 classes, which boosted her GPA by a point and a half on a four point scale. 
"I said, 'that still doesn't do anything for all the money I lost,'" Elizabeth said. "[Ellis] said, 'maybe I can talk to somebody.'" 
Elizabeth said Ellis made some phone calls then offered her a university scholarship of $11,240 for the money she paid Fall 2021–including the $200 Housing and Residence Life made Elizabeth pay to move halls for her safety. 
Ellis declined to comment on this specific situation citing student privacy. 
"In accordance with the Title IX policy, if a student brings a complaint to the office of Title IX, supportive measures will be provided," Ellis said. "Such measures are designed to restore or preserve equal access to the university's educational program or activity."
Ellis also presented Elizabeth with the option of filing a police report, which Elizabeth originally declined. Then, when she found out the man who assaulted her had moved into her apartment complex, she changed her mind and reported to UNA PD. That investigation is ongoing.
***
Complaints about the university's mishandling of sexual misconduct have circulated for years. After claiming a professor raped her on a school sponsored trip in 2015, "Jane Doe" filed a lawsuit alleging UNA's "deliberate indifference" in response to the professor's actions. The 2017 lawsuit claimed UNA was "in clear violation of Title IX." 
UNA attempted to have the $7 million lawsuit dismissed, but a federal judge denied the university's motion in 2019. 
During the allegations this spring, Dr. Kimberly Greenway, the Vice President of Student Affairs oversaw the Office of Title IX, university Police, Housing and Residence Life and Student Engagement, which included Fraternity and Sorority Life. 
Housing and Residence Life declined to reveal if they had fired a Resident Advisor (RA) accused of molesting a resident, yet they posted to Instagram two weeks later hiring male resident advisors.
After The Flor-Ala published two articles, sharing a total of four women's stories with sexual assault on campus, Greenway sent a campus wide email to students. 
The email highlighted the "multiple resources" a student can engage "when they are dissatisfied with UNA policies, procedures, and practices." Greenway cited herself as one of these resources, as she previously served as a deputy Title IX coordinator.
Greenway left UNA at the end of May for her long planned retirement. Then, the university announced on Aug. 2 that they would honor Greenway with the Alumni of the Year Award at the Homecoming Alumni Celebration. 
***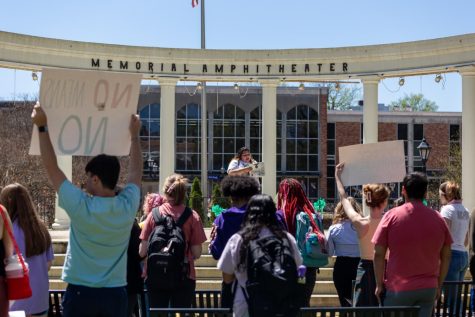 Of the six women who shared their stories, five, including Grace, said their assaults happened during their first year on campus. According to RAINN, the nation's largest anti-sexual violence organization, women in their freshman year of college are at an increased risk of sexual violence. One in four women will be a victim of sexual violence in her college career. 
Additionally, all of the women's whose stories the Flor-Ala shared, knew the men who assaulted or harassed them. According to NSVRC, the National Sexual Violence Resource Center, 51.1% of female rape victims were raped by an intimate partner. 40.8% were raped by an acquaintance. 
The man who Grace claimed assaulted her had been her Resident Advisor in a previous semester. On the night he assaulted her, she said she agreed to give him a ride home because he was too drunk to drive home from a party. 
Grace said that people in the Office of Title IX treated her kindly but did not do anything to help her.
"They were really sweet at Title IX," Grace said. "It's just that they couldn't do much. Since he didn't touch specific areas of my body, it wasn't considered sexual assault by UNA." 
Yet, during the months Grace worked with Title IX towards an informal resolution, Grace said she was diagnosed with PTSD and transferred to a different college.
"Because of the incident that happened, I left UNA." 
*Denotes names have been changed.
Update (9/23): UNA was granted summary judgement in court by Judge C Lynwood Smith, Jr on 10/15/2020.